Kate Middleton and Prince William are 'worried' about Prince George's role in King Charles's coronation 'based on past decisions'
Kate Middleton and Prince William are concerned, a royal insider has revealed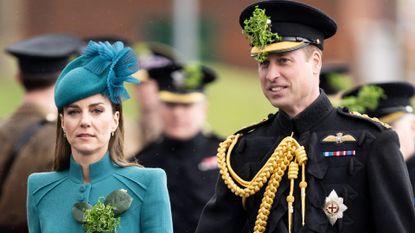 (Image credit: Getty)
Following speculation that Prince George will play a prominent role in his grandfather King Charles's coronation, his parents Kate Middleton and Prince William are now said to be 'worried' that it could be too much for the nine-year-old.
---
Over the weekend, the exciting news was announced that Prince Louis will be attending King Charles' Coronation. Beforehand, it was unclear whether the youngest child of the Cambridges would attend.
Louis will join his sister Princess Charlotte, who turns eight four days before the Coronation, and Prince George, who is second in line to the throne in the royal line of succession and is thought to have a more prominent role on the day.
But now, it's been revealed that the Prince and Princess of Wales are 'worried' about the role Prince George will play, which is allegedly causing tension within the royal family.
Royal commentator Tom Quinn suggested a "bit of an argument" going on behind the scenes over the part Prince George could play without affecting him.
The royal author told Express.co.uk, "I've heard from my contacts that there is a bit of an argument going on about whether George should play a more formal role. I've heard that Kate and William are worried that it will be too much for him."
Prince George, who is slowly undertaking more public duties, is usually accompanied on most engagements by his younger sister Princess Charlotte, with the siblings marking several firsts together including their first attendance at the Christmas Day service in Sandringham in 2019 and their first official visit to Cardiff in 2022.
But Tom says that concerns over George's possible role at the upcoming Coronation of King Charles aren't just due to his young age but also because of previous choices made by the Firm.
Explaining another reason for Kate and William's possible concerns, he said, "It's almost an echo of the way William and Harry were sometimes made to attend formal occasions that they shouldn't have been made to attend - most famously, the funeral of their mother, and walking behind her coffin at their age.
"A lot of people criticized that and said that it was a horrible thing to make two boys that young, and especially Harry, do."
He added, "So I think people are remembering this and thinking, 'Well hang on a minute, if George is some sort of a pageboy, or has a similar role at the Coronation, is that going back too far towards the traditional roles?' So I've heard that there is a debate going on quite fiercely at the moment about how to do that. And, as far as I've heard, it hasn't been decided yet."
King Charles' Coronation was always going to be unique, and one for the history books. From the break from tradition with Camilla's crown, the possibility of a second balcony appearance, as well as the more modernized approach with a plant-based Coronation oil, it'll be the perfect combination of centuries-old traditions merged with modern sensibilities.
Robyn is a celebrity and entertainment journalist and editor with over eight years experience in the industry. As well as contributing regular to woman&home, she also often writes for Woman, Woman's Own, Woman's Weekly and The Sun.