Prince Harry's memoir has been signed off and will likely be published by Christmas
Ghostwriter JR Moehringer has reportedly finished the manuscript for Prince Harry's memoir, which has been 'signed off by lawyers'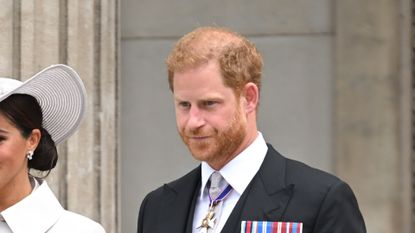 (Image credit: Getty)
After months of anticipation, Prince Harry's autobiographical memoir is reportedly scheduled to be published before the holidays, making for a pretty awesome Christmas gift.
The final manuscript has reportedly been 'signed off by lawyers.'
Prince Harry worked on his autobiography alongside ghostwriter JR Moehringer.
According to a new piece by The Sun (opens in new tab), Prince Harry has finally finished working on his much-anticipated memoir, set to give fans of the Duke of Sussex a behind-the-scenes look at what it's really like to be a royal, his current relationship with the family, his memories of his late mother Diana, Princess of Wales, and more.
The outlet reports that, following calendar-related pushbacks, the autobiography is now officially scheduled to be released by "the end of the year." The Sun quotes a publishing source saying, "The manuscript has been finished and gone through all of the legal processes. It's done and out of Harry's hands."
Although only the Queen was aware of Harry's intention to publish a memoir, reports suggest that the entire royal family will be scrutinized by the Duke of Sussex in the book.
"Prince Harry will share, for the very first time, the definitive account of the experiences, adventures, losses, and life lessons that have helped shape him," reads an official description of the work (opens in new tab) by Penguin Random House, the publishing company behind the effort. "Covering his lifetime in the public eye from childhood to the present day, including his dedication to service, the military duty that twice took him to the frontlines of Afghanistan, and the joy he has found in being a husband and father, Prince Harry will offer an honest and captivating personal portrait, one that shows readers that behind everything they think they know lies an inspiring, courageous and uplifting human story."
Harry enlisted the help of ghostwriter JR Moehringer to finish the manuscript. JR is no stranger to autobiographies: his own, The Tender Bar, which was published in 2005, was turned into a movie directed by George Clooney and starring Ben Affleck in 2022. JR also co-authored tennis champion Andre Agassi's autobiography, Open, back in 2009.
Last year, Page Six (opens in new tab) reported that J.R. "is getting at least $1 million as an advance" for his work with the celebrity. As large as that sum sounds, it is not as striking as the $20 million that Penguin Random House has reportedly advanced Prince Harry. Fun fact: the same publisher signed Barack and Michelle Obama's book deal for a reported $65 million.
As excited as the public is regarding the contents of the memoir, fans can't help but wonder about Prince Harry's decision to step into the spotlight given his repeated requests to be granted privacy. Also on everyone's mind: how will the royal family react to the expected bombshells that will be revealed in the book?
"There's a lot of new stories in there about the past that Harry has not spoken about before, about his childhood… there is some content in there that should make his family nervous," a publishing insider said to Page Six (opens in new tab) earlier this month.
No doubt, all eyes will be on Prince William come the holiday season.
"Once the book is out, William will have to make a decision about what he is going to to do about Harry, but he is not going to do a thing until he knows what is on every page of that book," said Duncan Larcombe, a royal author and former royal editor at The Sun, to the Daily Beast (opens in new tab) earlier this month. "The reality is that if, as a senior member of the royal family, you have written a tell-all book, you have broken rule No. 1 of the royal family."
It seems like Prince Harry's memoir will be the very beginning of a new chapter in the life of the royal family.
Anna Rahmanan is a New York-based writer and editor who covers culture, entertainment, food, fashion and travel news. Anna's words have appeared on Time Out New York, the Huffington Post, Fortune, Forbes, Us Weekly, Bon Appetit and Brooklyn Magazine, among other outlets.