How the Duchess of Cornwall's Burns Night jewelry piece is a sweet tribute to the Queen Mother
This stunning brooch hasn't been seen for many years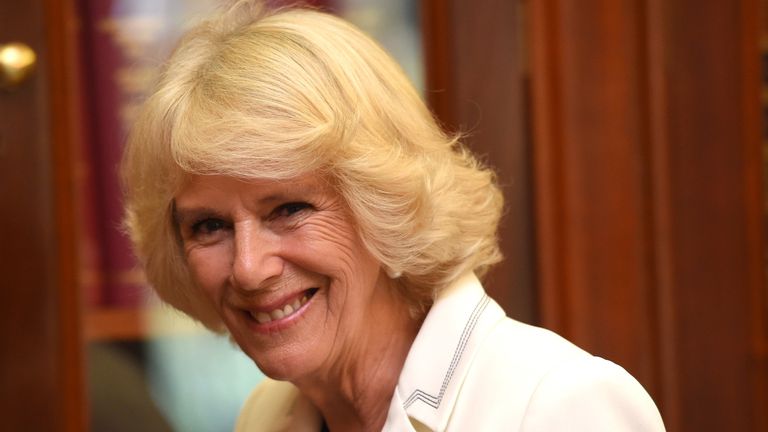 (Image credit: Photo by Tracey Nearmy - Pool/Getty Images)
The Duchess of Cornwall's jewelry might always attract the attention of royal fans, but only the really eagle-eyed amongst them might have noticed her sweet tribute to the Queen Mother in her Burns Night outfit. 
The Duchess of Cornwall recited a Robert Burns poem on Monday, wearing a diamond thistle brooch.
This fabulous jewelry piece once belonged to the Queen Mother. 
The Duchess of Cornwall read out a favorite poem by acclaimed Scottish poet, Robert Burns, in a video clip posted on the Clarence House official Instagram page on Monday, paying tribute to Burns Night. This Scottish holiday celebrates the life and work of Robert Burns. And whilst Duchess Camilla's recital of the beautiful poem, My Heart's in the Highlands, was unbelievably touching, it wasn't the only heartfelt aspect. 
Dressed in a smart blazer and cream blouse, her glittering brooch was visible for all to see in the video clip. The brooch features an array of diamonds and is crafted into the shape of the Thistle, an emblem of Scotland. 
The brooch once belonged to the Duchess' grandmother-in-law, the Queen Mother. The Queen Mother reportedly wore it on several occasions, often pinned stylishly to her hat. Whilst it has not been confirmed, it is thought likely that when the Queen Mother sadly passed away in 2002, this wonderful piece of jewelry was left to her daughter, Queen Elizabeth II.
More from woman&home:
So it seems likely that the Queen might have loaned her late mother's fabulous brooch to her daughter-in-law, the Duchess of Cornwall. 
It is unknown exactly when Duchess Camilla was loaned the brooch and it has been rarely seen, though notably, she also wore this stunning jewelry piece on a trip to New Zealand in 2015. 
Which Royal Family members has the Queen loaned jewelry to?
The Queen has often been seen to loan important jewelry items to members of the Royal Family for certain occasions and most commonly weddings. 
This includes the Cartier Halo Tiara worn by the Duchess of Cambridge on her wedding day, as well as the Queen Mary Diamond Bandeau Tiara Meghan Markle, Duchess of Sussex wore when she married Prince Harry.
Most recently, she is also understood to have loaned her granddaughter, Princess Beatrice, the Queen Mary Fringe Tiara for her big day.
It's lovely to see the Royal Family's special jewelry pieces being worn throughout the years!