How much will King Charles's Coronation cost?
As the King and Queen's coronation approaches, some are wondering who exactly will be covering the bill for this historic event?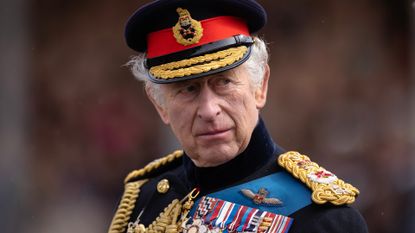 (Image credit: Dan Kitwood/Getty Images)
As King Charles's coronation approaches, some royal fans are wondering how much this huge historic event is going to cost, and who is going to be funding this celebration.
King Charles and Queen Camilla are set to celebrate their coronation on Saturday, May 6, 2023.
As the day quickly approaches, some are wondering how much this event will cost the taxpayer.
---
As the excitement about the coronation increases, some are wondering how much has the coronation cost so far, and what the total cost of the coronation will be. In particular, some are wondering exactly how much these festivities to celebrate the new King will be costing the taxpayers in the UK.
While there is still some mystery about the exact figures, here is what we know so far about the total cost of King Charles' coronation, and what experts have predicted and said about this expenditure.
How much will the Coronation cost?
An official statement has not been given about how much the coronation will cost. The government and crown have not commented on their contributions but it is rumored that the total cost of the coronation could cost around £100 million.
However, some insiders have suggested that actually, the coronation may cost significantly more. A well-placed Home Office insider told The Mirror, "Security alone will be up to £150million, possibly more. It's a crazy sum, but this is one of the biggest public events in recent history. Thousands are involved – many working overtime. Just getting dignitaries into the country and to their accommodation is a hell of an operation in itself. They will mostly be taken by police escort from the airfields. That's one small cog in this gigantic security machine – there is so much more to the operation."
A tactical commander for the weddings of Prince William and Prince Harry has suggested that this figure could be even higher because of the huge security risks. Security expert Mark Scoular told The Mirror, "£150million is a lot, but I think the final sum could be a lot more, because the work that goes into an event like this is monstrous. On Coronation Day itself, there will be entire CBRN – chemical, biological, radiological and nuclear – units across London."
He then added, "There will be ammunition technical officers, firearms units will be doubled up, the public order officers on duty will be staggering."
Graham Smith, campaign manager for Republic, which calls for the abolition of the monarchy and the establishment of an elected head of state, commented that the estimated cost of £100 million is low-balling.
"I suspect it'll be at least that," he told TIME during a press briefing. "It's an inordinate amount of money for the taxpayer to be spending. We know that there are lots of public sector workers who are struggling to get a pay rise. We know that there are people in work who are having to use food banks. There are hospitals struggling to make ends meet, schools struggling to get resources for their kids, police services struggling to keep the lid on various types of crime."
But this isn't the opinion of all Britons. Cabinet Office minister Oliver Dowden stated, "It has always been the case that the government have paid for Coronations. The reason for doing so is that the sovereign is our Head of State and it is important that we mark that properly."
He added that the event will be a way for the British people to come together to mark a historic event. "It is right that we celebrate this moment in the life of our nation and do so in an appropriate fashion and in a way that the nation can come together in celebrating. These are moments in the life of our nation. They bring joy to millions of people. They also mark us out as a nation around the world."
Who is paying for King Charles's Coronation?
It was reported that a Buckingham Palace spokesperson said, "Given the coronation is a national state occasion, funding sources will include the sovereign grant and the UK government."
This may sound like the royals are footing some of the bill with their personal wealth but this isn't accurate. The Sovereign Grant is a sum of taxpayer money that is allotted to British royalty. This means that the coronation will be entirely paid for out of taxpayer money.
This is why many people in the UK are looking for more clarity about how much of the money they contribute to the government is being used to fund this event.
How much did Queen Elizabeth's Coronation cost?
Queen Elizabeth II celebrated her coronation back in 1953. While there are varying reports about how much the Queen's coronation cost, Forbes reported, "Elizabeth II's coronation cost about £1.57 million, or £46 million today, which equals about $57 million." This is of course still significantly less than the estimated cost of King Charles's coronation.
The Queen's coronation took place just a few years after the end of World War II. Rationing had not even finished yet post-war and there were still restrictions on luxury items such as sugar and meat. Although this highlights that Britain was in a very different place following the war, the UK has recently faced similar serious hardships such as the pandemic, and the cost of living crisis which has affected many people's income.
This is perhaps why many people across the UK are eager to know how much money is being used for a celebration as opposed to other promises made to the electorate.
Laura is a news writer for woman&home who primarily covers entertainment and celebrity news. Laura dabbles in lifestyle, royal, beauty, and fashion news, and loves to cover anything and everything to do with television and film. She is also passionate about feminism and equality and loves writing about gender issues and feminist literature.
Laura loves drinking and eating and can often be found trying to get reservations at London's trendiest restaurants. When she's not wining and dining, Laura can also be found travelling, baking, and hiking with her dog.