Have Meghan Markle and Prince Harry's favorite girls' names already been revealed?
We may already know Meghan Markle and Prince Harry's favorite girls' names!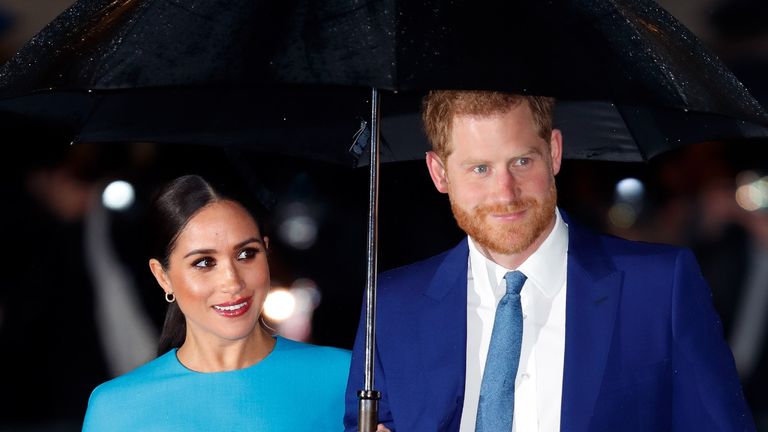 (Image credit: Max Mumby/Indigo/Getty Images)
Meghan Markle and Prince Harry have kept a tight lip on the name of their unborn daughter since the announcement of their pregnancy last February, but it looks like they may have accidentally already dropped a few hints.
Meghan Markle and Prince Harry are expected to welcome their first daughter any day now—and fans can't wait to find out her name.
The couple has already hinted at the potential name for their soon-to-be daughter, revealing some of their favorite girls' names when they were expecting Archie.
---
While many people have suggested that Prince Harry and Meghan Markle are set to call their baby girl after Prince Philip as a tribute to the late consort, the chosen name for their second child remains a top-secret.
Details of the couple's pregnancy and delivery (which is expected to occur any day now) have also been kept under wraps, leaving fans desperate for any insight into the high-profile royal baby news.
The Duke and Duchess of Sussex weren't always so hush-hush on the subject of babies though, having shared a number of their name preferences with the public when they were expecting their firstborn Archie.
On a visit to the English town of Birkenstead with Prince Harry in 2019, a pregnant Meghan welcomed a suggestion from a schoolchild on what to call her baby. After bonding with the duchess over their shared name, 7-year-old Megan Dudley asked her if she would call her baby Amy if she was a girl.
The former Suits star approved of the idea, replying, "That's a really pretty name, I like it. We'll have to think about it."
Meghan and Harry have already proven their fondness for 'A' names with baby Archie, so we're definitely willing to put our money on 'Amy' as a potential candidate.
Harry has also let slip one of his favorite girls' names during a public engagement. The revelation occurred when the Duke and Duchess met a fan in Melbourne who had a five-month-old daughter called 'Harriet'—a name Harry unsurprisingly appreciated.
Jessica Bonaddido, the baby's mother, recalled that he seemed "excited" upon being introduced to her little one and even said, "That's a great name."
Of course, Amy and Harriet aren't the only contenders in the competition. 'Diana' was in the top spot at the bookies when the couple first announced the pregnancy, with many fans expecting Harry to pay homage to his beloved late mother following the birth of his first daughter. It was overtaken when the Duke of Edinburgh died in April and rumors began to circulate that the baby would be called 'Phillipa.' Other family names in the race are Doria, after the duchess's mother, or Celia, after Harry's late godmother.
Meghan Markle's real name may also be a clue as to what the couple will call their daughter.
The duchess started going by her middle name instead of her first one, Rachel, when she began her acting career in the early 2000s. While she has never explained the reason behind the switch, some industry experts have suggested it may have been a tactic to enhance the 'catchiness' of her name and help her stand out in Hollywood.
The revelation has led some to believe that the couple may give their daughter two names—an official first one, followed by an informal second one. This decision would allow the young royal more autonomy over her name, as well as potentially resolving any baby name disagreements between Meghan and Harry.
Emma is a news writer for woman&home and My Imperfect Life. She covers the Royal Family and the entertainment world, as well as the occasional health or lifestyle story. When she's not reporting on the British monarchy and A-list celebs, you can find her whipping up vegan treats and running the roads to cheesy '90s pop music...but not at the same time, obviously.