Duchess of Cambridge wears a stylish necklace with a special significance
And we want one too!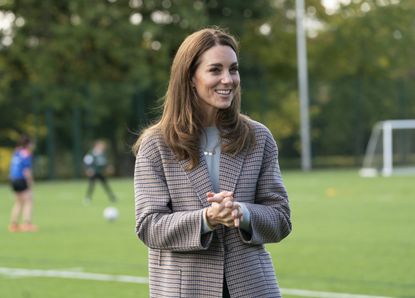 (Image credit: Arthur Edwards. Staff)
The Duchess has been spotted wearing a special necklace.
Kate Middletonvisited the University of Derby to hear about how the pandemic has affected university life and students mental health.
This visit comes ahead of World Mental health day on Saturday 10th October and she spoke to first-year students about how they have been affected and how they're coping.
In Derby, she was brief by the CEO of Student Minds, Rosie Tressler, about the picture of mental health for the country as a whole. She also heard about the creation of Student Space: a new resource created to support students during the pandemic.
MORE:Prince William admits that Princess Charlotte can be 'trouble' and is 'very cheeky' (opens in new tab)
She spoke to students Husna Hanif and Laura Oliver, both 18, how they had "kept busy" during lockdown – adding that it was "hard not seeing friends". During the socially distanced meeting she asked if there was enough support at the university, Laura said, "there's so much support".
During her visit to the campus, she looked particularly chic. As the seasons have turned colder, her style has changed too. Gone are the dresses and in are the trousers.
Wearing smart black trousers with a chic checked coat from Massimo Dutti and a cashmere blue jumper from the brand too. Not forgetting her floral print mask too, one we have seen before from her favourite brand, Amaia kids.
But what we loved the most was herPersonalised Gold Three Layered Disc NecklacefromAll the Falling Stars. Made from 14k gold, the charm necklace is the one she recently wore during her engagement to Battersea Park in September.
MORE:Duchess of Cambridge nails autumnal look as she carries out touching engagement (opens in new tab)
It pays tribute to her three children, Prince George, Princess Charlotte and Prince Louis, with each charm stamped with their initials. But, you guessed it… its sold out. Keep an eye on the website for new stock. Her earrings are from the brand too.
Both All The Falling Stars and Amaia are independent brands. Kate has been excellent at showing her support for small businesses during the coronavirus pandemic.
Rachel is a freelance contributor to woman&home, covering news as well as books, lifestyle and travel. Her byline has also appeared in The Independent, The Financial Times, ELLE Magazine, VICE, Glamour Magazine and others. She loves nothing more than talking with people to share their stories. When she is not writing you will definitely find her nose in a book or magazine, or perhaps training for the next half marathon, practicing yoga or eating in London's best restaurants.