Prince William admits that Princess Charlotte can be 'trouble' and is 'very cheeky'
An insight into royal family life!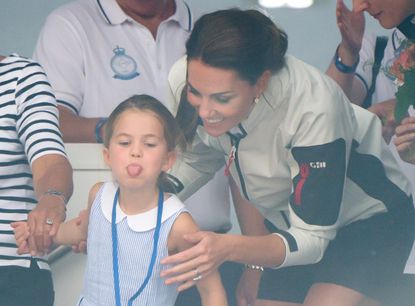 (Image credit: Samir Hussein/WireImage)
Prince William has opened up about home life in a new documentary, revealing that his second born can be a handful at times.
The new ITV documentary sees Prince William talk about his duty to save the planet. A Planet For Us All shows the royal speaking lovingly about his young family to a local child and her mother, giving an adorable insight into family life with his kids - seven-year-old Prince George, five-year-old Princess Charlotte and two-year-old Prince Louis.
While shaking a little girl's hand, the 38-year-old can be seen laughing and joking, before asking her, "Do you like trouble? You are like my little Charlotte!"
It seems Princess Charlotte is a little troublemaker and we love it!
Prince William goes on to ask the mother "How old is she?" to which the woman explains the little one is three years old.
Later on in the documentary, more details of family life emerge.Another little girl called Daisy asks the royal, "Is Princess Charlotte cheekier than Prince George?"
To which William replies, "No they're about as cheeky as each other. They're very cheeky."
The documentary captures Prince William meeting inspiring local heroes across Britain and exploring whether local action can trigger global and environmental changes. The royal also reflects on how his children have made him more environmentally-conscious.
He says, ""I really want to make sure that in 20 years, George doesn't turn around and say, are you ahead of your time? Because if he does, we're too late.
"Now I've got George, Charlotte and now Louis in my life, your outlook does change. You want to hand over to the next generation, the wildlife, in a much better condition."
Lizzie Thomson is a regular contributor to woman&home, and also contributes to Metro.co.uk, Ideal Home, Culture Trip, and Evening Standard, covering all things lifestyle.