Buckingham Palace instructs 'outside lawyers to probe Meghan Markle bullying claims', royal source says
The palace is said to be looking into the Duchess of Sussexes bullying claims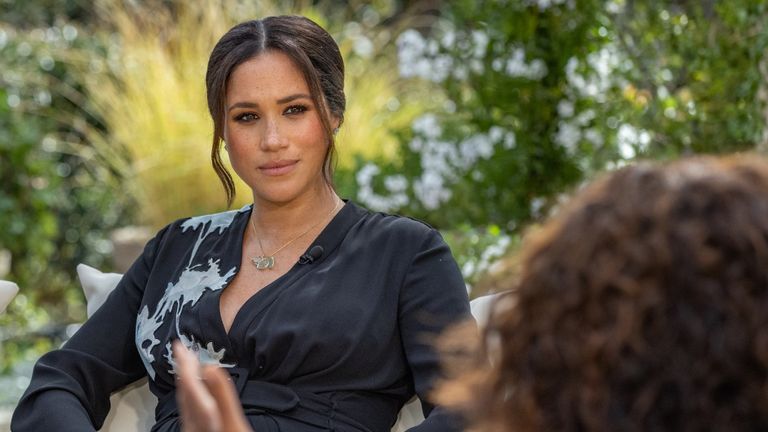 (Image credit: Oprah CBS handout / Getty)
Meghan Markle's bullying claims are being looked into after the palace instructs 'outside lawyers' to probe claims.
The Duchess of Sussex made some shock claims of her own during her Oprah Winfrey interview.
In other royal news, the Queen is 'extending an olive branch' to Prince Harry and Meghan Markle following bombshell Oprah interview
---
The Palace is said to have instructed an outside law firm 'to probe Meghan Markle bullying claims', according to a royal source.
An independent inquiry is expected to be launched after the Duchess of Sussex revealed in a tell-all interview with talk show host Oprah Winfrey that during her time as a working royal, she felt silenced, as both a woman and an outsider.
Last week Palace sources were quoted as saying that the Palace was "prepared to retaliate with fresh disclosures about the couple's behavior if the monarchy is attacked". And in a surprise move, the Palace is said to be bringing in a third-party law firm to investigate the bullying claims.
A royal source told The Sunday Times, "The actual worst incidences haven't come out. There are some harrowing stories to tell." Another Palace source added, "There's a lot that could come out in the wash that hasn't been told."
More from woman&home:
Oprah asking Meghan Markle, "Were you silent, or were you silencedT? 👁️👄👁️👌🏾". pic.twitter.com/6HdyY2SBeNMarch 8, 2021
See more
Almost two weeks ago, Meghan, Duchess of Sussex responded to claims that she faced a "bullying complaint" whilst at Kensington Palace.
At the time she revealed she was "saddened" at this "attack on her character".
The Times recently reported that royal sources approached the publication, alleging that Meghan had faced a complaint in October 2018 from Jason Knauf. At the time, Mr. Knauf was the Duke and Duchess of Sussex's communications secretary.
The complaint alleged that Duchess Meghan drove two personal assistants out of the household and undermined the confidence of a third member of staff, the publication reported. The Times also reported that a source claimed Prince Harry pleaded with Mr. Knauf not to pursue it.
According to The Independent, Meghan's spokesperson addressed the allegations, stating, "The duchess is saddened by this latest attack on her character, particularly as someone who has been the target of bullying herself and is deeply committed to supporting those who have experienced pain and trauma.
"She is determined to continue her work building compassion around the world and will keep striving to set an example for doing what is right and doing what is good."