Did Beatrice and Eugenie's royal roles inspire Harry and Meghan's 'step back' from royal life?
The future of the Duke and Duchess of Sussexes roles within the royal family are still up in the air, following their extraordinary announcement that they would be stepping back from their duties as 'senior royals'.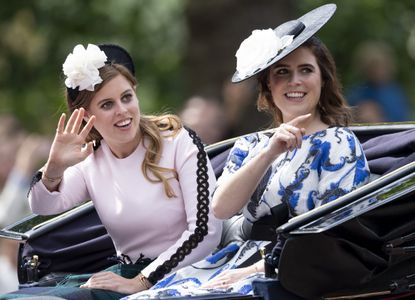 (Image credit: Getty Images)
The latest news is the announcement that royal aides from the Queen, Prince Charles, Prince William and Prince Harry's camps are all working together to find tenable solutions to the situation within 'days, not weeks'.
It means that an explanation about how Harry and Meghan's positions will change, and how that will affect everything from their home to their finances, is still a little while away from being shared with the public.
But two royals who could provide helpful inspiration for a model of the what the couple's future could be like, are Princess Beatrice and Princess Eugenie.
Prince Andrew's two daughters are currently not considered to be senior, working royals, as Prince William and the Duchess of Cambridge, for example, are.
This means that the 31 and 29 year old sisters do not carry out royal duties full time on behalf of the Queen, despite being both ninth and tenth in line to the throne, respectively. In fact, Beatrice and Eugenie both hold full time jobs.
MORE:Duchess Meghan Markle leaves country as Prince Harry meets withroyal family amid fallout from shock announcement
The parallels between Beatrice and Eugenie's current roles within the royal family, and Prince Harry and Meghan's desire for their roles are, arguably, clear to see. The York sisters have struck an interesting balance between royal duty, charity work, and their own, financially independent careers - something it appears the Duke and Duchess of Sussex also want.
So how exactly could Beatrice and Eugenie inspire Harry and Meghan's plans for the future, and how far might the Princesses have set a precedent for the Duke and Duchess?
How do Beatrice and Eugenie support themselves - and could Harry and Meghan do the same?
The Princesses both have full time jobs - with the Duke of York's website simply explaining that Beatrice works in business. According to People, she works for US-based technology company Afiniti, dividing her time between New York and London. Princess Eugenie works as a director at the art gallery Hauser and Wirth, in London.As such, the girls have a private income that is nothing to do with the monarchy, which is presumably used to fund their day-to-day living expenses.
Although possible, it's unlikely that Harry and Meghan would take full-time office jobs like their cousins. But there's every chance that they could do some kind of work aligning with their more commercial passions - such as food or fashion for Meghan - that could earn them a handy income.
It's also thought that Beatrice and Eugenie have a significant sum of money for them set up in trust funds. When their mother, Sarah Ferguson, and dad Prince Andrew got divorced, the Duchess of York received £3 million in the settlement, with The Telegraph reporting that she used £1.4 million of it to begin a trust fund for her daughters.
The York sisters also have a part of the money left by the Queen Mother to all of her great-grandchildren at their disposal. The total was £18 million, to be shared between all of the Queen's grandchildren.
When it comes to Harry and Meghan, similar things apply - Prince Harry was reportedly left with around £10 million from Princess Diana, to share with his brother Prince William. Like his cousins, Harry also recieved money from the Queen Mother too.
And Meghan Markle had her own fortune too before marrying her husband. She is reportedly worth £3.8 million, as a result of her work on the legal drama Suits, and her commercial deals with brands such as Reitmans.Of course, this means that the couple aren't exactly short of money in savings to keep them afloat.
Prince Harry and Meghan have also stated their wish to no longer receive money from the Soverign Grant - a payment from the government to fund official duties on behalf of the monarch. Currently, Beatrice and Eugenie do not receive any money from this either. In fact, both pairs instead receive money from their fathers, Prince Charles and Prince Andrew, with Harry and Meghan explaining that 95% of their official expenditure comes from the Duchy of Cornwall, Prince Charles' estate.
It's not yet clear how that will change, but it appears to be a system that works for Beatrice and Eugenie at the moment, so could work for their royal cousins.
How involved are Beatrice and Eugenie in charity and royal patronages - and could the same apply to Meghan and Harry?
Of course, Princess Eugenie and Beatrice don't complete the same level of charitable engagements as the like of Prince Charles, or Camilla, for example, simply because they a) aren't duty bound to, and b) don't have the time to dedicate to it due to their jobs.
However, they do support a number of charities close to their heart in an official capacity as part of the monarchy, and are also royal patrons of many of them.
Princess Beatrice has focused her work on dyslexia, suffering from it herself, children's welfare, and the arts, among other things. She is Patron of the English National Ballet School, and the Forget Me Not Children's Hospice, for example. Princess Eugenie has an interest in other things, including eradicating modern slavery, the arts, and specifically the world of scoliosis, have undergone back surgery herself at the age of 12 to correct it. The sister are also patron's of the Teenage Cancer Trust alongside their mother.
This means that, if Prince Harry and Meghan Markle were to occupy a similar role within the royal family to the York siblings, they would still be able to support their chosen royal philanthropic passions in a significant and meaningful way.
However, this is one part of Harry and Meghan's future that might not be able to be modelled on precedent set by Beatrice and Eugenie. Royal correspondent Omid Scobie has explained that the couple plan to launch the Sussex Royal Foundation, which they hope they can use as force to do charitable work globally.
This means that they would be working on charity work outside the scope of the monarchy - and doing things their way, such as setting their own agendas and working to their own schedules.
Of course, Beatrice and Eugenie don't operate in this way.
How often do Beatrice and Eugenie complete official duties on behalf of the Queen - and would that work for the Duke and Duchess of Sussex?
Following the recent scandal surrounding Prince Andrew, questions were raised over whether Beatrice and Eugenie would still continue to complete official duties on behalf of the Queen.
But when asked, Buckingham Palace confirmed, "The Princesses do undertake a small number of royal engagements each year, as and when asked, and that will continue."
At the moment, Beatrice and Eugenie attend family events such as Trooping the Colour, Christmas at Sandringham, and Royal Ascot. They also visit their charity patronages in an official capacity a small number of times a year.
It's likely that Harry and Meghan could follow a similar pattern, undertaking fewer official royal duties (such as ceremonial days), and only attend events that are considered to be important to the royals as a family.
Where do the York sisters live, how do they pay for it, and might Harry and Meghan follow suit?
Much has been made over where the Duke and Duchess of Sussex will live, and whether they'll be permitted to stay in their grace and favour property, Frogmore Cottage, in the grounds of Windsor Home Park.
MORE:Was Harry and Meghan's 'step back' inevitable? The warning signs that the couple were always likely to take a different path
And if Beatrice and Eugenie are to be used as a model for their future, it's likely that they will be. Currently, the 'minor' royals, are allowed to live in homes owned by the monarchy. Eugenie and her husband Jack Brooksbank live in Ivy Cottage in the grounds of Kensington Palace, while it's thought that Beatrice lives at St. James's Palace when in London.
It's thought that they are allowed use of these properties given that they are Queen's grandchildren, but that Prince Andrew pays for the expenses (such as rent) for them from his personal income. It hasn't been made clear how this financing has changed given the Duke of York's recent step back from the monarchy.
Harry and Meghan could do the same with Frogmore Cottage, and pay for the upkeep of their home and their rent out of their own pocket or with money from the Duchy of Cornwall. Of course, they recently had the cottage refurbished, but their new official website, SussexRoyal, states that this was funded as part of the "Monarchy's responsibility to maintain the upkeep of buildings with historical significance." They then explain that all fixtures, furnishing and fittings were paid for privately by the Duke and Duchess, a practise which is now likely to continue going forward.
The issue of Harry and Meghan's residence is likely to be one of the things debated during current discussions on their future plans.
Do Beatrice and Eugenie receive full-time security?
No. Since 2011, the Princesses have had their full-time security taken away, with it unable to be justified given that they do not work on behalf of the Queen full time.
So, if Harry and Meghan are set to do the same, and no longer work for the monarchy full time, does this mean their security will be taken away too? It's not yet clear, but of course, the topic will be up for debate at the moment, with input from both the Canadian and UK governments too.
But it's worth remembering that the Duke and Duchess of Sussex are more high profile than the York sisters, and therefore, arguably, at a higher risk, and as such, in need of more regular, strict security.
Of course, as yet there's no telling how the Duke and Duchess's future within the monarchy will pan out, with plans still being devised within the royal household. But Princesses Beatrice and Eugenie certainly provide an interesting look at how things could be reorganised for Harry and Meghan...
Sign up to our free daily email for the latest royal and entertainment news, interesting opinion, expert advice on styling and beauty trends, and no-nonsense guides to the health and wellness questions you want answered.
Amy Hunt is an experienced digital journalist specialising in homes, interiors and hobbies. She began her career working as the features assistant at woman&home magazine, before moving over to the digital side of the brand where she eventually became the Lifestyle Editor up until January 2022. Amy won the Digital Journalist of the Year award at the AOP Awards in 2019 for her work on womanandhome.com.