Alexa Chung poses in 'naked' dress at Buckingham Palace ahead of King Charles and Camilla meeting
Alexa Chung's 'naked' dress sparkled outside of Buckingham Palace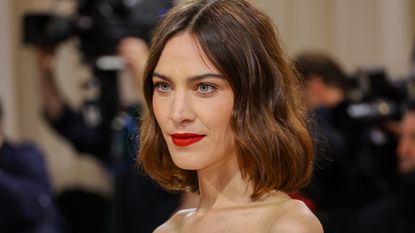 (Image credit: Getty Images)
Alexa Chung showed off her 'naked' dress as she posed in front of Buckingham Palace ahead of a special meeting with King Charles.
---
Alexa Chung and her brother, Dominic, paid a visit to Buckingham Palace on Wednesday in order to meet with King Charles III.
The pair attended the iconic royal residence for a special reception hosted by the new monarch, as a celebration of East and South-East Asian communities in Britain.
Choosing a rather out-there number for the royal event, Alexa, whose father is of Chinese descent, posed for an Instagram photo in front of the palace, looking incredible in a shimmering, sheer gown.
"Naked dressing for Bucky P," Alexa captioned the cheeky post.
The fashion designer, model and 'it girl' chose the piece by Asian designer Huishan Zhang, teaming the dress with a pair of simple black heels and a sleek side-parted hair style, pinned with a bejewelled clip accessory.
At risk of breaking royal protocol, Alexa covered up in a smart, black blazer for the moment she was greeted by the King, grinning and shaking hands with the newly-appointed sovereign.
The event was also attended by Queen Consort Camilla, Princess Anne and Prince Edward, as well as The Duke of Kent, The Duchess of Gloucester and Princess Alexandra, who mingled with the 300 guests as they gathered in the palace's White Drawing Room, Blue Drawing Room and Picture Gallery.
Queen Camilla, who recently exuded elegance in regal blue tunic dress, wore an Anna Valentine black tunic dress embroidered with green stitching for the sociable evening, teaming the stylish piece with a pair of loose trousers and a striking gold choker-esque necklace.
King Charles and Queen Camilla shared snippets from the event on their official social media pages, sharing more details about the evening and sparking a great reaction from royal fans.
"Guests at the Reception encompassed a plethora of fields including the Armed Forces, the Arts, Media, Fashion, Business, Government, Finance, Healthcare, Faith organisations, charities and more," they wrote, adding, "It was also wonderful to see some familiar faces from Their Majesties' visit to Chinatown last year!"
Taking to the comment section, one royal fan wrote, "Everyone seems to be enjoying themselves! It looks like it was fun!"
Another penned, "Working hard every day and night to foster respect and joy amongst people from all backgrounds. Long Live the King!"
A third agreed that the celebration was a "great opportunity to share the beauty of all cultures and backgrounds".