Meghan Markle circulates baby photo of Lilibet to the Royal Family via WhatsApp
Like many other families, the royals reportedly have a WhatsApp group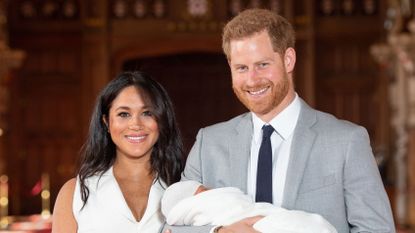 (Image credit: DOMINIC LIPINSKI/AFP via Getty Images)
There's a WhatsApp message from Meghan Markle: baby photos of Lilibet Diana Mountbatten-Windsor are making the rounds among Royal Family members via the Facebook-owned platform.
• According to reports, Meghan Markle and Prince Harry sent photos of their newborn daughter to the family's WhatsApp group.
• At this time, it appears the Queen is the only member of the royal family to have met Lili via video call.
• In other royal news, the Queen continues the floral trend at Royal Ascot with a stunning mint green hat—and there's a special significance behind it.
---
Meghan Markle: baby photo of Lilibet makes the royal rounds
The Duke and Duchess of Sussex's baby announcement has tech-savvy flair.
The couple welcomed their second child, daughter Lilibet Diana, on 4 June and decided to share snapshots with royal relatives across the pond via WhatsApp, according to reports. Since baby Lili was born in California (although she's not the only royal born in the U.S.) it's been difficult for Prince Harry to connect with his family during this momentous time, so they turned to technology.
The family's What'sApp group first sparked interest two years ago when Mike Tindall, married to the Queen's granddaughter Zara Tindall, commented on it while visiting Good Morning Britain. Apparently, it is the best way for the family to keep track of various events and get the children together, making it a seemingly perfect place to share baby photos.
''It's just what you do to try and set up get-togethers and when we are going to something that is the same," Mike said, according to People. "If you are going to go, 'Are you going to take the kids?' Quite a lot of people have family WhatsApp groups. I don't think it's a new revelation."
Although the baby's photos are making the WhatsApp rounds, it's said the Prince introduced the Queen to Lili via video call. However, it appears the head of the British monarchy might be the only one to have had this opportunity. When asked about her niece during a trip to Connor Downs Academy preschool on 11 June, Kate Middleton responded sweetly to Lilibet questions.
"I wish her all the very best. I can't wait to meet her," she told reporters. She also confirmed she and Prince William hadn't yet had a FaceTime call with her.
Kate is asked about her new niece Lilibet by NBC journalist Andrea Mitchell, a US pool reporter. pic.twitter.com/CVAWU7td7QJune 11, 2021
See more
Perhaps it won't be too long until the Royals get to meet Lili in person. Some royal sources think that Meghan will attend the Princess Diana statue unveiling in the UK alongside Prince Harry in early July. They insist that she doesn't want to leave Harry alone after he attended his grandfather's funeral in April without her. Others think the idea of Meghan traveling is highly unlikely and she'll be staying home with the children on the west coast.
Although there are still a few more weeks until the celebration of Princess Diana's 60th birthday, royal fans are crossing their fingers for a reconciliation. Now that the youngest generation of royals has arrived, many are wondering if they're what it takes to end this rift. Allegedly, Kate Middleton wants to make up with Prince Harry and Meghan "for the sake of Archie and his cousins."