Over 50s dating made easy: an expert guide to finding midlife love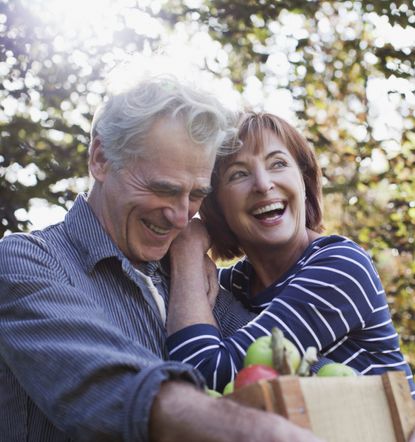 (Image credit: Getty Images)
So you're single again at 50-plus? Congratulations, you're right on trend along with a record number of baby boomers.
We know that dating again after a long-term relationship can feel daunting. But don't worry – you're not alone. There are now over 7 million singles over 50 in the UK, and with dating apps (opens in new tab) and services dedicated to over 50s on the rise, it's never been a better time to try dating.We've called on the expertise of the UK's top over 50s dating experts to help you navigate this tricky new world and maximise your chances…
The 'old fashioned' approach: meeting in everyday life
There are so many places you could potentially meet a new partner. Relationship coach Susan Quilliam suggests spending less time in 'babbling brooks' (places people go to chat but where dating is not the overt agenda, such as a neighbour's party) and 'stagnant pools' (where you see the same people week-in week-out, such as evening classes).
Instead, look for 'slow river' activities such as walking groups, meet-ups (search online for events in your area) or dance classes, which deliver a stream of new people.
The 'more modern' way: senior dating online
If you're struggling to meet eligible matches in the real world, why not look online? Lumen is a new dating app (opens in new tab), specifically designed for over 50s.
Charly Lester, the app's co-founder, offered this advice for making the most of online dating. "Dating apps can be a great place to meet people you wouldn't have otherwise met in real life, but remember they are not a quick fix.Often you need to meet a variety of people to work out what you are looking for.
"So try to enjoy the whole process, and don't panic if you don't meet 'the One' in the first week. Read peoples' profiles, and send personal messages. Strike up conversation with different people on apps like Lumen (opens in new tab) and if you find someone engaging, meet up in person to see if there's a spark in real life."
Other dating websites also specialise in over 50s dating (opens in new tab). Fifty Dating (opens in new tab) is free to join and super easy to use - all you need to do is input who you're looking for, your name, date of birth and your email, and there you have it!
Creating an online profile
So what should you include in your online dating profile? "I tell my clients, show don't tell," says midlife dating expert Rebecca Perkins, who met her own partner online when she was in her fifties.
Give a snapshot of your life that shows who you are. "That might mean describing a day on holiday in your favourite location, or a conversation you've had with your teenage son about whether you should go kitesurfing, anything that makes you stand out."
Honesty is a key part of dating. "When you're choosing photos, try to use relatively recent images, which accurately portray the way you look. Choose headshots where your face isn't hidden behind sunglasses, and where you're smiling – this genuinely makes a big difference!" says Charly Lester.
"If you're struggling to work out if a photo is too old, a good rule of thumb is the clothes you're wearing. If you still wear them, and they still fit, then use the picture. I tend to include at least one full length photo on my dating profile, so there are no surprises when I meet someone in real life."
Text etiquette
While 'courting' largely happens by text and email these days, Quilliam advises scheduling an old-fashioned phone call before you initially meet, and meeting within three weeks of the first message.
According to research, dragging out an email or text exchange will increase your chances of feeling disappointed when you do finally meet in the flesh.
Sex
There are no rules here. "A lot of men will be coming from long marriages where the sex has dried up and the can be a bit like teenage boys," advises relationship therapist Andrew G Marshall. "Bit that doesn't mean they're only interested in sex."
But there's no need to feel alone if you're feeling anxious. According to Debrett's research, only 24% of over 50's would have sex in the first week of dating.
You're a grown-up, you decide and do whatever feels right – but don't feel pressured.
And most importantly, enjoy your dating life!
Words: Sharon Walker, Charly Lester, and Amy Hunt