Will this covid staple become a permanent part of our wardrobes?
Once relegated to yard work, Crocs could become a summer staple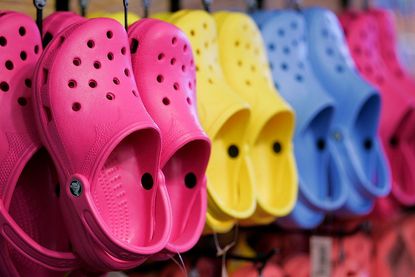 (Image credit: Getty)
Crocs, the maker of chunky, formerly not-so-fashionable slip-on foam shoes, reported record sales of $640 million from April to June, double the figures from the same period a year earlier. The company expects sales to continue going up and has raised its revenue outlook for the rest of the year.
While the company attributed the bump in sales to people looking for comfy footwear during lockdown, the fact that sales are going strong worldwide, even as cities reopen, could signal a turn toward Crocs becoming fashionable.
Crocs have made notable appearances in the past: Michelle Obama wore a pair in 2009 and Former President George Bush wore them with black socks. But even more celebrities are even wearing Crocs today. Questlove wore a shiny gold pair to this year's Academy Awards, and Justin Bieber, Diplo and Post Malone have both worked with Crocs on collaborations. Cosmetic brand Benefit recently worked with Crocs on a sparkly pink sandal collection.
Some high-end companies like Gucci and Yeezy have made Crocs-like editions of their own, and the brand has filed trade infringement lawsuits against 21 other shops, including Walmart, for making copycat clogs.
Crocs are made of a patented material called Croslite, a type of foam that is breathable and molds to customers' feet. The American Podiatric Medical Association has recommended them as a shoewear that is good for feet.
Of course, good for feet and good looking don't always go together, and Crocs have long been divisive. Maxim named them one of the "worst 10 things to happen to men in 2007" and TIME called them "one of the world's 50 worst inventions in 2010." Times change, though, and a global pandemic could have been just the boost Crocs needed to skyrocket into style.
The brand is now hoping "Jibbitz" shoe charms, which can be used to decorate and personalize Crocs, become even more popular.
Rebecca Holland is a travel and food writer based in Chicago. She has written for the Guardian, New York Times, Architectural Digest, Food & Wine, Wine Enthusiast and more. She is currently a graduate student at Northwestern's Medill School of Journalism. When not working, you can find her eating her way through Chicago's neighborhoods, or in non-pandemic times, traveling around the world.