Who is Naomi Pierce and who plays her in Succession?
Here's how Naomi Pierce fits in to the Roy family business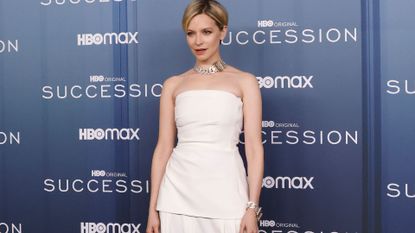 (Image credit: Getty Images)
Fans of HBO's hit show Succession may be wondering more about Naomi Pierce, and how she fits into the Roy family's shenanigans.
After the season 4 premiere of Succession on HBO Max on March 26, fans have gotten back into full slime puppy mode. This season is the fourth and final, so fans are already starting to grieve the loss of the popular show, and are hanging onto what little time they have left with the ever-dysfunctional Roy family.
One of the key players we'll likely be seeing a lot of this season is Naomi Pierce, who helps the Roys outbid their father to acquire Pierce Global Media (PGM) - but has had some appearances in season 2 and season 3 of Succession as well.
What is Naomi Pierce in Succession and what's her role in the Roy family?
Naomi Pierce has become a crucial part of the in the Succession plot.
In season 2, we saw Naomi date Kendall (Jeremy Strong), where they both had shared struggles of drug addiction and overcoming their families' expectations of them. Kendall's father Logan (Brian Cox), however, did not trust Naomi - and their relationship ended after *that* birthday party Kendall had in season 3 (if you know, you know.)
Throughout the show, Naomi has been very open about how she did not want the Roy's family business to acquire PGM - however, Kendall convinces her to side with the Roys, as it benefitted Naomi to escape the shackles of her family.
Fast-forwarding to season 4, it becomes implied that Naomi and Shiv's (Sarah Snook) husband Tom Wambsgans (Matthew Macfayden) have a secret sexual relationship - however, it is not brought up as the Roy's family business ventures continue to progress.
So, needless to say, as much as Naomi is a powerhouse woman, it's certainly not without some scandal.
Who plays Naomi Pierce in Succession?
Succession's Naomi Pierce is played by actress Annabelle Dexter-Jones.
Aside from her successful portrayal as Naomi on Succession, Annabelle, 36, has been acting under the radar for many years now. Although, of course, she is most known for her role of Naomi, she also has been in shows such as The Calling on Peacock and the Amazon Prime series Red Oaks - as well as movies and short films such as Cecile on the Phone, Under the Silver Lake, which also stars Andrew Garfield and Riley Keough of Daisy Jones & The Six, and more.
the dad sunglasses… who is doing it like Naomi Pierce pic.twitter.com/JPVJ6ze6JHMarch 27, 2023
See more
Although her role on Succession has seen only a handful of episodes, her impact on the screen certainly does not go unnoticed. Fans are even comparing Annabelle's appearances as Naomi to that of Princess Diana for her timeless and chic aesthetic.
"The Princess Diana-fication of Naomi Pierce," one person tweeted with an accompanying picture of a signature Naomi outfit.
"I need this Naomi Pierce look for the spring," another person tweeted.
Madeline Merinuk is woman&home's US lifestyle news writer. She covers celebrity, entertainment, fashion, and beauty news but is also obsessed with internet trends - you can find her reciting trending TikTok sounds out loud at any given time.
After winning multiple student journalism awards for her investigative work, she graduated from Hofstra University in 2021 with a B.A. in Journalism. After graduating, she worked at today.com, the digital site for the Today Show, where she wrote pop culture news and interviewed big-name personalities like Emily Ratajkowski, Haley Lu Richardson, Emma Corrin, and more.
Her personal interests, in no particular order, are: cheese, Joni Mitchell, reading, hot yoga, traveling, having multiple chapsticks in every handbag at all times, and dancing to ABBA songs as if she were in the Mamma Mia movies.