Who did Rossi lose on Criminal Minds Evolution and what happened to his wife in this intense Paramount reboot?
If you've been wondering who did Rossi lose on Criminal Minds: Evolution since the reboot show premiered then you're probably not alone...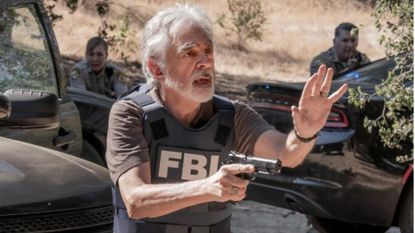 (Image credit: Monty Brinton/Paramount+)
Who did Rossi lose on Criminal Minds: Evolution is the question likely on many fans' minds after the first episodes of the Paramount+ reboot drama.
Criminal Minds left Netflix in June 2022 but that won't have stopped avid fans of the long-running crime drama from making their way through season after season on Paramount+ or Disney+. And after catching up and enjoying fellow investigative thrillers like Shetland season 7 and Bloodlands season 2, our patience has been rewarded as the show has returned with a reboot - Criminal Minds: Evolution. The first two episodes of the new show are now available to stream and those who've already raced to watch them will have seen Supervisory Special Agent David Rossi in a very bad place.
But who did Rossi lose on Criminal Minds: Evolution, who was his wife and what happened to her? We reveal what you need to know after those heartbreaking moments in the reboot's opening episodes…
*Warning: Spoilers ahead!*
Who did Rossi lose on Criminal Minds: Evolution?
Like the matter of what happened to Hope on Virgin River and who killed Grace in Manifest, many fans were likely left with a serious question after watching or hearing about the hit show's reboot - namely, who did Rossi lose on Criminal Minds? There's nothing like the potential death of a beloved character to get our hearts racing and hoping desperately our favorites are safe. And whilst Emily, Penelope, JJ and Luke fans can rest easy that none of the original Criminal Minds regulars are going anywhere quite yet, Rossi's wife Krystall has passed away.
Krystall will be a familiar name to any avid Criminal Minds watchers as we saw their marriage rise from the ashes of their former failed relationship. However in the Criminal Minds: Evolution premiere, Just Getting Started, it was revealed that Krystall had not only died, but had done so around a year prior to the episode's timeline.
Describing the loss of Rossi's wife as a "great arc" executive producer Erica Messer told Deadline that Krystall's death has severely impacted David Rossi in Criminal Minds: Evolution.
"Rossi is really pissed off about [the way Krystall's death happened] so he blames everything and everyone, including himself," she said, noting he won't be able to pull himself out of this "overnight" but will be gradually coming to the realization that he can't carry this level of guilt around with him forever.
She said, "For Joe Mantegna to bring that heartache and grief into this season, a lot of people could [relate]. A speech he gives to the young girl who they rescue at the end …. it's really a nod to all of us who have lost someone and we are left still needing to live and not wanting to give up."
"The advice he's giving her is the advice he needs to be taking himself," Erica continued. "And he'll get there this season. It's not like an overnight, he's gonna be okay by episode three, but it's a great arc for this season."
Meanwhile, Rossi's actor Joe Mantegna admitted to Variety that he was initially "very shocked" to see the direction Criminal Minds: Evolution was taking his character in.
"I was pretty shocked at first when I read it," Joe shared, before going on to state, "You can't orchestrate what happens to you in life, and you get knocked down — what are you going to do? Are you going to lay there or are you gonna get up? So that's where we find Rossi. He has a decision to make here. Things happen to good people and bad people. There's no accounting for it."
The star said it "scared" him watching how Rossi had "let himself go" in the first episode. But despite all the character has been through, Joe explained that he's "betting on Dave. It's gonna take a little bit. It's part of the evolution."
So any fans who'd been wondering who did Rossi lose in Criminal Minds: Evolution as they watched his grief in episodes 1 and 2 can at least take comfort in the knowledge that things will likely get better for the SSA as the season goes on.
Who was Rossi's wife and what happened to her?
As all dedicated fans of the original Criminal Minds show will know, Behavioral Analysis Unit supervisory special agent David Rossi has been married three times. But perhaps the biggest romantic rollercoaster of all was his relationship with Krystall Richards, who has passed away from cancer. She was his third ex-wife and they'd married in Las Vegas in a drive-thru wedding chapel, only to quickly realize they'd made a major mistake and get the nuptials annulled.
Fast-forward several years and Krystall came back into Rossi's life and made her first in-show Criminal Minds appearance in season 13. After reminiscing about their romance one thing led to another (following some expert sleuthing that saw Rossi expose Krystall's daughter's fiancé Wick as a manipulator who preys on rich women) and they rekindled things.
Second time around Krystall and Rossi's love story went from strength to strength and the seasoned profiler later pops the all-important question. In the season finale of season 14, fans saw Rossi and Krystall tie the knot in a ceremony attended by all of his BAU family.
Krystall's appearances in the final season of Criminal Minds was a little more dramatic as she was taken hostage by Everett Lynch AKA the con-man and serial killer known as The Chameleon who had previously killed his own daughter in his quest to evade capture and continue his crimes.
Perhaps unsurprisingly given his advanced skillset, Rossi saved his wife and the day. The last time we saw Rossi's wife Krystall was with him at a party hosted for Penelope Garcia. Very sadly, this turned out to be the last time we ever saw the brilliant Gail O'Grady as Krystall given that she was the person Rossi lost on Criminal Minds: Evolution.
As revealed by Deadline, the reboot show's executive producer Erica Messer explained that Krystall has passed away and that Covid-19 played a part in Rossi losing his beloved wife.
"It was one of those Covid adjacent deaths. You couldn't really go to the doctor unless it was an emergency situation. One of her yearly exams got put off and when she finally got to the doctor, they found cancer and it was advanced and it was too little, too late," she shared.
Discussing why they decided to have Rossi lose Krystall in such a heart-breaking way, Erica disclosed that it reflected how it's a "nod" to everyone who's experienced immense grief since Criminal Minds ended in 2020 ahead of the pandemic.
The producer said, "I feel like it was important to have a representation of the grief that so many of us have experienced since the show ended, just because life has happened. I mean, it might not have been Covid related for you at all, but all of us have loved and lost and in our lives.
"For Joe Mantegna to bring that heartache and grief into this season, a lot of people could [relate]. A speech he gives to the young girl who they rescue at the end …. it's really a nod to all of us who have lost someone and we are left still needing to live and not wanting to give up."
How to watch Criminal Minds: Evolution
Anyone who wants to watch Criminal Minds: Evolution and catch up with the exploits of their favorite returning characters from the original show should head to Paramount+ or Disney+ depending on where you live. US-based viewers can watch not only the reboot but all 15 series of Criminal Minds via Paramount + and those with an Amazon Prime membership can add a Paramount package to their subscription fee to watch via Amazon Prime Video. In the UK viewers can enjoy Criminal Minds: Evolution with a Disney+ subscription.
The first two episodes are available to stream now with new episodes dropping on Fridays going forwards. Criminal Minds: Evolution will have a mid-season pause from December 16 before resuming a weekly schedule for new episodes from January 13.
Sign up to our free daily email for the latest royal and entertainment news, interesting opinion, expert advice on styling and beauty trends, and no-nonsense guides to the health and wellness questions you want answered.
Emma is a Royal Editor with seven years of experience working in digital publishing. Her specialist areas including literature, the British Royal Family and knowing all there is to know about the latest TV shows on the BBC, ITV, Channel 4 and every streaming service out there. When she's not writing about the next unmissable show to add to your to-watch list or delving into royal protocol, you can find Emma cooking and watching yet more crime dramas.