Bloodlands season 2: What's it about, how many episodes are there and what happened in the first season of the chilling James Nesbitt drama?
Bloodlands season 2 has seen the return of DCI Tom Brannick and the stakes couldn't be higher as he takes on his latest investigation...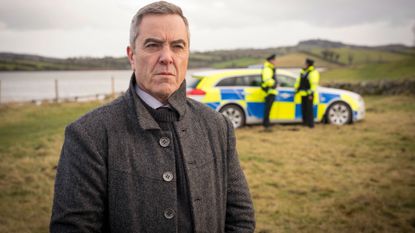 (Image credit: BBC/HTM Television)
Bloodlands season 2 has landed with plenty of disturbing secrets and cryptic clues to unravel as DCI Tom Brannick investigates the death of an accountant.
As the colder months set in the darker evenings make watching the latest suspenseful crime dramas all the more intense and now Bloodlands season 2 has landed, plunging fans back into the tense world of DCI Tom Brannick's investigations. Set and filmed in Northern Ireland, The Secret (opens in new tab) star James Nesbitt leads the Bloodlands cast as the DI whose team is tasked with finding out who killed accountant Colin Foyle in season 2. Set alongside some serious personal dilemmas the stakes couldn't be higher for Tom as they follow a complex trail.
But what is Bloodlands about, what happened in season 1 and how many episodes are there until what promises to be an utterly tense finale? We reveal what you need to know as the BBC drama continues…
*Warning: Major Bloodlands season 1 and 2 spoilers ahead!*
What is Bloodlands about?
Nothing screams unmissable mystery drama quite like a determined lead detective battling emotional demons from his past and just like ITV's Ridley and BBC's Sherwood, Bloodlands is no exception. The intense Belfast-set crime drama follows Detective Chief Inspector Tom Brannick and his team and in the first season of Bloodlands they were tasked with solving a cold case that looked suspiciously similar to crimes committed by Goliath.
This mysterious assassin is responsible for multiple murders - including, Tom believes, the murder of his wife. It was only as Bloodlands season 1 reached its dramatic conclusion that the dark truth was finally confirmed.
In the Bloodlands season 1 ending fans were shocked to learn in a very Line of Duty-esque twist that Goliath was none other than Tom himself! It turned out that his late wife, intelligence officer Emma, had actually gone missing several weeks before the DCI had reported her disappearance. After unintentionally leaving a trail of increasingly suspicious breadcrumbs, doctor Tori Matthews and Tom had a face-off at her house and he admitted new information about what happened back in 1989.
The police officer claimed he had received a call and was threatened by David Cory to kill Tori's dad, Father Simon Quinlan, and former IRA member Joe Harkin if he ever wanted to see Emma again. Tom followed his instructions and ambushed Quinlan and Harkin whilst they waited for a shipment of weapons on Strangford Lough island. After murdering both men, Tom had waited until he saw David and Emma arrive - seemingly behaving like a couple and not a kidnapper and kidnap victim.
He'd killed David in revenge and told Emma to use her intelligence skills to disappear. Pressed for more information, Tom then told Tori that he'd also killed David's brother Adam Corry who'd come perilously close to learning his identity as Goliath and revealed where she could find the gun used in the shootings.
Although it seemed Tom was prepared to give up, it soon emerged that he'd laid a trap for Tori. When she arrived at the farmhouse where he'd hidden the gun, it had already been found by former IRA member Pat Keenan who the detective had lied to, saying Tori had been the one who'd previously kidnapped him. Furious, Pat killed Tori just before Tom arrived and shot him, before one of his fellow police officers arrived to see him apparently taking down "Goliath" who - after all - had been holding the gun used in the previous crimes.
After everything Bloodlands season 1 ended with Tom just about managing to keep a lid on his murderous past though Bloodlands season 2 looks set to drag it all up again. Investigating the murder of crooked accountant Colin Foyle, Tom has become embroiled in the quest to solve a riddle he left behind working with widow, Olivia.
So far in Bloodlands season 2 fans have learnt that on the night Tom shot Simon Quinlan and Joe Harkin, he'd intercepted a considerable amount of gold bullion that came along with the weapons.
Colin had been the one who'd been the custodian of the bullion, requiring Tom to truly keep calm and carry on as if he'd never seen him before when his body was found. Now the detective must find Colin's killer, keep his Goliath identity hidden and retrieve his gold without being detected. We've already seen Tom and Olivia agree to team up to find the gold but exactly how much they know about each other and whether she knows he's Goliath remains to be seen.
Meanwhile, Colin apparently wanted to change his will on the day he died and the FBI have told Tom in his detective capacity that the bullion was originally intended for the IRA - as revealed to them by an anonymous informant. All this makes for a seriously suspenseful second series as the pressure is well and truly on for Tom and fans wonder whether or not he'll ever be caught for his crimes…
How many episodes of Bloodlands season 2 are there?
Unlike the first instalment of the gripping police procedural series which had four episodes, Bloodlands season 2 consists of six episodes. Each episode is an hour long and the will be released on a weekly basis, allowing fans plenty of time to be absorbed into the next chapter of DCI Tom Brannick's complex and ever-evolving attempts to evade detection.
What time is Bloodlands season 2 on?
Bloodlands season 2 is on at 9pm on Sundays on BBC One and the episodes are then made available to watch via BBC iPlayer. Unfortunately for mystery fans who've now binge-watched their way to the Karen Pirie ending and want to do the same here, each episode of the James Nesbitt drama is being released on iPlayer weekly rather than in one go.
Who's in the Bloodlands season 2 cast with James Nesbitt?
Bloodlands season 2 cast list:
DCI Tom Brannick played by James Nesbitt
DS Niamh McGovern played by Charlene McKenna
DCS Jackie Twomey played by Lorcan Cranitch
DC Bird played by Chris Walley
Izzy Brannick played by Lola Petticrew
Olivia Foyle played by Victoria Smurfit
Returning to the Bloodlands season 2 cast is, of course, James Nesbitt, known for his roles in everything from Line of Duty season 6 to The Hobbit film series. He plays DCI Tom Brannick AKA Goliath in the show and he previously expressed his excitement to the BBC (opens in new tab) about playing this "complex" character again when filming started.
"It's brilliant to be back filming in Northern Ireland and reunited with the gang for the second series of Bloodlands," he said. "I couldn't be happier to be welcoming Victoria to the cast, having first worked with her over 20 years ago! I can't wait for audiences to see what's next for the cunning and complex Tom Brannick."
He is joined in the Bloodlands season 2 cast by fellow returning stars Charlene McKenna as DS Niamh McGovern, Lorcan Cranitch as DCS Jackie Twomey, Chris Walley as DC "Birdy" Bird and Lola Petticrew as Izzy Brannick. Perhaps the most prominent new cast member is Victoria Smurfit as Olivia Foyle who is key to Tom's storyline this season.
"I'm beyond excited to be joining the cast of Bloodlands and to be working with Jimmy again. I adored watching the first series!" Victoria previously declared.
Bloodlands airs at 9pm on Sundays on BBC One and episodes 1-3 are available to watch on BBC iPlayer now.
Emma is a Senior Lifestyle Writer with six years of experience working in digital publishing. Her specialist areas including literature, the British Royal Family and knowing all there is to know about the latest TV shows on the BBC, ITV, Channel 4 and every streaming service out there. When she's not writing about the next unmissable show to add to your to-watch list or delving into royal protocol, you can find Emma cooking and watching yet more crime dramas.