Karen Pirie ending explained: who killed Rosie and why were the original suspects targeted in the gripping ITV crime series?
The emotional Karen Pirie ending saw Lauren Lyle's DS Karen Pirie finally solve this complex and heartbreaking case after 25 years...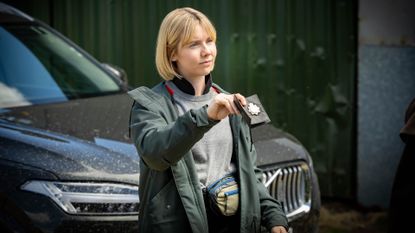 (Image credit: WORLD PRODUCTIONS FOR ITV)
The Karen Pirie ending tied up the major questions that have been tormenting us all season long as DS Karen Pirie took a huge risk to arrest Rosie Duff's real murderer after 25 years.
Whilst some people were likely left wondering whether Karen Pirie was based on a true story since it landed, other thriller lovers will perhaps have been heading for their bookshelves to seek out Val McDermid's spellbinding series. Based upon her book, The Distant Echo, the ITV crime series stars Outlander's Lauren Lyle as the titular DS Karen Pirie. She has been tasked with re-examining the 25-year-old cold case of murdered barmaid Rosie Duff and looking into the alibis of the three men who said they'd only found her body that night.
Although episodes are airing weekly on ITV, all three are now available to watch on the ITV Hub, meaning that some fans might well have questions after binge-watching through to the finale. Here we explain the Karen Pirie ending, who was targeting the three men and what we know so far about the possibility of a season 2…
*WARNING: Major Karen Pirie spoilers ahead!*
The Karen Pirie ending explained
Mirroring the time jumps we've seen building to the Echoes ending and The Suspect ending, all season long the storyline of the ITV Karen Pirie crime series had been split between DS Karen Pirie's 2021 police investigation and 1996 when Rosie Duff was killed. Now the Karen Pirie ending has finally seen justice achieved for Rosie's family as the detective pursued leads that took her all the way to Loch Leven.
On the night Rosie died four men had seemingly discovered her body and in the present had been targeted. With one dead, another, Alex, was viciously attacked and his baby kidnapped by Rosie's biological daughter Grace Galloway. Karen and her ever-loyal DC, Jason Murray, known affectionately as Mint, raced to Grace's isolated house and Karen managed to get her to surrender.
In return, she made a promise that she would do "something really risky" to expose Rosie's killer, whose identity she was now sure of. Having told Grace to stay where she was, Karen made the rifle safe and told the armed officers the baby was safe before begging to be given one moment. Granted this, the DS delivered the shocking twist we'd all been waiting for when she began to read none other than Chief Superintendent James Lawson his rights.
"This is ridiculous," the senior officer replied, clearly staggered by how things were unfolding and loudly proclaimed "Don't you dare!" when Mint began to approach and handcuff him.
It was then that Karen delivered the final nail in his crumbling coffin when she told him that forensics were already on their way to Loch Leven. His face falling, it's clear that Karen had her criminal right where she wanted and wasn't prepared to let him escape justice a second time.
Ultimately the seasoned senior officer was tripped up by an evidence trail he couldn't simply explain away as forensics bagged and tagged their way through his old caravan by Loch Leven and it was determined to be their secondary crime scene.
The very things that had made her suspicious about Lawson turned out to cement his guilt as the waterproof paint found on Rosie's cardigan matched that used on his caravan. Whilst the car fibres found on her also matched the car that used to belong to Lawson's mother.
In a chillingly tense interrogation Karen put it to Lawson that he'd been at the bar where Rosie worked on the night of 26th June 1996 when she died. When Lawson kept silent, the DS began to fill in the blanks for the audience as she shared what she believes happened that terrible night 25 years ago in St Andrews, telling her boss coldly, "Feel free to chip in anytime."
Karen took viewers back to that dark June night but first explained that Lawson, then an ambitious police officer in his early twenties, had dated Rosie when she was 15. He had been proven to be the father of Rosie's child and just like her family had been told that the little girl had passed away when she had really been adopted.
Years later, he still felt possessive over Rosie and after watching and ensuring that she didn't move on with anyone else, attempted to rekindle things. The night she was killed, Lawson had offered to drive her home in the rain and after he promised to leave her alone if she did, Rosie had got in. That one moment sealed her fate as Lawson took her to his caravan by the Loch, forced himself upon her and then strangled her in an attempt to keep her quiet.
Believing she was dead, which Karen chillingly revealed to Lawson hadn't been the case, he panicked and drove her in his mother's car to the cathedral. He had then stabbed her, lying her out on the grave and hoping against hope her death would be seen as linked to another unrelated murder. He later cleaned himself up and returned to "investigate" Rosie's attack and murder.
As Karen had previously told him during the interview, "You thought of yourself before her. You didn't think, 'How can I save this girl from what I've done to her', you thought, 'How can I make it look as though it wasn't me?'"
Arrested and facing a trial for Rosie's death, the final scenes of the Karen Pirie ending see the detective congratulated by another superior officer and dubbed a huge asset to their team. She then was seen enjoying a well-deserved drink with her colleagues and leaving happily with DS Phil Parhatka, adding a touch of lightness to this emotional finale.
Who was Grace Galloway and why did she kill Ziggy?
Grace Galloway was the biological daughter of Rosie and Chief Superintendent James Lawson and it was comparing her DNA to his that proved his previous inappropriate relationship with the barmaid. She was the one targeting the three men who'd found her mother's body - Ziggy, Tom and Alex - believing thanks to the true crime podcast started by Bel Richmond and internet comments that they killed Rosie and got away with it.
Having followed their successful lives and loving families all these years later, rage had built until Grace reached boiling point thinking about the apparent injustice of them having everything whilst her mother's life was ripped away from her. It was then that Grace set out to exact revenge upon the men and killed Ziggy in a hit-and-run accident, was going to attack Tom before he took an overdose and was taken to hospital, attacked Alex and kidnapped his child.
She later threatened Alex with a shotgun and kidnapped his baby before being apprehended by Karen. Talking to her after her arrest and having discovered she was completely wrong about them hurting Rosie, Grace told the DS, "I won't make excuses, I won't justify. I made a split-second decision to end a man's life - the wrong man's life. And I will never forgive myself."
Grace tearfully expressed her belief that she's "just like him" referring in disgust to her mother's murderer and her biological father Lawson. To which Karen assured her equally tearfully that "there is a difference" between what they did. She confessed that Lawson hadn't admitted to the murder despite the evidence and asked if Grace wanted to meet him.
"I want him to spend the rest of his life wondering what I'm like. Just like I have to do with her," Grace replied, though fans did see her meeting Rosie's brothers in prison before the Karen Pirie ending's credits rolled.
Did Lawson actually kill MacLennan?
Despite it being put to Lawson that he was responsible for the death of his former boss DI MacLennan all those years ago, sadly we don't know for sure whether he did actually kill him. The senior detective was speculated by Karen to have been on to Lawson 25 years ago and knew the identity of the one witness who saw Rosie getting into Lawson's car that night. MacLennan drowned a few weeks after Rosie's death in an apparent accident but Karen wasn't convinced that Lawson did really all he could to save his fellow police officer.
However, for the first time all interview Lawson spoke up to deny these accusations as he told Karen, "No, it was an accident. I couldn't save him. I tried to."
"So everything else I've said is not worth a response?" Karen asked incredulously. "But that? That was too far?"
Although it's strongly hinted (and who are we to argue with Karen Pirie's exemplary crime-solving logic) that Lawson could have done more to save MacLennan. Though the DS does have a point that it's strange that allegation is the only one Lawson refutes, perhaps suggesting that he didn't intentionally not save MacLennan but it was fortunate for him that the evidence he had didn't come to light at the time.
What we know so far about if they'll be a Karen Pirie season 2
Sadly for eager fans no Karen Pirie season 2 has been officially confirmed yet, though with plenty more Karen Pirie books in Val McDermid's bestselling series, there's more than enough material to be adapted for future instalments of the ITV show. The first series was based upon just one of Val's books rather than choosing to bring to life a new story in each episode.
This means there's definitely scope to take things further and lead cast member Lauren Lyle already seems keen to develop her character Karen.
As reported by RadioTimes.com, Lauren said, "I think there's a lot more to be done, the books are phenomenal. The next one is partially set in Tuscany, so why would we not want to do that?! But yes, she's my favourite character I've ever played and the one I've felt most trusted with, I've had a lot of creative control, which is just so cool. I definitely feel we could go again if we are permitted."
Whilst executive producer Simon Heath mirrored this when he added that whilst it will "ultimately depend on how well the audience respond to the first season", he and the team "have [their] fingers firmly crossed" there will be a Karen Pirie season 2 announced in the future.
So now you know how this twisting series was resolved in the Karen Pirie ending, it seems you'll just have to be patient as you wait to see if the focused detective will be back in action at some point soon…
All episodes of Karen Pirie are available to watch on the ITV Hub and episodes 2 and 3 will air on Sundays at 9pm on ITV.
Sign up to our free daily email for the latest royal and entertainment news, interesting opinion, expert advice on styling and beauty trends, and no-nonsense guides to the health and wellness questions you want answered.
Emma is a Royal Editor with seven years of experience working in digital publishing. Her specialist areas including literature, the British Royal Family and knowing all there is to know about the latest TV shows on the BBC, ITV, Channel 4 and every streaming service out there. When she's not writing about the next unmissable show to add to your to-watch list or delving into royal protocol, you can find Emma cooking and watching yet more crime dramas.