The Suspect ending explained and why the finale and books suggest there could be a season 2 of the harrowing ITV drama
The Suspect ending delivered a haunting resolution to the crimes that have been tormenting Dr Joe O'Loughlin's mind all season long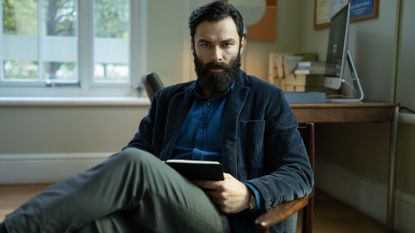 (Image credit: WORLD PRODUCTIONS FOR ITV)
The Suspect ending was full of dark moments and astonishing revelations as the series-long mystery drew to an intense and heartbreaking end.
Ever since the ITV drama first landed many fans were likely left wondering how many episodes of The Suspect remained until the truth was revealed. All season long, police had been growing increasingly more suspicious of clinical psychologist Joe O'Loughlin, played by Poldark star Adrian Turner, after one of his patients was discovered murdered. From there the intensity built steadily as Joe maintained his innocence and mounted his own investigation, leading to a harrowing finale that answered our questions in the most evocative way possible.
Here we have The Suspect ending explained, reveal why Joe O'Loughlin was targeted and what the finale and books suggest about the possibility of a season 2…
*Warning: spoilers ahead*
The Suspect ending explained
From episodes of Our House to the finale that lead into Shetland season 7 there are plenty of thrillers that see investigators fix the primary characters firmly in their sights - rightly or wrongly. The Suspect is no exception, with suspicious detectives becoming ever more convinced throughout the episodes that Dr Joe O'Loughlin was responsible for the deaths of his patient Catherine McCain and Cara. It's only as The Suspect ending approached that DI Ruiz finally began to take his claim that he was being framed more seriously.
With The Suspect series based on Michael Robotham's The Suspect book, the show followed the original ending largely pretty faithfully. Ultimately, The Suspect ending saw the psychologist vindicated as a complex plot to systematically destroy his life was unveiled, with plumber DJ and another of Joe's patients, Bobby Moran, behind it. It was revealed that they are brothers and that the plumber had used his position to gain Joe's wife Julianne's trust and access to their home.
In episode 5's closing stages, fans were left with hearts racing as they saw Joe tied to a chair in his house, which had been rigged to explode and cannot be deactivated. Alongside him were DJ and Bobby, whilst Joe's wife Julianne and their young daughter Charlie watched in terror and armed police assembled outside.
"Is this what you both really want? To stay here until we all blow up?" Joe asks. Neither Bobby nor DJ looked to be as concerned as him, with Bobby opening up about the devastating experiences that lead him to this point of no return. He shared that when he was six his mum first took him to a layby in Crosby where cars in front would use their indicators to say what they wanted and then lead them off somewhere else.
"I had to sit there Joe, I had to sit there and watch it all, man," Bobby told the psychologist, clearly deeply affected by the traumatic memories from that time.
Although DJ attempted in vain to get Bobby to stop, the emotion overwhelmed him as he explained to Joe what his mother used to do. Horrified, DJ told his brother that Charlie didn't need to hear this, to which a furious Bobby accused him of not lifting a finger to protect him, despite being his "own blood".
It then emerged via a dark flashback that a teenage DJ had been present when Bobby was taken to the layby all those years ago. Bobby revealed that from there he was brought to a barn and suffered appalling abuse at the hands of multiple men.
At this point, DJ couldn't bear it any longer and allowed Charlie and Julianne to escape the house to safety as his brother called after him that he was "running away again" from the horrific truth. Back inside the house, Joe pressed Bobby, asking if DJ had left and that their mother had forced Bobby to "take his place".
It was then that Joe turned to DJ to point out that while his brother had an alibi for the murders, he didn't.
"I think you did all the killings," Joe told DJ quietly. "This isn't about revenge, DJ. This is about forgiveness. You need Bobby to forgive you. You should have saved him from that barn. Just like you saved my family."
He speculated that DJ believed that if he carried out Bobby's plan, then he'd finally have earned his younger brother's forgiveness for abandoning him when he needed him the most. Despite Bobby trying to convince him that the murders had wiped the slate clean, DJ finally realized Joe was right and released Joe from the chair, intending to take him outside and use him so that the police wouldn't open fire on them.
An emotional Bobby disagreed, telling him that he'd promised him they'd "see this through", but DJ told him that if he wanted him to save him, this is how it was to happen and he'd take all the blame. They came out and surrendered to the police before DJ, seemingly unable to forgive himself, darted back inside and removed the wires from the bomb, triggering it instantly.
Joe was then reunited with his wife and daughter and spoke with DI Ruiz and DS Devi about the "understanding" he'd given DJ and Bobby. In the final scenes of The Suspect ending viewers saw the O'Loughlin family happy as Joe's narration declared, "All you can do is try to live with your scars, and maybe, one day, heal."
Why was Joe targeted in The Suspect?
After being reunited with the police, Joe told them that it hadn't really been about him at all, that Bobby and DJ's trauma had stemmed from childhood. However, the brothers had set out to frame Joe for his patient Catherine's murder - due to an accusation he'd made long ago. Joe had been targeted by the brothers as he'd previously falsely, it turned out, accused their father Lenny Moran of abuse, not knowing that it was their mother who'd been the real perpetrator.
Bobby later discovered the truth after gaining access to his file and masterminded his revenge plot with plenty of people involved in some way with the ruling to have Lenny separated from his sons. Joe had signed the court report and Bobby had decided that, just like his father, the psychologist would find himself facing a false accusation and not be able to do anything about it.
Could there be a The Suspect season 2?
Sadly for fans, there is currently no confirmation of a The Suspect season 2 and it's said that the show was originally intended as a limited series. Of course, that doesn't mean that a follow-up season is completely impossible, as we've seen several other dramas be renewed thanks to demand from fans - leading to an upcoming The Tourist season 2 and The Responder cast soon to be back in action.
And whilst The Suspect ending did tie up the primary plot line that has had viewers transfixed all season, bestselling crime fiction author Michael Robotham has provided plenty of material ready to be adapted in future episodes.
There are currently nine Joe O'Loughlin books published, with The Suspect ending only taking the psychologist's story up to the end of the first book of the same name. The second book in the series is titled Lost and sees DI Ruiz become the focus of the plot after he is suspected of a horrific crime when he's found covered in blood in the Thames. This would certainly make for a spellbinding mystery to follow in The Suspect season 1's footsteps and would retain Joe as the main character anchoring the plot from season 1 to a potential season 2.
The Suspect ending could also suggest that a season 2 is theoretically possible because it very much ended with Joe as the focus, alongside his wife and daughter which definitely leaves room to develop their lives as a family further. In The Suspect we also learned that Joe has been diagnosed with Parkinson's and this deeply personal storyline is something that could be explored further too if the show were to be renewed.
The final episode also saw Joe's relationship with the police mended and with DI Ruiz taking a major role in the second Joe O'Loughlin book, that again could be seen to set up this bond ready if there ever was to be a The Suspect season 2. So while there is no second installment announced yet, both the books and The Suspect ending show there's scope to be brought back bigger and better than ever.
All episodes of The Suspect are available to watch now via the ITV Hub.
Emma is a Senior Lifestyle Writer with six years of experience working in digital publishing. Her specialist areas including literature, the British Royal Family and knowing all there is to know about the latest TV shows on the BBC, ITV, Channel 4 and every streaming service out there. When she's not writing about the next unmissable show to add to your to-watch list or delving into royal protocol, you can find Emma cooking and watching yet more crime dramas.