Echoes Netflix ending explained: which twin is at the end of the episode?
The Echoes Netflix ending was very confusing, but actor Michelle Monaghan has an idea about whether the woman in black in the final scene was Leni or Gina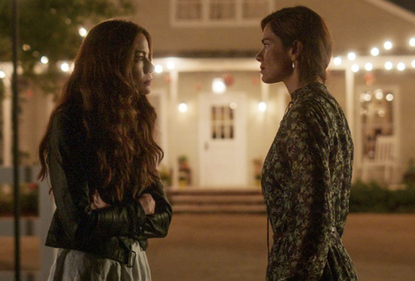 (Image credit: Netflix)
By now, you've probably watched all the episodes of Echoes, the Netflix crime drama starring Michelle Monaghan as identical twin sisters Leni and Gina.
As fans watched the Echoes Netflix cast starring in the final scenes of the mini-series, more questions probably arose than they were answered.
What is Echoes on Netflix about?
Echoes tells the story of twin sisters Leni and Gina, both played by Michelle, as they swap lives on their birthday every year to basically inhabit the other's life until the next celebration.
Gina is married to Charlie (Daniel Sunjata), a former therapist, and the two live in Los Angeles. Leni is married to Jack (Matt Bomer) and lives in Mt. Echo, where she grew up alongside her twin.
When the series kicks off, one of the twins goes missing, unleashing a slew of events that shed light onto family secrets, dangers and more.
Echoes ending explained
When the mini-series, which is comprised of seven episodes in total, kicks off, audience members are led to believe that Leni is missing. It becomes pretty obvious, pretty fast that it's actually Gina-pretending-to-be-Leni who can't be found. Turns out, Leni is no longer on board with the yearly swapping plan and is trying to escape the situation.
In the seventh and final episode of the series, both Gina and Leni are seen running away from their childhood home in Mt. Echo, which is on fire while their father is inside of it.
The two, spoiler alert!, start arguing on a cliff edge and Leni gets candid about the trauma involved in seeing their father kill their mother. Gina explains that the murder was actually at the behest of their mother, who wished to die her own way instead of passing from the terminal illness she was suffering from.
Gina is then seen jumping off the cliff and her body is never found. Unsurprisingly, Leni is then accused of murder and so flees to Australia.
Plot twist: while Down Under, someone tells Leni that they recently saw another woman that looked identical to her live in Australia. Leni then assumes that Gina is also alive, albeit having assumed a new identity.
Fast-forward to the last few minutes of the episode, and fans see Gina's former husband Charlie on a tour for a book he has written about the twins. While at an appearance, a woman dressed in black approaches him and asks about the "sister who killed herself." Charlie explains that, although her body was never recovered, that would be his wife Gina.
Charlie then goes home and sees a a woman in a black dress waiting for him, at which point he notes it must be the same one he encountered at his appearance. The woman, however, looks confused and tells Charlie that she has been in the house for over an hour, therefore disproving his suggestion that she was also at the reading.
Charlie makes it clear that he does not know which one of the twins he's facing but asks why she decided to return. "So many scores to settle, Charlie," the woman-in-black says. "I thought I should start with you."
Was it Gina or Leni at the end of Echoes?
As of now, Netflix hasn't announced whether there will even be a season 2 of Echoes so we might not ever know whether Gina or Leni was at the bookstore and if they, perhaps, are both still alive.
However, main actor Michelle actually opened up about who she she thinks the woman in black in the final scene of Echoes was.
"I had to creatively make a choice," Monaghan told Tudum (opens in new tab), Netflix's official blog, last week. "So I chose Leni. I think Gina was at the bookstore. I made that choice too."
And so Michelle herself believes that both twins are alive. We'll go with that story line as well.
Anna Rahmanan is a New York-based writer and editor who covers culture, entertainment, food, fashion and travel news. Anna's words have appeared on Time Out New York, the Huffington Post, Fortune, Forbes, Us Weekly, Bon Appetit and Brooklyn Magazine, among other outlets.