Echoes Netflix cast: who stars alongside Michelle Monaghan and will there be a season 2 of the intense mystery thriller?
The Echoes Netflix cast has made this chilling drama unmissable as two sisters' devastating secret looks like it might finally be exposed…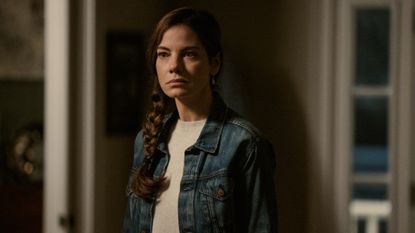 (Image credit: Cr. Jackson Lee Davis/Netflix © 2022)
The Echoes Netflix cast features Michelle Monaghan playing devious twins Leni and Gina McCleary whose whole lives begin to unravel after one of them mysteriously goes missing…
From the moment the haunting Echoes Netflix trailer landed it was clear that this new drama series was going to be an unmissable watch for thriller fans. Starring Michelle Monaghan as sisters Leni and Gina, the disappearance of one has repercussions for all connected to the twins as dark details from their pasts begin to surface. Just like every good mystery Echoes likely had fans asking plenty of questions, from 'where was Echoes filmed?' to 'which twin was that?' as the characters' penchant for switching identities becomes known.
But who's in the Echoes Netflix cast, will there be a season 2 of the intense drama and how can you catch up on all you might've missed? We reveal what you need to know as the Michelle Monaghan show continues to attract fans' attention…
*Warning: spoilers ahead!*
Who's in the Echoes Netflix cast?
Echoes Netflix cast list:
Michelle Monaghan as Leni and Gina McCleary
Matt Bomer as Jack Beck
Daniel Sunjata as Charles 'Charlie' Davenport
Ali Stroker as Claudia McCleary
Michael O'Neill as Victor McCleary
Karen Robinson as Sheriff Louise Floss
Jonathan Tucker as Dylan James
Gable Swanlund as Matilda 'Mattie' Beck
Rosanny Zayas as Deputy Paula Martinez
Celia Weston as Georgia Tyler
Madison Abbott as young Leni McCleary
Victoria Abbott as young Gina McCleary
Leni and Gina McCleary played by Michelle Monaghan
Though she's not the only Echoes Netflix cast member whose spellbinding performance has kept us hooked, Michelle Monaghan has double the drama to bring to life in the new thriller as she plays horse trainer Leni McCleary and California-based author Gina McCleary.
The identical twin sisters have been closely bonded for years, switching places and indeed lives along the way since childhood. Leni and Gina have planned things down to the last detail but when Leni apparently goes missing, their lies might finally be exposed…
Michelle Monaghan is perhaps best known for her role as Ethan Hunt's former wife Julia Meade in the Mission Impossible franchise and has also starred in Maid of Honor, Gone Baby Gone and Patriots Day. And the challenge of playing two very different yet inherently connected characters with distinct motivations was something she previously opened up on to Netflix.
"This is the greatest, biggest, most ambitious endeavor I could take on," she explained. "I've been fortunate to be working in all the genres over the span of the last 20 years, but nothing prepared me to take on something of this caliber. It required a lot. And I had so much fun doing it."
Michelle also shared how much of a role she had in helping to craft Leni and Gina's personalities in Echoes, creating two very multi-layered characters.
"Gina's very grounded and Leni is very fleeting," she disclosed. "[Leni's] got a lot of that Southern charm and it's hard to pin that one down. She's always two, three steps ahead. Gina's just really more of the quiet giant, really the observer."
The lead Echoes Netflix cast member continued, "I started to develop them really from the womb, Leni being [born] first and then Gina second. Then [I] really used the baseline of that foundational trauma of them losing their mom, their very different memories of it and how that memory informed each of them emotionally, physically and energetically. I built Leni from top to bottom, then I built Gina from there."
Reflecting on her two performances in the final Netflix drama, Michelle proclaimed she was "so proud" of what she'd accomplished with Leni and Gina. And the twins' ever-twisting journey throughout Echoes on Netflix is one fans likely won't forget in a hurry as they get drawn into their complex world.
---
Jack Beck played by Matt Bomer
Michelle Monaghan is joined in the Echoes Netflix cast by Golden Globe winner Matt Bomer, known for everything from White Collar to The Normal Heart. In the series he plays Jack, long-time crush of Leni and Gina from childhood and Leni's husband. The couple have one child, Matilda 'Mattie' together and live on their horse farm in the small town in North Carolina.
But marital bliss is a far cry from their current situation as financial troubles are putting serious pressure on Leni and Jack's relationship. Now with his wife missing, Jack faces the scrutiny of his fellow Mount Echo residents as he desperately tries to find out what *really* happened to Leni…
---
Charles 'Charlie' Davenport played by Daniel Sunjata
Fellow Echoes Netflix cast member Daniel Sujata plays Charlie, husband of author Gina who traded her hometown for the bright lights of the big city years before and forged a life with him. Therapist Charlie lives in a state-of-the-art home in LA with Gina and checks in with his wife as she returns home to discover what's really happened to her sister. Daniel has appeared in the likes of Grey's Anatomy and The Devil Wears Prada.
---
Sheriff Louise Floss played by Karen Robinson
Whether it's Steve Arnott, Ted Hastings and Kate Fleming in Line of Duty to off-duty cop Kate in The Holiday on Netflix, where there's a crime there's a doggedly determined investigator keen to get to the bottom of things. Netflix's Echoes series is no different and Schitt's Creek star Karen Robinson rises to the challenge brilliantly as Sheriff Floss.
Just like everyone else in Mount Echo, the Sheriff has known Gina and Leni for years but that doesn't stop her being as suspicious as fans after Leni goes missing and Gina arrives back in North Carolina. Delving into the past, Sheriff Floss soon discovers more than she bargained for when the details of a decades-old incident are brought into the light..
---
Victor McCleary played by Michael O'Neill
Victor McCleary is the patriarch of the family and father to Gina, Leni and their sister Claudia whom he raised after his wife's death. Experiencing health issues in his later years, Victor is keen to see his family reunited. Just like many others he was left in the dark when it comes to the switching escapades of the twins, though he's about to get a rude awakening when the truth begins to rise to the surface.
---
Claudia McCleary played by Ali Stroker
Leni and Gina's sister Claudia is played by Ali Stroker who appeared in the Ozark final season and has won a Tony Award for her role in Oklahoma! Claudia was paralyzed as a child and uses a wheelchair, living in her hometown like Leni and often caring for Mattie Beck, her niece.
---
Dylan James played by Jonathan Tucker
Whilst both Gina and Leni McCleary might have families of their own, Gina's teenage romance with Dylan is something she's unable to forget. The two were torn apart before she departed for LA after he found himself implicated in a dark incident. Now all these years later he's returned to Mount Echo after Leni's disappearance and begins to reconnect with his former girlfriend. Though not everyone is delighted to see Dylan back in town…
Other Echoes Netflix cast members include Gable Swanlund as Leni and Jack's daughter Mattie, whilst The L Word: Generation Q actor Rosanny Zayas plays Deputy Paula Martinez, who'd formed a close bond with Leni. Dylan's grandmother Georgia Taylor is played by The Thing About Pam star Celia Weston and teenage Leni and Gina McCleary are played by Madison and Victoria Abbott.
Will there be an Echoes season 2?
Sadly for thriller fans who got the brilliant news earlier this year that there would be a The Tourist season 2 and that they would get to see The Responder cast back in action in a follow-up series, Echoes season 2 hasn't been confirmed. The Netflix series has so far been described as a "limited series" spanning just one season and it's understood that it wasn't intended to be extended for another installment.
However, there could be hope yet for viewers who can't get enough of the suspenseful storytelling and the Echoes Netflix cast's wonderful performances. Both The Tourist and The Responder, as well as other hits like HBO's Big Little Lies were originally set to be standalone before the hugely positive response from fans indicated demand was there for more episodes.
There would also certainly be scope to continue the twins' stories as the Echoes finale left Leni and Gina's ultimate fates up to the audiences' imagination. Whilst Gina is presumed dead, Leni left for pastures new, only for one of them to surface in LA in a flashforward which shows Charlie has written a book about his experience with the sisters.
Asked a question by a woman who looks uncannily like Leni and Gina at a book reading, the therapist remains cool, calm and collected when the woman approaches him at his home. Declaring she believes there are "so many scores to settle", this woman denies being at the reading.
Though we've come to learn quite how many lies Gina and Leni have been capable of telling over the years, this claim technically makes it possible that both twins are alive and currently in California.
Meanwhile, the series' executive producer and co-showrunner Brian Yorkey has expressed his belief to The Wrap that there are definitely "threads to follow" in a potential Echoes season 2.
"Netflix and the audience will decide whether the show wants another season. I love the story as we told it," he said before later adding, "Quinton [Peeples, executive producer] and I have all we've been we've been pitching each other Season 2 since even before we started choosing shooting Season 1 because these women are fascinating and this situation is super tangled. And like you said, there's threads to follow."
He continued, "There is this very, very sweet girl who they both really really love, and Jack very angrily shut her two mothers out and said no. And you do wonder, is that going to be his position forever? Maybe, maybe not. What is the debt that he feels he's owed? And certainly Sheriff Floss is not the type to let something go."
Depending on how well Echoes is received by viewers, it's always possible that Netflix could choose to return to the twins' dark story going forwards. Until then, there's plenty of time to re-watch your favorite moments or catch up on all the tiny details along the way to *that* epic Echoes finale.
How to watch Echoes
If you've yet to immerse yourself in the complex, intriguing and sometimes downright mind-boggling moments of Echoes, then Netflix is the place to head. All seven episodes of the show were made available to watch on the streaming giant from August 19th so fans can binge-watch the mystery thriller to their hearts' content and at their own pace.
Packed full of dark revelations that keep you guessing throughout, the matter of which twin is actually in each scene of Echoes is often fraught with doubt. As the line between Leni and Gina's separate lives become increasingly blurred, the twins' past and presents threaten to unravel with devastating consequences for all...
Sign up to our free daily email for the latest royal and entertainment news, interesting opinion, expert advice on styling and beauty trends, and no-nonsense guides to the health and wellness questions you want answered.
Emma is a Royal Editor with seven years of experience working in digital publishing. Her specialist areas including literature, the British Royal Family and knowing all there is to know about the latest TV shows on the BBC, ITV, Channel 4 and every streaming service out there. When she's not writing about the next unmissable show to add to your to-watch list or delving into royal protocol, you can find Emma cooking and watching yet more crime dramas.