New haunting Echoes Netflix trailer leaves fans terrified
Michelle Monaghan plays identical twin sisters in new Netflix mini-series Echoes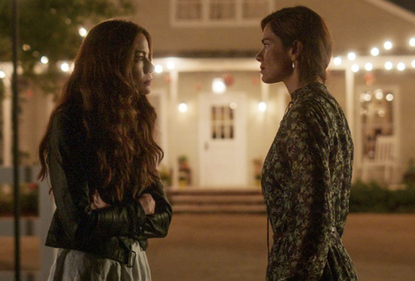 (Image credit: Netflix)
If the trailer is of any indication, Echoes, a new Netflix mini-series, is sure to keep fans up at night once it debuts on the streaming platform on August 19.
The Australian program stars Michelle Monaghan as both Leni and Gina, identical twin sisters who, according to an official synopsis, "have secretly swapped their lives since they were children."
As shown in the pretty gruesome and certainly haunting new trailer for the series, one of the sisters goes missing and sets off a chain of events that will likely lead to the unveiling of a variety of secrets.
"Since they were children, Leni and Gina have secretly swapped lives, culminating in a double life as adults," reads the synopsis. "They share two homes, two husbands and a child but everything in their perfectly choreographed world is thrown into disarray when one of the sisters goes missing."
Who stars in Echoes on Netflix?
Michelle, whose most recent TV role was as Eva Geller on the Netflix mini-series Messiah in 2020, plays both protagonists in the new program, which actually boasts a stellar cast.
The seven episodes will star Matt Bomer as Jack Beck and Daniel Sunjata as Charlie Davenport, Leni and Gina's respective husbands.
Ali Stroker of Glee fame will take on the role of Claudia and Karen Robinson will play Sheriff Louise Floss.
Who created Echoes on Netflix?
Mystery thriller Echoes is the work of executive producers and co-showrunners Brian Yorkey (the creator of Netflix hit 13 Reasons Way) and Quinton Peeples (Runaways). The mini-series was created by Vanessa Gazy, who previously worked on the show Eden.
This latest project is actually the first project released following a multi-year deal between Brian and the streaming platform.
Do fans like Echoes on Netflix?
Ahead of the premiere of Echoes on Netflix this summer, folks took to social media to voice their excitement about the show.
"Absolutely looking forward to watching Echoes seeing [Matt Bomer] in something new again is so exciting you are such an amazing actor love everything that I have seen you in. ❤❤❤🥰🥰🥰," one Twitter user wrote.
"Looks so good! so excited to binge once it's available," another noted.
"That 👏🏻 will 👏🏻 be 👏🏻 so 👏🏻 great!! 👏🏻👏🏻👏🏻," a third user commented on the social media platform.
Clearly, as intense as the clip obviously is, folks are very excited about the new show.
Anna Rahmanan is a New York-based writer and editor who covers culture, entertainment, food, fashion and travel news. Anna's words have appeared on Time Out New York, the Huffington Post, Fortune, Forbes, Us Weekly, Bon Appetit and Brooklyn Magazine, among other outlets.