The Secret true story as the shocking James Nesbitt drama arrives on Netflix
The intense BAFTA-nominated drama has now landed on Netflix five years after its depiction of The Secret true story first aired...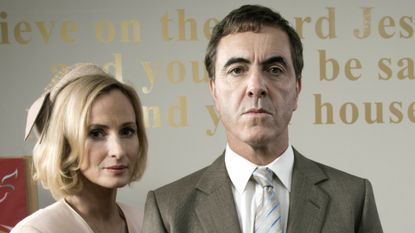 (Image credit: Hat Trick Productions)
The Secret true story is just as shocking as the James Nesbitt drama, but many newcomers to the show might not know the traumatic events that inspired it.
First released back in 2016, The Secret has now landed on Netflix, introducing a whole new audience to this somewhat controversial show. Starring James Nesbitt who's no stranger to bringing intense series to life, having featured in everything from Line of Duty to the recently-ended Suspect on Channel 4, The Secret focuses on the traumatic real-life murders of Trevor Buchanan and Lesley Howell.
The emotional scenes and stand-out performances are sure to capture the attention of anyone who wondered how John Darwin got caught after watching The Man, His Wife and The Canoe or looked into The Staircase true story. Having received criticism from Lesley Howell's daughter back in 2016 the show perhaps raises important questions about the re-telling of painful true stories on TV and the impact.
But what is The Secret's true story, where is Colin Howell now and when was the show first broadcast?
*Warning: spoilers ahead!*
The Secret true story
Just like so many hit shows in recent months, from Sherwood to The Dropout, the somewhat controversial series, The Secret, is inspired by a chilling true story. However, more specifically The Secret miniseries is based upon the book Let This Be Our Secret - an account by Belfast-based journalist Deric Henderson of two brutal murders that happened back in 1991 in the community of Coleraine in Castlerock, Northern Ireland.
Back then Colin Howell was a well-respected dentist and seemed happily married to his wife Lesley. However, in reality it's understood that he had embarked on an affair with Sunday School teacher Hazel Stewart, who is also known by her married name of Hazel Buchanan. According to the Belfast Telegraph, in May 1991 Colin and Hazel met several times before they enacted a plan to kill their respective spouses, Lesley Howell and Trevor Buchanan.
On the 19th May 1991, Colin reportedly contacted elders at his church to inform them that Lesley had gone missing. Her body and that of Trevor were later discovered in a garage at Lesley's late father's house, in a car filled with fumes. Their deaths were initially recorded as being caused by carbon monoxide and the coroner's court is said to have ruled that Lesley and Trevor had taken their own lives in what appeared to outsiders to be a suicide pact.
However, almost 19 years later after getting away with the appalling crimes for so long, the case was turned on its head when Colin admitted to the murders after the death of his eldest son Matthew. As reported by the Belfast Telegraph, the dentist handed himself into the police and confessed to killing his wife and his lover's husband with the fumes, claiming that Hazel had helped him. A month later, Colin and Hazel were charged with the crimes, though both allegedly denied the charges.
The dentist later changed his plea to guilty ahead of the court case where he was sentenced to a minimum jail term of 21 years in 2010. His former lover Hazel was later tried and was found guilty and sentenced to serve 18 years after Colin Howell gave damning evidence against her and himself at trial.
Where is Colin Howell now?
Since receiving his sentence Colin Howell has remained in prison serving his sentence for his horrific crimes and is still there now. In addition to being found guilty of the murders of Lesley Howell and Trevor Buchanan, back in 2011 the BBC reported that he had also been sentenced to an additional five-and-a-half years for horrific "indecent assaults" on five female patients during his time as a practicing dentist. He is currently serving this sentence and his murder sentence concurrently.
🗝 @ITV's The Secret is here. Stream this four-part drama series based on the story of a real life double murder, starring James Nesbitt, Genevieve O'Reilly, Laura Pyper and @glenwallace. #TheSecret #BritBox pic.twitter.com/3NeAwfmM59December 5, 2021
See more
His former lover Hazel Stewart is also still in prison serving her own sentence and has attempted to have her conviction overturned several times over the years, though none of these attempts have been successful. She has also reportedly spoken out, claiming that Colin had manipulated and abused her throughout their relationship and describing him as having "all the power" to the Belfast Telegraph.
Hazel continues to maintain her innocence and her children Lisa and Andrew and second husband David revealed to BBC NI's Spotlight broadcast back in 2011 that they were also convinced of this.
"We love our father and our mother," Andrew explained at the time. "We are not taking any sides. We would not have wanted what happened to our dad ever to happen. But we lost our dad and this nearly feels like we are going to lose our mum... We can't move on. This is the beginning for us of our lives, trying to adapt to what is going to happen."
Discussing their devastation and sense of loss further, the publication reported that David remained sure that his wife was manipulated by Howell, describing her as being like a "frightened rabbit".
Meanwhile, following the release of The Secret in 2016, Colin and Lesley Howell's daughter Lauren Bradford wrote a deeply poignant piece for The Guardian expressing criticism over the series' depiction of such devastating events.
"We all love a good crime drama. Yet the reality of murder on the families involved is much more sobering, traumatic and, well, messier than is often projected on our screens," she wrote. "Behind the high viewing figures, whether for fiction or the coverage of real crimes, there are people living with murder bereavement on a daily basis. And an intrusive media experience can often compound this original trauma."
Reflecting on how her mother was characterized in The Secret, Lauren expressed her belief that the show "fails" to include so many of the wonderful things about Lesley.
"One of the most painful ways this occurs in The Secret is in the character of my mum, who is depicted as no more than a down-trodden housewife. It fails to capture her ambition and drive, her wicked sense of humor, her thoughtfulness and warmth," she declared.
When was The Secret first aired?
The Secret was filmed in locations across Northern Ireland and first aired on ITV back in April 2016 before recently landing on Netflix and rising up its charts. Journalist Deric Henderson's book, Let This Be Our Secret, upon which The Secret is based was released in 2011, the same year that Hazel Stewart was sentenced.
Who is in the cast of Netflix's The Secret
The Secret cast:
James Nesbitt as Colin Howell
Genevieve O'Reilly as Hazel Stewart/Buchanan
Laura Pyper as Lesley Howell
Glen Wallace as Trevor Buchanan
Jason Watkins as Pastor John Hansford
James Greene as Harry Clarke
The most prominent figures in The Secret true story, Colin Howell and Hazel Stewart/Buchanan are played by James Nesbitt and Genevieve O'Reilly, who has starred in everything from Spooks to Star Wars and The Young Victoria. And the sensitive subject matter of the drama is something that is especially poignant for James.
Opening up to RadioTimes.com back in 2018, he revealed why The Secret true story is so close to home for him. Not only did the murders take place in Coleraine where he went to school, but James explained that his family knew the Howells.
"My sister was at Lesley Howell's coffee mornings," he reveals. "Two of my best friends were patients of Colin's. When Colin dumped the bodies in his father-in-law's garage and ran along the beach he went right past my parent's house where they were sleeping. I found that quite scary."
James and Genevieve are joined in The Secret cast by Laura Pyper as Lesley Howell and Glen Wallace as Trevor Buchanan, with Jason Watkins playing Pastor John Hansford and James Greene as Harry Clarke, Lesley's father.
All four episodes of The Secret are currently available to watch on Netflix.
Emma is a Senior Lifestyle Writer with six years of experience working in digital publishing. Her specialist areas including literature, the British Royal Family and knowing all there is to know about the latest TV shows on the BBC, ITV, Channel 4 and every streaming service out there. When she's not writing about the next unmissable show to add to your to-watch list or delving into royal protocol, you can find Emma cooking and watching yet more crime dramas.