What happened to Hope on Virgin River and why wasn't she in season 3 of the hit Netflix drama?
Hope on Virgin River has been through some major ups and downs but season 3 left fans wondering what had happened to the town major...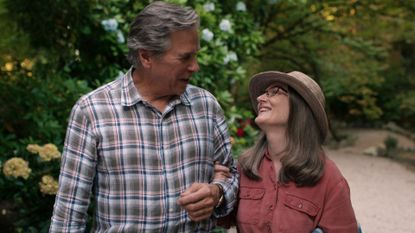 (Image credit: Cr. Courtesy Of Netflix © 2022)
Hope on Virgin River has been a prominent character from the very beginning but season 4 likely gave fans a sense of relief after her relative absence in season 3.
From the moment Virgin River first landed on Netflix it had fans hooked with its range of brilliant characters, romance to dream about and the odd mystery to get to the bottom of. But whilst there are plenty of questions that might have arisen for fans watching it like where is Virgin River filmed and what is it based on, there's a more specific one sparked by season 3 - what happened to Hope on Virgin River? The town mayor is played by Annette O'Toole and she had a concerning and dangerous time of it in season 3 even though she rarely appeared.
Here we reveal what did happen to Hope McCrea on Virgin River and why we only saw her virtually in season 3…
*Warning: Spoilers ahead!*
What happened to Hope on Virgin River?
For anyone wondering what happened to Hope on Virgin River it might well be her surprising absence from season 3 that got you worried about this fan-favorite character. After all, after taking such a prominent role throughout seasons 1 and 2 as the town's mayor and wife of Vernon 'Doc' Mullins, many fans might've expected this pattern to continue in season 3. What they were faced with, however, was a distinctly Hope-less series - at least in-person.
Hope appeared via Zoom calls to Doc during Virgin River season 3, though sadly she never took to the well-trodden paths of this idyllic Northern California town in person.
The mayor's absence was initially explained as being due to her visiting an elderly aunt. And it wasn't long before the drama we've come to associate with the Netflix show, from the mystery of who shot Jack in Virgin River to who the father of Mel's baby was revealed to be in the Virgin River season 4 ending, came to the forefront. A dangerous hurricane left Hope trapped at her aunt's with Doc unable to reach her and growing increasingly panicked.
Thankfully for Hope fans she was later revealed to be fine - as was her aunt - though she had to remain away from Virgin River for yet more time as a result of the hurricane's aftermath. Then, just when you thought that the mayor would soon be back at the center of the town's unfolding storylines, tragedy struck.
Whilst driving back to Virgin River in a desperate attempt to make it back for her friend Lilly's funeral, Hope's car was involved in an accident leading to her being hospitalized for urgent treatment. The Virgin River season 3 finale saw Doc and the doctors discussing his wife's chances of making a recovery after her brain surgery, whilst she never directly appears on screen.
This meant an agonizing wait ahead of Virgin River season 4 to find out if Hope would survive and be happily reunited with Doc. Though in a moment reminiscent of Jack's own miraculous recovery, Hope returned to the show in person in season 4 and was back at home with her husband.
However, the traumatic incident has clearly had a profound effect on Hope and in season 4 she was shown to be experiencing some lapses of memory. She asked to see Lilly, who had passed away in season 3, seemingly forgetting that she had died, whilst elsewhere in the season a doctor explained to Doc and Hope that her injury was affecting some of her decision-making.
By the Virgin River season 4 finale Doc gently tells his wife that he thinks they might need someone to help her on a daily basis. Hope eventually agreed, stipulating that she'd like Lizzie to do it though she was reluctant to accept given her feelings for Doc's grandson Denny, who she'd felt had been distancing himself from her.
Why wasn't Hope in Virgin River season 3?
It might have seemed more than a little odd that Hope basically wasn't in Virgin River season 3 and a huge relief when she returned in season 4. But unlike when fans bid farewell to Douglas Henshall after the Shetland season 7 ending, her absence didn't mean her actor Annette O'Toole was leaving Virgin River for good. Instead, the star has previously explained the real reason why Hope got very little screen time in season 3 - and it's all down to Covid-19.
Opening up to PureWow (opens in new tab) earlier this year, Annette said, "I really wanted to come back, but it was all dependent on this ridiculous COVID travel situation. And that's really what it was - it wasn't fear of the virus or anything like that, it was fear of separation from my family."
She added, "I really missed being there, and I love doing the show and all the people, the cast and crew are very fantastic. [Season 4] is just going to be more intense. A lot of questions will be answered, but a lot more will be presented."
It certainly was! And for Hope fans it was likely a relief to see the town major back where she belonged in season 4. Sadly, we still don't know exactly what we can expect from Virgin River season 5 but there'll surely be plenty of people hoping against hope for more drama, more romance and more mystery going forwards.
Emma is a Senior Lifestyle Writer with six years of experience working in digital publishing. Her specialist areas including literature, the British Royal Family and knowing all there is to know about the latest TV shows on the BBC, ITV, Channel 4 and every streaming service out there. When she's not writing about the next unmissable show to add to your to-watch list or delving into royal protocol, you can find Emma cooking and watching yet more crime dramas.