Victoria Beckham reveals the one thing she's never seen without – not even by David Beckham after 20 years of marriage
Victoria Beckham doesn't even let David see her without doing this one thing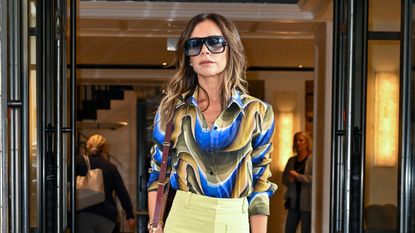 (Image credit: James Devaney/GC Images)
She was introduced to the world as Posh Spice – complete with little black Gucci dresses and the perfect pout – so it's not exactly surprising that Victoria Beckham might be a touch high maintenance.
However, the former Spice Girl and current fashion icon/designer extraordinaire has shared one thing she refuses to compromise on – and even her husband of 20 plus years isn't allowed to see her without, either.
And that is… her eyebrows.
Understanding the right eyebrow shapes have long been known as a perfect shaping and sculpting hack, giving people an instantly more sleek appearance with just a few plucks and flicks (and if you're a bit of a novice when it comes to DIY brows, it's not as difficult as you might think to shape yours like a pro at home!)
Victoria revealed all to her fans on Instagram as she gave a demonstration of one of her new Victoria Beckham Beauty products.
In the clip, Victoria says, "Now, this is the first time that I have ever let anybody see me without my brows on. Even my own husband never sees me without my brows on."
Explaining why she refuses to even let David see her without her brows filled in, she candidly revealed, "It's just my thing. It's something I'm almost quite self-conscious about. You know, over the years, over-plucking has left me with quite gappy brows."
"If you can see, I have gaps right here and a few missing either side, quite a few missing, actually," she added, pointing to the middle of her brows and the arches.
We applaud the mogul for being so open about one of her insecurities.
The video concludes with Victoria showing just how much of a difference her Victoria Beckham Beauty BabyBlade makes to her brows and her confidence.
Victoria and David have been sharing more of their private life with fans of late, including hilarious workout videos showing the couple working up a sweat to maintain their celebrated physiques while keeping things playful decades on into their marriage.
However, Victoria isn't alone with her fixation on her brows as David is also getting candid about something he obsesses over.
The soccer legend is ready to speak out about his lifelong struggle with OCD (obsessive compulsive disorder) in an upcoming Netflix series. In clips and conversations ahead of the release, David detailed how he spends hours cleaning and tidying after his family have gone to bed as he "hates" coming down to mess in the morning.
And one of his ultimate pet peeves includes candles, "It's tiring going around every single candle cleaning it. I clip the candle wax, I clean the glass, that's my pet hate, the smoke around the inside of a candle… I know, it's weird."
As well as his candles, David famously revealed that his is unrelenting in the order he keeps his soda cans in the fridge - with symmetry being an absolute must.
Symmetrical eyebrows, symmetrical Pepsi cans. The secret to a happy Beckham household.
Jack Slater is not the Last Action Hero, but that's what comes up first when you Google him. Preferring a much more sedentary life, Jack gets his thrills by covering news, entertainment, celebrity, film and culture for woman&home, and other digital publications.
Having written for various print and online publications—ranging from national syndicates to niche magazines—Jack has written about nearly everything there is to write about, covering LGBTQ+ news, celebrity features, TV and film scoops, reviewing the latest theatre shows lighting up London's West End and the most pressing of SEO based stories.