See Victoria Beckham and David Beckham work out together while she teases the soccer star
Victoria Beckham pokes fun at husband David while working up a sweat as a couple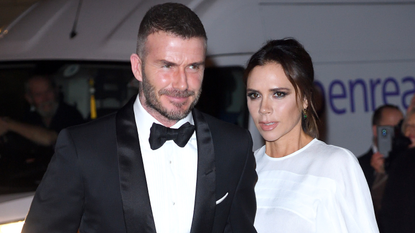 (Image credit: Karwai Tang / Contributor)
Couples who exercise together… laugh together?
Victoria Beckham, whose latest photos have fans emotional, posted a couple of pictures this past weekend in which she poked fun of her husband David Beckham while working out together.
The 48-year-old Spice Girl specifically joked that David "looks great not doing much 🥴" while she's seen working out on the stair master in their private, at-home gym.
The first of two photos shows the soccer pro laying on the floor with his workout gear on (sneakers and shorts, shirtless), scrolling through his phone while using a massage gun on his shoulder.
In the second photo, the one with Victoria on the stair master, David is just hanging out in the background.
"While one of us works really hard... the other one looks great not doing much 🥴@davidbeckham @mrbobbyrich," reads the entire caption, where the designer also tagged performance coach Bobby Rich.
But exercising isn't the only activity that the couple partakes in as a duo. Just last year, David and Victoria revealed that they watch TV in the shower together. These are the sorts of couple's activities that 23 years of marriage and four kids - 24-year-old Brooklyn, 20-year-old Romeo, 18-year-old Cruz and 11-year-old Harper - come along with!
Speaking of their life together, just a month ago, Victoria gave fans yet another glimpse at the family's at-home life when posting an Instagram video showing their posh kitchen with luxury accessories.
Although the clip was meant to showcase 47-year-old David's masterful kitchen skills while celebrating pancake day, Victoria's followers turned the post into an ode to the Backhams' culinary room as a whole, which includes various luxe details like a stunning toaster by Dualit sitting on the counter behind the home chef.
The classic Newgen 4-slice toaster retails around $380 and comes in six different stylish colors: white, matte black, apple candy red, copper, metallic charcoal and chrome, which is what the Beckhams seem to have opted for.
Hand-assembled in England, the toaster features a removable crumb tray and a pretty useful defrost setting.
Also part of the family's kitchen counter is an eye-catching Le Creuset pepper mill in beech wood that honestly doubles as a great piece of elegant decor.
What can we say? Anything Victoria and Beckham do is worthy of attention - whether it's their workout routine or their go-to kitchen appliances.
Speaking of working up a swear, Victoria has, in the past, actually discussed her preference to exercise alone - a fact that makes her latest post even funnier.
"I get up quite early, around 6 a.m., and do an hour in the gym before the kids get up, then I give them breakfast and David or I take them to school," she told The Sunday Times back in 2017. "I'll then fit in another hour's workout before I go to the office. I'm very disciplined, I have to be. It's really the only time in the day I get to myself. No one comes into the gym, no one follows me in there with a laptop. If I'm standing in the kitchen for too long, then laptops will come floating in my direction. Someone always wants something approved, something signed off. Other than the children no one dares come into the gym."
Things have clearly changed in the span of a few years!
Anna Rahmanan is a New York-based writer and editor who covers culture, entertainment, food, fashion and travel news. Anna's words have appeared on Time Out New York, the Huffington Post, Fortune, Forbes, Us Weekly, Bon Appetit and Brooklyn Magazine, among other outlets.