Victoria Beckham's posh kitchen revealed with luxury accessories including a $380 toaster
Spice Girl Victoria Beckham's kitchen is the stuff of legend, filled with luxe items we now need
We personally can't stop watching one of Victoria Beckham's latest Instagram videos - and not only because it features husband David Beckham masterfully flipping pancakes in their home.
Fans of Victoria, who returned to Spice Girl roots with rendition of Stop to the excitement of the Internet, are excitedly commenting on the kitchen seen in the clip.
Although you can't gaze at it in its entirety, it looks like the Beckhams' kitchen is a feat of luxury unlike any other. A fact that obviously does not surprise us.
"Tossing away in the kitchen!," Victoria captioned the video of her husband David trying his hand at breakfast. "Happy Pancake day!! @davidbeckham 😂"
Once you're done staring at the soccer champ, notice the various luxe decor details that can be glimpsed at on camera, including the stunning toaster by Dualit sitting on the counter behind the home chef.
The classic Newgen 4-slice toaster retails around $380 and comes in six different stylish colors: white, matte black, apple candy red, copper, metallic charcoal and chrome, which is what the Beckhams seem to have opted for.
---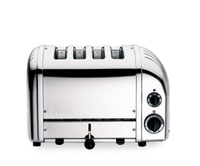 (opens in new tab)
Classic Newgen 4-slice toaster ($379.99 (opens in new tab)) | Dualit
Opt to defrost your frozen bread or toast buns and bagels inside this beautiful and functional 4-slice toaster.
Hand-assembled in England, the toaster features a removable crumb tray and a pretty useful defrost setting.
Also part of the family's kitchen counter is an eye-catching Le Creuset pepper mill in beech wood that honestly doubles as a great piece of elegant decor.
Retailing for $46, the 8-inches-tall pepper mill is easy to use and strong enough to crack peppercorns without any issues. You can also adjust the grind setting with a turn of the knob by moving it clockwise for a finer ground and counterclockwise for a coarser one.
---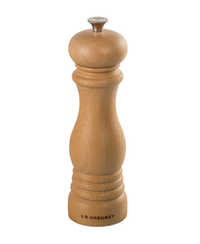 (opens in new tab)
Beechwood Pepper Mill ($46 (opens in new tab)) | Le Creuset
Perfectly blending a classic form with moern technology, this ceramic grinder will add a sense of elegance to any kitchen.
Funnily enough, David posted a similar video of himself flipping pancakes in the kitchen on his own Instagram account - this one from a different perspective, shot in slow motion and showing a not-as-perfect toss (spoiler alert: the home chef treats the food as he would a soccer ball!).
The 47-year-old athlete captioned the post, "Told you I Still got it @victoriabeckham ⚽️ 🥞 #Pancakeday 💛." His 48-year-old wife, who is seen laughing at David's expense in the background, cheekily commented, "Perfect tossing! 🤪"
But that's not all: the couple's eldest son, 23-year-old Brooklyn, joined in on the fun by posting his own version of the pancake video from what appears to be his home with wife Nicola Peltz.
In the clip, Brooklyn tosses a home-made pancake a few times "normally" before trying his hand at the task with his eyes covered. In the caption, Brooklyn called out his dad by writing, "@davidbeckham but could you do it with your eyes closed ❤️🙈"
David, of course, responded on the platform saying, "😂 I couldn't do it with my eyes open 😂 looks a good pancake 🔥 @brooklynpeltzbeckham."
It seems like just about anything that the Beckhams post to social media draws attention, no matter the subject.
Victoria and pal Eva Longoria dressed up fabulously for a girls' night out a few months ago, for example, while a touching photo of the whole family together at Paris Fashion Week, which Victoria shared on Instagram a while back, quite literally went viral.
It's the Beckhams' world and we're all just living in it.
Anna Rahmanan is a New York-based writer and editor who covers culture, entertainment, food, fashion and travel news. Anna's words have appeared on Time Out New York, the Huffington Post, Fortune, Forbes, Us Weekly, Bon Appetit and Brooklyn Magazine, among other outlets.