Victoria Beckham forced to relax strict diet after being warned she was 'poisoning' herself
Victoria Beckham is famed for eating plenty of fish and vegetables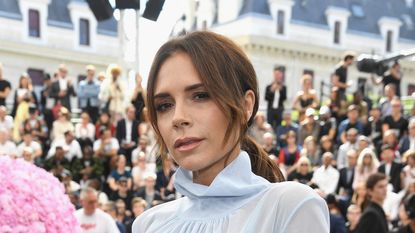 (Image credit: Getty Images)
Victoria Beckham was reportedly forced to alter her super-strict diet of mainly fish after dangerously high levels of mercury were found in her blood.
The fashion designer checked in to luxury health spa Lanserhof in Germany, where medics discovered that her fish-heavy diet left her with "off the scale" levels of toxic mercury.
Following tests last year, Victoria was warned that she needed to cut back on fish, especially swordfish and tuna, which contain dangerous levels of highly poisonous methylmercury.
Mercury poisoning can lead to a metallic taste in the mouth, sickness and muscle weakness.
"Victoria had off the scale levels of mercury. So doctors gave her a liver flush to help rid the body of toxins," a source told The Sun. "She feels brilliant and is as lean and fit as ever."
Victoria is a firm believer that the foods she eats help maintain her slim physique and glowing complexion. And while she may have to cut back on fish, at least she can still fill up on her favourite source of fats – avocados.
Speaking to The Telegraph in 2019, the 46-year-old entrepreneur revealed she eats three to four avocados a day because she "read that the key to glowing skin is consuming the right amount of fats".
We're all aware of the health benefits in avocados, such as them being rich in fibre and loaded with powerful antioxidants. They're easy to incorporate into your diet too, with many enjoying them on toast, in salads, and even using them to create well-known dip guacamole.
But they also contain monounsaturated fats and Vitamin E, which is why Victoria Beckham has chosen to incorporate the fruit into her diet. Getting enough healthy fats can keep skin moisturised and resilient.
In addition to this, Vitamin E acts as an antioxidant, which helps to protect cells from oxidative stress. This is especially useful, as this type of stress is associated with ageing.
However, whilst good for you, nutritional therapist Jackie Lynch has warned against consuming too much.
She told Mail Online: "I'm always wary of anything that smacks of obsessive eating – and having four avocados a day is a bit obsessive. Variety is very important in diet."
Jenni McKnight is a beauty, lifestyle and entertainment journalist and a regular contributor to woman&home, having previously worked as Acting Senior Content Editor of our former sister site, CelebsNow. She has also written for HELLO! Magazine, GoodToKnow, the Daily Mirror and Yahoo!