This is what time the pink supermoon will be visible and what its spiritual meaning could mean for you
A pink supermoon will appear in the sky this week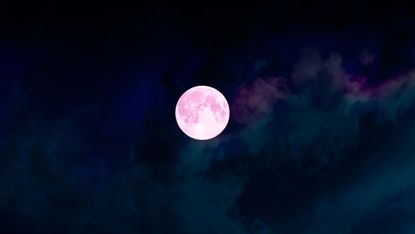 (Image credit: Kathrine Andi / Getty Images)
A pink supermoon is set to appear in the night sky this week, 30% bigger and 14% brighter than usual.
It's an incredible chance to witness a stunning astronomical event and could also impact your spirituality in a big way, especially if you're a Scorpio. So what exactly is the pink supermoon, what causes it and what does it mean for you?
Why is the moon going to be pink?
April's pink supermoon will mean the moon is at its closest point to Earth in orbit, appearing big and bright in the night sky.
According to NASA, the April pink moon got its name after the herb pink moss, a flower that appears in the US when Spring has sprung.
Despite its name, the moon will not actually look pink in the sky - unlike a blood moon which is caused by a total lunar eclipse. The next blood moon will be visible in North America on 26th May 2021.
Those in the UK will have to wait almost a year to see the next total eclipse. But this week's pink moon will be able to be enjoyed by those in both the US and the UK - and across the rest of the world.
The pink supermoon will shine big and bright in the sky for the next few nights and will reach its peak for a few moments at a certain time, depending on where you are on the planet.
---
More from woman&home:
• The best air purifiers to improve your home's air quality
• The best fitness trackers to keep tabs on your activity and sleep
• The best leggings for fashion, fitness and comfort
---
What time will the pink moon be visible?
If you're in the UK, the pink moon will peak on Tuesday 27th April at around 4.31am BST.
If you're in the US, the pink moon will be at its biggest and brightest on Monday 26th April at around 11:32pm Eastern Time.
Technically, the full moon will only last for a few moments, but the pink supermoon will be glowing in the sky for around the next three nights.
---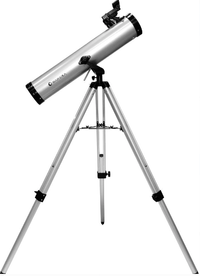 (opens in new tab)
Barska 525 Power 70076 Starwatcher Reflector Telescope, $99 | Walmart (opens in new tab)
Get a better view of the pink moon and the whole galaxy with a beginner's telescope, this Barska telescope comes with astronomy software and a red dot finderscope.
What is the pink moon's spiritual meaning?
April's pink supermoon will rise in Scorpio and could mean big things if that's your astrological sign.
While the April pink moon is believed to symbolize growth and fresh starts, it could have a huge impact on your power and your energy, based on your birth chart.
Check your horoscope for the week to see what's in store for your sign as the pink moon rises.
If you're feeling like your emotions are running high this week or if you feel as though a huge switch-up in your life is pending, it's probably not a coincidence - especially if you're a Scorpio.
Big changes may feel like they are starting to fall into place for you or you may feel an overwhelming sense of emotion or power to change things for yourself.
Embrace the energy you're feeling and use it to your advantage.