This Friends star might appear on season 3 of The White Lotus
We don't blame this famous Friends star for wanting to be part of the next season of HBO hit The White Lotus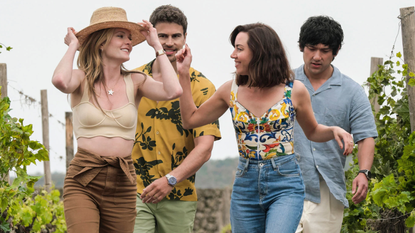 (Image credit: HBO)
HBO hit The White Lotus is one of the most highly rated shows of the past few years, so it comes as no surprise that celebrities want to jump in on the bandwagon.
As The White Lotus season 3 gears up to shoot in Thailand (can you think of a better location for the next batch of episodes?), Hollywood personalities are going on the record about their devotion to the show and their desire to be a part of it.
Case in point: iconic Friends actress Jennifer Aniston, who recently told E! News that she's actually "obsessed" with the series.
"Did you hear it, Mike White?," Jennifer, who recently shared her secret weapon for avoiding workout injury at 54 years old, said to the outlet, specifically calling out The White Lotus' creator. "I want Jennifer Coolidge. I love her."
Other celebrities have joined the chorus of supplicants. Hayden Panettiere, for example, also made a dispassionate plea about the subject while chatting with E! News.
"I want to do it so bad," said the 33-year-old actress, also mentioning Jennifer Coolidge's character as her very favorite on the series. "Bag holder, shoe shiner, I will be [Jennifer's] guardian angel, I will be her long-lost child. I will be whatever she wants me to be."
Next up: the great Bette Middler, whose comedic timing certainly lends itself to the possibility of being cast on season 3 of the show.
"Mike White pokes fun at the worst kind of people, the truly entitled and rich people behaving badly," the 77-year-old actress said to Variety last month. "Everybody likes to see them get their comeuppance. I really enjoy that. It's the great saga of the haves and the have-nots, which is eternal. I do tend to watch the stuff that's - I don't want to say hopeful - but I do like to laugh."
Funnily enough, two beloved celebrities that hadn't directly expressed interest in being cast on the show did agree to do it once someone else mentioned the possibility.
While on Drew Barrymore's daytime talk show, for example, Pamela Anderson, the star of her very own recent Netflix documentary, commented on fans' desire for her to be part of The White Lotus as Jennifer Coolidge's character sister (we can so see that happening).
"I heard about it," the 55-year-old former Baywatch star said during her appearance. "I can't get it in Canada because my HBO app doesn't work because my Apple ID is American. I want to watch it … I heard everyone loves it and it's crazy. I'm up for anything."
Fresh off her first-ever Oscar win, Jamie Lee Curtis was also not really familiar with the show until Haley Lu Richardson, who played Jennifer Coolidge's assistant in The White Lotus season 2, mentioned it to her during a red carpet event.
"Everyone has been asking me who should be in season 3 and I keep saying you," Haley said to Jamie Lee. "Do you want to do it?"
"Yes! I don't even know what it is, but I will do it," Jamie Lee responded. "Where does it shoot?"
"In beautiful places around the world at five-star resorts," responded Haley, to which Jamie Lee funnily said, "Wow, you know what? Twitter it or whatever you do!"
Needless to say, we'd be delighted to see any of these stars on season 3 of The White Lotus, which we suspect will be released some time in late 2023 or early 2024 (hopefully!).
Anna Rahmanan is a New York-based writer and editor who covers culture, entertainment, food, fashion and travel news. Anna's words have appeared on Time Out New York, the Huffington Post, Fortune, Forbes, Us Weekly, Bon Appetit and Brooklyn Magazine, among other outlets.