The new Peter Pan movie trailer just dropped: here is everything you should know about the Jude Law live-action remake
The first trailer for the new Peter Pan & Wendy movie live-action remake with Jude Law as Captain Hook looks amazing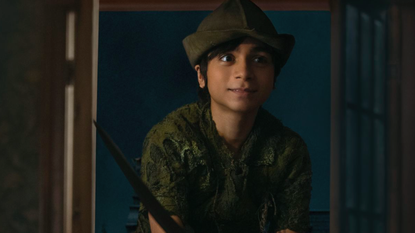 (Image credit: Disney+)
The much-anticipated live-action remake of Disney's beloved Peter Pan saga is one step closer to reaching a TV screen near you when it premieres on Disney+ this April.
Earlier this week, fans were treated to the very first trailer for the production and there is so much to dissect already.
A re-imagining of the original novel by J.M. Barrie and Disney's classic 1953 animated movie, Peter Pan & Wendy was directed and co-written by David Lowery, whose version of the tale is certainly more inclusive than previous ones.
The famous Lost Boys, in fact, are not all male, for example, while Tinker Bell is, for the first time on a screen, portrayed by a Black actress - Yara Shahidi of Blackish fame.
"In making Peter Pan & Wendy, we set out to craft a film that honors both the original J.M. Barrie text and Walt Disney's animated adaptation; we wanted to invigorate our retelling with emotional sincerity, an open heart and a grand yearning for adventure," David said in an official statement. "Hundreds of incredible artists spent many years bringing this film to the screen. I'm excited for audiences to see their work, to go on this ride and to rediscover an evergreen tale from a new perspective."
WHAT IS PETER PAN & WENDY ABOUT?
Peter Pan & Wendy tells the story of Wendy Darling, a young girl who meets Peter Pan, a magical boy who refuses to grow up.
The two travel to the magical world of Neverland together alongside Wendy's brothers, John and Michael, and tiny fairy Tinker Bell.
"There, [Wendy] encounters an evil pirate captain, Captain Hook, and embarks on a thrilling and dangerous adventure that will change her life forever," reads an official synopsis of the production.
WHO STARS IN PETER PAN & WENDY?
Peter Pan & Wendy stars British actor Alexander Molony as Peter, an important role that will also function as his film debut, and American actress and model Ever Gabo Anderson opposite him as Wendy.
Perhaps the two most recognizable faces in the cast are those of Jude Law, who will play Peter's archenemy pirate Captain Hook, and Jim Gaffigan, set to star as Hook's best friend and assistant Mr. Smee.
Speaking of Jude: the actor looks almost unrecognizable in the trailer for the new film, where he delivers one of the most iconic lines from the tale, "Where is Peter Pan?," in Hook's legendary outfit.
Back to casting-related updates: for the first time ever on a screen, a Black actress will portray the coveted role of Tinker Bell. Yara Shahidi has taken on the part of the magic pixie that is also Peter's best friend.
Wendy's brothers will be portrayed by Joshua Pickering and Michael Darling while a slew of young actors are set to make up the cast of the Lost Boys, including Noah Matthews Matofsky as Slightly, Sebastian Billingsley-Rodriguez as Nibs and Caelan Edie as Tootles. Expect twins Skyler and Kelsey Yates and Diana Tsoy to join the clan as the new Lost Girls.
WHEN AND HOW CAN I WATCH PETER PAN & WENDY?
Peter Pan & Wendy will be available for streaming on Disney + starting April 28, so make sure to sign up for the service before then if you want to catch the film as soon as it drops.
Anna Rahmanan is a New York-based writer and editor who covers culture, entertainment, food, fashion and travel news. Anna's words have appeared on Time Out New York, the Huffington Post, Fortune, Forbes, Us Weekly, Bon Appetit and Brooklyn Magazine, among other outlets.