The Larkins cast now vs. the original The Darling Buds of May cast
The Larkins has brought the nation's much-loved characters back—but who's playing them now?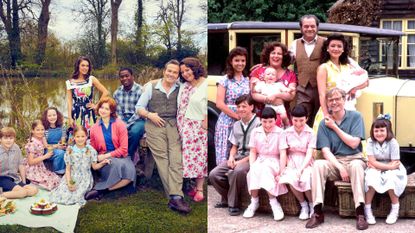 (Image credit: Future // Pics 1 and 2: ITV)
The Larkins has landed on ITV almost three decades after The Darling Buds of May drew to its emotional conclusion, but which stars have taken up the mantle of playing such iconic characters in this classic reboot?
Starring David Jason in another of his brilliantly unforgettable roles as Sidney 'Pop' Larkin, The Darling Buds of May was a much-loved 90s show filled with humour, romance and even a little mischief. The hit show followed the titular Larkin family as they forged a life for themselves in the Kent countryside during the 1950s. The Darling Buds of May was inspired by the H.E. Bates novel of the same name and the news that a reboot was in the works was likely met with great excitement from fans of this loving and flamboyant family.
Now the six-part series, titled The Larkins, has finally premiered and features none other than a Bridgerton star. And it's got us feeling more than a touch of deja vu as we adjust to seeing a brand new Pop, Ma, Mariette and more taking centre stage in the new show.
But who has The Larkins cast in these much-loved roles all these years later?
---
The Larkins cast vs The Darling Buds of May cast
Sidney 'Pop' Larkin—Bradley Walsh vs David Jason
Perhaps the most iconic of all the primary The Darling Buds of May cast members, A Touch of Frost's David Jason played the family patriarch, Sidney 'Pop' Larkin in the original show. A loving husband and father, Pop sometimes resorted to somewhat illegitimate methods to support his family, though he has a good heart that viewers can't help but love.
Whilst David Jason's portrayal helped make Pop such a beloved character amongst fans, he has now passed this role to a similarly famous figure in ITV's The Larkins.
Bradley Walsh, perhaps best known for his role on Doctor Who and as the host of quiz show, The Chase, has well and truly thrown himself into following David's footsteps.
Speaking after the announcement of the series was made by ITV, Bradley declared, "I'm thrilled to be asked to be part of this much loved and iconic series of stories. The warmth and affection that H. E Bates has generated through his books is so uplifting and I cannot wait to be part of the Larkin family. It'll be a hoot!"
---
Florence 'Ma' Larkin—Joanna Scanlan vs Pam Ferris
Florence 'Ma' Larkin is Pop's wife and a mother of six, considered by many to be the one who holds their family together with her kindness. Played by Pam Ferris in The Darling Buds of May, the role has now been taken over by The Thick of It star Joanna Scanlan. And the star couldn't be more excited to be part of the reboot, having avidly read the original The Darling Buds of May book as a child.
"When I was 14, I was ill and had to stay in bed for two weeks, and my mum gave me the books to read. I absolutely fell in love with the characters and what they stood for. There's something that's so warm and embracing that I loved even then," she told What to Watch (opens in new tab).
Joanna went on to reveal that securing the part of such a "happy" character was a revelatory experience, explaining, "playing her has made me realise that I've never been asked to play a happy woman before!"
The actor continued, "She has a happy marriage and she's an excellent mum. She's hugely hospitable, and you will see the tables groaning with these most unbelievable feasts that she is able to provide! She's competent, capable and funny, but there's also a certain spice to her, and she can give as good as she gets!"
With Pam Ferris coming before her, Joanna had some big shoes to fill in The Larkins, but her wonderful portrayal of Ma certainly retains the character's wonderful spirit.
---
Mariette Larkin—Sabrina Bartlett vs Catherine Zeta-Jones
Though it might come as a surprise to those who've just discovered The Larkins, the part of Mariette Larkin, Pop and Ma's eldest child, was originally played by Oscar-winner Catherine Zeta-Jones. The Welsh star played Mariette from 1991-1993, though in the reboot it's Bridgerton's Sabrina Bartlett who's stepping into this major role.
Whilst fans wait patiently for Bridgerton season 2 to land on Netflix, Sabrina's talents have been showcased once again in brilliant style as Mariette Larkin, who is set to be pursued by not one, but two, love interests in the new ITV show. Though it seems all this attention has not gone down well with Mariette's former best friend, Pauline…
As reported by Express.co.uk (opens in new tab), Sabrina reflected on a particularly dramatic confrontation between the two, explaining, "Pauline and Mariette are very competitive, they always have been from a young age. So that sort of provokes a play for competing for both their affections, which comes to a head in the strawberry fields in episode four when we have a catfight."
She described this as one of her "favourite scenes" and though viewers have yet to see this particular episode, we'll now be watching very carefully for this explosive moment!
---
Cedric 'Charley' Charlton—Tok Stephen vs Philip Franks
One of the men fighting for the affection of Mariette Larkin is newcomer Cedric 'Charley' Charlton, played in the original series by Philip Franks. In The Larkins, it's Silent Witness 2021 and Grantchester star Tok Stephens who plays Charley. His presence makes the family begin to question whether their future lies on the farm after the meticulous accountant looks into their financial affairs, though his love for their eldest daughter grows and begins to complicate matters.
Sadly for Charley, it seems that Mariette isn't initially interested in the unassuming taxman, whilst his more glamorous love rival, Tom Fisher, also attempts to catch her attention.
Reflecting upon his hopes for the series after his casting was announced, Tok expressed his desire to see fans of H.E. Bates' book enjoy the ITV reboot.
"I can't wait to work alongside Joanna, Bradley and Sabrina," Tok declared at the time. "I'm incredibly excited. I hope we can impress fans of the original novels with our version."
---
Edith Pilchester—Amelia Bullmore vs Rachel Bell
Originally played by Rachel Bell (Grange Hill, The Edge of Love) was the original Miss Edith Pilchester in The Darling Buds of May. Now almost three decades later it's Amelia Bullmore who's portraying the spinster in ITV's The Larkins. Perhaps best known for her roles in crime dramas Scott & Bailey and Vienna Blood, Amelia's new character lives a far quieter life in the Kent countryside.
Though that doesn't mean Edith's days aren't busy as she sits on multiple village committees and she has a soft spot for Pop Larkin that's sure to see her brought into a scheme or two...
---
Vicar—Peter Davidson vs Tyler Butterworth
Reverend John Candy might not have returned in quite the same way in The Larkins, but the part of the local vicar has been re-cast for the reboot. Doctor Who star Peter Davidson has stepped in as the as-yet-unnamed vicar in the new ITV series and the character is reportedly known for his love of gossip and use of foul language.
When is The Larkins on ITV?
For fans of The Darling Buds of May eager to see how the reboot cast's performances compare with that of the original stars, you won't have long to wait. The six-part series airs weekly on Sundays at 8pm on ITV and it's also available to catch up on via the ITV Hub. The first episode brought with it a wave of nostalgia and there's plenty of romance, drama and schemes to come as The Larkins continues.
Emma is a Senior Lifestyle Writer with six years of experience working in digital publishing. Her specialist areas including literature, the British Royal Family and knowing all there is to know about the latest TV shows on the BBC, ITV, Channel 4 and every streaming service out there. When she's not writing about the next unmissable show to add to your to-watch list or delving into royal protocol, you can find Emma cooking and watching yet more crime dramas.