The haunting new trailer for The Handmaid's Tale season 3 has been revealed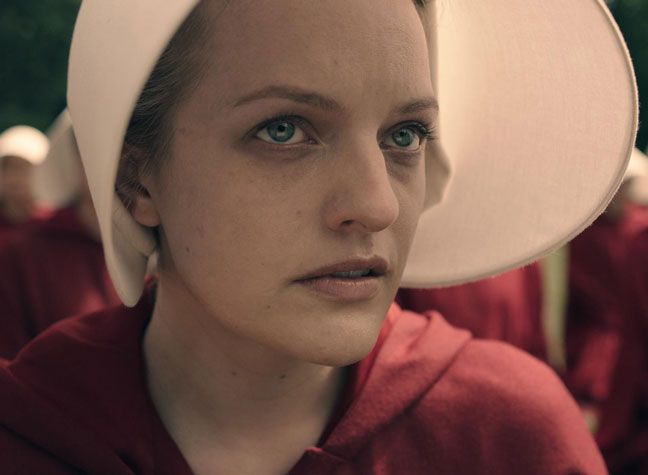 By Amy Hunt
The Handmaid's Tale made waves across the world when it premiered back in 2017.
Based on the dystopian thriller by Margaret Atwood, it offered a terrifying look into the future of America, centering around the experience of Offred - played by Elisabeth Moss.
And now, the show has unveiled the very first teaser trailer for its third season - and it's pretty powerful.
Released during the advert break of the US Superbowl, the short, 30-second trailer sees Offred in the Colonies, and portrays what appears to be rather a happy picture - at first.
Read more:Margaret Atwood: Her best novels, and all of the famous TV adaptions
The clip shows American citizens working in fields, and plenty of babies about as the narrator happily states, "This year, plenty of babies will be born to happy and healthy families. It's morning again."
However, the trailer suddenly switches to a more violent tone, with the happy "It's morning again" message getting more and more distorted.
Terrifying images show violent scenes involving Offred, the Commander and the other Handmaids.
The trailer finishes with Offred ominously saying, "Wake up America, morning's over."
https://www.youtube.com/watch?v=PuWg6AyzETg
The Handmaid's Tale Twitter account has tweeted about the trailer, hinting that the trailer is all about the long-awaited revolution coming to Gilead.
Fans were left delighted with the sneak peek at season three, with one excited viewer commenting, 'I cannot wait! So relevant and so scary. Need this show back now.'
While another agreed saying, 'Is it normal for one's breath to quicken when watching a trailer? Evidently really excited for this third instalment... 🙃'.
It's not yet been announced when the new season will launch in America, meaning it's even more unclear when UK viewers will be able to see it.
However, both of the first two seasons started in April of their respective years - suggesting the third one, if it follows suit, could be on screens in only two months time.
Seasons one and two of The Handmaid's Tale were both shown on Channel 4 in the UK, so it's likely that the same will happen with season three.
We can't wait to tune in!