The Backstreet Boys Hollywood Bowl performance included their own kids - see the adorable pictures
While performing at the Hollywood Bowl in Los Angeles, the iconic Backstreet Boys brought out their own children to perform a song with them and fans absolutely loved it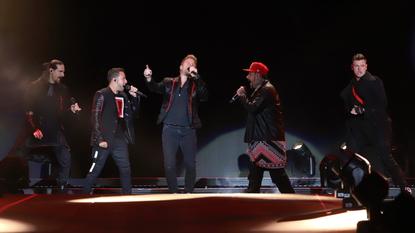 (Image credit: Medios y Media / Contributor)
The Backstreet Boys have come a long way since first landing on the stage back in the 1990s.
While performing at the Hollywood Bowl earlier this week, the five-piece boy band surprised fans by bringing out their very own children to the stage. The "Backstreet babies" even performed a song with their dads!
"These are our babies. Everybody in here, we all grew up together. Y'all have families, we have families. Thank you all for being a part of the Backstreet family going on 29 years, almost 30 years," Kevin Richardson said to the audience right after the performance. "Thank you so much. We love you, we appreciate you and we've been a little busy as you can see."
Kevin's sons Mason, who is 14, and Max, who is 8, joined him on stage alongside Nick Carter's 6-year-old son Odin and 2-year-old daughter Saoirse (Nick also has a one-year-old daughter named Pearl who was clearly too young to join her siblings). Howie Dorough's sons James, 13, and Holden, 9, also made appearances alongside A.J. McLean's daughters Ava, 9, and Lyrics, 5. Brian Littrell's 19-year-old son Baylee, who is actually a country singer and previously opened for his father's band during their 2019 North American tour, was not present.
---
The kids helped their dads sing the song No Place, from their 2019 album DNA.
"We're starting a whole new generation of Backstreet Boys fans. A super group," A.J. said while on stage.
The band later took to Instagram to highlight the momentousness of the occasion. Alongside photos from the concert, the group wrote, "The Hollywood Bowl show last night was one we will never forget. There were too many special moments to count but one of them was having our little Backstreet family out on stage with us. Thank you to each and every one of you for making it magic."
Fans who happened to be at the show took to Twitter to express their joy at the surprise.
"[The Backstreet Boys] just brought out their kids during No Place and I'm not crying, you're crying," one user wrote.
"Kids stole the whole show, it's such a beautiful sight to be on stage together. Until the tears fly by themselves," another commented.
"This was awesome," yet another noted.
Decades after dropping their very first album, it's clear that the Backstreet Boys still know how to entertain fans.
Anna Rahmanan is a New York-based writer and editor who covers culture, entertainment, food, fashion and travel news. Anna's words have appeared on Time Out New York, the Huffington Post, Fortune, Forbes, Us Weekly, Bon Appetit and Brooklyn Magazine, among other outlets.