Tarotscope December 2022: What do the cards have in store for your star sign this month?
Your December tarotscope, read by expert Tree Carr, combines astrology and tarot cards to help you plan for the month ahead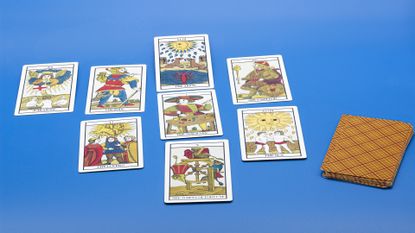 (Image credit: Wirestock/Getty Images)
woman&home newsletter
Sign up to our free daily email for the latest royal and entertainment news, interesting opinion, expert advice on styling and beauty trends, and no-nonsense guides to the health and wellness questions you want answered.
Thank you for signing up to . You will receive a verification email shortly.
There was a problem. Please refresh the page and try again.
Your tarotscope December 2022 comes as the Holiday season is underway and Winter Solstice approaches.
Have you been keeping up with your weekly horoscope for guidance a lot recently? It's certainly been a time to look to the stars - for many reasons. We've survived the deep, dark waters of Scorpio Season 2022, which brought with it a magnetic pull into the mysterious unconscious realms. A collective sigh of relief was, understandably, felt by many as the dawn of Sagittarius season 2022 welcomed an opportunity for super-charged manifestation and personal growth.
The end of 2022 is within sight, so, how will you navigate the last month of the year? Here's your tarotscope for December 2022.
WHAT IS A TAROTSCOPE
A tarotscope is simply a tarot reading with a card pulled for each astrological star sign. It's a bit like a horoscope but with tarot thrown in the mix. I will be pulling one tarot card from the legendary Rider-Waite deck for each and every one of you lovely zodiacal beings. This beautiful and concise deck has 78 cards, made up of minor and major arcana. Each card has a different meaning when it's upside down, or reversed as we say in tarot.
Here's your sign's tarotscope for December 2022, read on for your star sign's forecast.
Your tarotscope December 2022
Aries
Tarot card: Six of Cups
Message: Be playful
Hi there Aries! The month of December is full of childhood nostalgia for you. Revisit the happy memories, connect to playfulness, feel carefree and set yourself free with a bit of fun. You would do well to engage in anything that involves play, crafting, coloring or dancing. This energy works very well with the Sagittarian alignment. Get moving and have some fun!
Mantra: 'I am connecting to my inner child.'
Taurus
Tarot card: Four of Pentacles
Message: Money matters
Welcome to the month of December all you Taurians! All things material are coming into sharp focus this month. It's time to reevaluate your relationship with money! Do you fear it, loathe it or love it? If you are nervous that you won't have enough, perhaps you are holding on to it too tightly. If you find yourself having a poverty block, the Four of Pentacles invites you to set yourself free from your money fears. Remember, money is an energy that needs to keep moving in flow and exchange. It will always come back around again.
Mantra: 'I let go of my fear of money.'
Gemini
Tarot card: Reversed Hierophant
Message: Rebel!
Hello Gemini! It's all about rebelling against the status quo this month. You've been playing by the rules for a while now and it's not worked out in the ways that you would have expected. It's time to think outside of the box, connect to your inner truth, and step out with a new plan that's aligned with who you really are. You are strong enough on your own and no longer need external validation for your talents. Stand strong and shine bright!
Mantra: 'I reclaim my personal power.'
Cancer
Tarot card: King of Cups
Message: Master your emotions
Happy December dear Cancerians. This month is centered around your emotional life. Be mindful to not fly off the handle, be sucked into an overwhelming emotional situation, or find yourself indulging in moodiness or irritability. The King of Cups invites you into the zones of emotional maturity. When you find yourself becoming emotionally triggered, pull all of your awareness into the present moment and ask yourself what you need, instead of becoming overwhelmed. Give yourself some self-care through the month of December to help restore emotional balance.
Mantra: 'I am becoming emotionally mature.
Leo
Tarot card: Reversed Ten of Swords
Message: Let go of the past
Hello Leo, the month of December is a time of reevaluation around letting go of the things in your life that are no longer serving you. It's time to really be honest with yourself about what is happening and face up to it. Even though this can feel somewhat challenging, once it's done it will provide a great relief and then a brilliant new chapter of rebirth. Let go of the painful past and step into a happier version of yourself.
Mantra: 'I release myself.'
Virgo
Tarot card: Knight of Cups
Message: Welcome romance
Hi Virgo! December could hold quite a bit of romance for you. If you are single, get yourself back on dating apps or speed dating nights. If that is not your cup of tea, then perhaps leave it to synchronicity and 'chance meetings'. Send your message out to the universe that you welcome romance into your life. If you are happy with a partner: this aspect could present itself by means of creativity, connecting to your passions, and expressing yourself through art, beauty, or design.
Mantra: 'I embrace romance.'
Libra
Tarot card: Knight of Swords
Message: Take action!
It's time to take action dear Libra! The energy in the month of December is moving quickly and swiftly changing. Harness this energy to get motivated and move forward with ambition. Even if obstacles pop up on your path, your willpower is unstoppable this month. Push through. The only thing to be mindful of with this energy is to be careful not to rush into something without thoroughly thinking it through. Always logically assess before charging ahead.
Mantra: 'I am ambitious.'
Scorpio
Tarot card: Seven of Pentacles
Message: Contemplate investment
Hello Scorpio. The month of December is highlighting all things investment for you. It's all about the long game here. Where do you want to invest your time and energy around all things career? This is an important month to do this as it will set the stage for all logistical and strategic moves for the new year. Reevaluate what is working for your career and what isn't. Perhaps some of the work you are doing drains your time and energy. It's time to make a plan and invite change and step into 2023 with a solid career plan.
Mantra: 'I am creating a long-term career plan.'
Sagittarius
Tarot card: Four of Wands
Message: Celebrate!
Hello Sagittarius, this is your month! The Four of Wands wants you to celebrate. It's no wonder that I've pulled this card for you because many Sagittarians are celebrating their birthdays during December. Allow yourself to appreciate the good things in life: surround yourself with friends and loved ones. Have a party or invite people around for dinner. Allow gratitude to fill your heart and raise a toast!
Mantra: 'I am celebrating!'
Capricorn
Tarot card: Reversed Empress
Message: Self-care
Dear Capricorns, the month of December focuses intently on your self-care. The Empress appears in reverse when there is a certain amount of self-neglect going on. Whether you have been neglecting your physical health or emotional or spiritual well-being, the Empress wants to bring nurturing and healing energy to you. But, it all starts with self-love and self-care. Give yourself much-needed rest. Tend to your emotional and spiritual needs. Get out into nature and let the soothing energy help to bring you back into balance, preparing you for a fresh start in the new year.
Mantra: ' I am taking care of myself.'
Aquarius
Tarot card: Reversed King of Pentacles
Message: Be responsible with money
Hi there Aquarius. It's all about your relationship with the material realm for the month of December. Review your attitudes towards money. The key words are respect, responsibility, and recuperation. Your finances will come into sharp focus this month. File your annual tax, pay off debts and balance your books. Be mindful of high-risk behavior around money. It's not the best month to splurge. Spend your time getting your finances onto a strategic plan and move into 2023 with more responsible behaviors around money.
Mantra: ' I embrace my financial plan.'
Pisces
Tarot card: Reversed Ten of Wands
Message: Release the burden
Hello Pisces. Be mindful of your energy levels over the month of December and don't take on too much. The Universe wants you to release your burden. Perhaps you've been going through something and have not told a soul about it. Carrying it within you can create an internal burden. Find yourself the right time, the right person, and the right moment to share. You may find that is all that it takes to bring you great relief. As you move forward, observe how much freedom and space that brings to you.
Mantra: ' I release my burden.'
Dream guide, death doula, and divinatory guide
Tree Carr is a published author who works in the esoteric realms of dreams, death, and divination. Her published books include 'Conscious Dreamer' and 'DREAMS: How to Connect With Your Dreams to Enrich Your Life'.
Tree is also a CPD Crossfields Institute Certified Death Doula. Her work as an End of Life Guide involves helping people spiritually, emotionally, existentially and practically at the end of their lives.
As an intuitive empath, she is self-taught in divinatory guidance: The Tarot, Rune Stones and Astrology and has facilitated readings, rituals, classes, and courses spanning a wide variety of esoteric subjects.