Sex/Life season 2 ending explained - and will there be a season 3?
Sex/Life season 2 was another wild ride from start to finish, here's everything we need to unpack about that final episode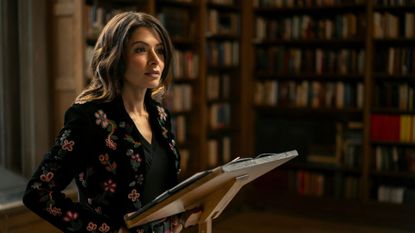 (Image credit: Netflix)
The second season of the hugely successful Netflix show Sex/Life has premiered and fans have already binge-watched all six episodes of the new season.
After waiting for two years for the second season of the Netflix hit show Sex/Life, fans were desperate to find out what exactly happened after the shocking ending of Sex/Life season 1. And this season didn't disappoint! With a number of relationships, sex scenes, and more drama than ever, fans' expectations were certainly met. But after so many characters switching partners, who did everyone actually end up with? Here's what you need to know about the Sex/Life season 2 ending...
---
What happened with Sasha and Kam?
At the beginning of the season we are introduced to Kam, Sasha's former fiancé. It is revealed that Sasha called off their engagement in order to pursue her own dreams and throughout the series she debates making the same deciison again as he has to move in Singapore and she needs to stay in New York.
Ultimately Sasha tells her boss to shove it and decides that she's not going to not be with Kam in order to maintain her independent woman image that she's been told to maintain for book sales. She runs to the airport and tells Kam she's coming with him. In a surprise twist Kam says, "I love you Sasha Snow. But you cannot come to Singapore," it's then revealed that he has requested his luggage to come off the plane. "You were right, it shouldn't always be the woman who is expected to change course, and I don't wanna be that man that keeps asking you to give up your life and follow mine."
The pair embrace and get back together, staying in New York City. The series then ends with the two of them finally getting married.
What happened to Cooper?
After his relationship with Billie went down the drain, Cooper had a number of fleeting entaglements. He eventually works out that the person he really wants to be with is his ex-girlfriend, Emily. Earlier in the season, Cooper ran into Emily in a bar and she tells him that she's not interested until he's sorted out his divorce.
In the final episode, Cooper gatecrashes her brithday party accidentally after he calls at her flat on her birthday. Emily is shocked to see him in the hallway and the party falls silent as he makes a speech.
In front of all of her friends, Cooper says, "Twelve years ago, I wasn't the righ man for you. And I couldn't appreciate all of the things that you have to offer, and that list is long." He speaks about how much he is changing as a person and while he may not deserve her, he's trying. Emily cuts him off and kisses him and then says that her 'birthday wish' came true.
The series ends with Emily and Cooper back together and Cooper seemingly nailing co-parenting with Billie as he hosts Billie's Phd celebration party at their old home. Cooper tells Billie, "I'm gonna ask Emily to marry me." Billie is surprised but supports him that Emily's lovely and she thought that was the sort of girl he should have been with all along. The former couple share a hug and seem to end in a healthy place.
Did Billie and Brad end up together?
At the beginning of the season, it was revealed that Billie wanted to get back together with Brad. However, Brad told her that she had waited too long and he was now with a woman called Gigi who was expecting their child.
Billie then goes to Cooper who promptly ends their relationship and they start talking about divorce. Billie is then single for a while and begins dating Majid, a restauranteur who she dates for most of the season.
By the final episode, it is clear that her relationship with Majid is not going to work out as he yells at Hudson after he accidentally causes a fire when Majid is supposed to be looking after him. Hudson then runs away and is found by Brad and Billie. Billie tells Majid, "It's not enough, and if there's anything I've learned its that I don't wanna split my life into two parts. And if I can't be in a relationship that allows me to to be all of who I am, then I'd rather be alone."
Gigi and Brad get married and have their baby, but by the end of the season their relationship hasn't worked out and they become co-parents. Gigi moves on with another man and at Kam and Sasha's wedding, Brad surprises Billie and tells her Gigi left. "A while ago actually. She's with someone else now who didn't just lose his company. We both knew in our hearts that I could never be hers completely because I've never stopped being yours. It's you B, it's always been you," says Brad.
Billie cries and is in shock, but the couple get back together and dance at the wedding. The series then ends with Billie and Brad's wedding on a beach, and Billie whispering in Brad's ear happily 'I'm pregant'. While it's not clear if this is a fantasy, it's a gorgeous wholesome ending to the erotic series.
Will there be a Sex/Life season 3?
Season 2 seemed to wrap up all of the story lines and showed all of the characters getting their happy ending. Unlike season 1, there isn't a cliffhanger that needs to be resolved in the next season, this could be an indicator that there won't be another season.
However, there is still hope, Netflix has yet to say anything about the possibility of a Sex/Life season 3. So there is still every chance they may renew the series for another season of drama!
Laura is a news writer for woman&home who primarily covers entertainment and celebrity news. Laura dabbles in lifestyle, royal, beauty, and fashion news, and loves to cover anything and everything to do with television and film. She is also passionate about feminism and equality and loves writing about gender issues and feminist literature.
Laura loves drinking and eating and can often be found trying to get reservations at London's trendiest restaurants. When she's not wining and dining, Laura can also be found travelling, baking, and hiking with her dog.