Sarah Jessica Parker just launched a wallpaper line and now we want to redecorate
The Sarah Jessica Parker & Wallshoppe collection features 15 different prints that range in price from $68 to $299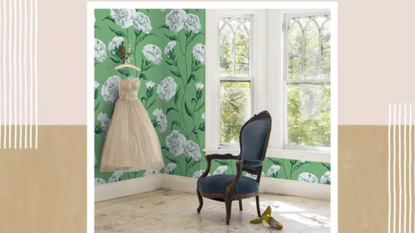 (Image credit: Wallshoppe)
Sarah Jessica Parker can officially add "interior designer" to her already very long resume.
Sarah, who is gearing up for the release of Hocus Pocus 2, has just launched a new wallpaper line with her close friend and interior designer Eric Hughes. Considering that the two have known each other for over three decades, you can expect a delightful new collection that is sure to entice every sort of home decor shopper.
In total, the Sarah Jessica Parker & Wallshoppe collection features 15 prints presented in 193 variations. Price-wise, pieces range from $68 to $299.
The idea for this specific collaboration germinated during the pandemic, when Eric was helping the 57-year-old actor design her home in New York City.
"We met through a mutual friend and just instantly connected," the interior designer, who has worked with celebrities the likes of Andy Cohen, Katie Couric and Lauren Graham in the past, said to PEOPLE. "One part of that friendship has always been this affinity for design and interiors."
"They put the paper up in her apartment in her living room [on the set] with these really beautiful green velvet draperies and pretty rug and these bookshelves and it just became this jewel box," Eric said to PEOPLE.
"It felt like it was breaking rules," Sarah Jessica herself said to Elle Decor (opens in new tab). "We hadn't seen flowers that big, and we hadn't seen colors used that way. So it felt very Carrie, who, for better or worse, makes bold choices and lives by them and doesn't apologize or really care if people don't understand."
The choice was clearly a hit, fans have been praising the look of Carrie's apartment since the reboot series premiered back in December of 2021.
Suddenly, we feel an itch to re-decorate all the spaces we claim as ours.
Although all the prints in the collection - from bold graphics to timeless picks and classic choices - are top-notch, there is a specific piece that will likely catch shoppers' attention because it was actually used on the set of And Just Like That..., the Sex and the City reboot that aired on HBO Max and is returning for season 2 sometime soon.
Featuring a teal blue carnation, the design was used in Sarah Jessica's character Carrie Bradshaw's apartment.
Anna Rahmanan is a New York-based writer and editor who covers culture, entertainment, food, fashion and travel news. Anna's words have appeared on Time Out New York, the Huffington Post, Fortune, Forbes, Us Weekly, Bon Appetit and Brooklyn Magazine, among other outlets.