Queen Charlotte Bridgerton prequel release date confirmed - all you need to know about the spin-off
The Queen Charlotte Bridgerton prequel is on its way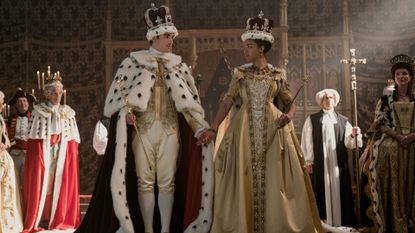 (Image credit: LIAM DANIEL/NETFLIX)
Waiting patiently for Bridgerton's newest spin-off series, Queen Charlotte? Join the club. Here's everything you need to know about the widely anticipated Bridgerton spin-off.
With the undeniable success of the first two seasons of Netflix's hit show Bridgerton, it's no wonder the show's creator Shonda Rhimes decided that a spin-off of the period piece series was in order. Plus, with the Bridgerton books available for a vast disposal of content for the TV series, Shonda and her team have a lot to work with - hence the creation of Queen Charlotte, the new spin-off series which will focus on the early life of the Queen.
In season 1 and season 2 of Bridgerton, Queen Charlotte, played by Golda Rosheuvel, is a match-maker. She's quite sly, and has an ever-domineering personality, fit for a strong Queen.
In this upcoming prequel, we get taken back in time to observe Queen Charlotte's own courtship with King George - a love story that, if reflects Bridgerton's original values of anticipation, and of course, sex appeal, is sure to be just as addicting as the first two seasons of the original show.
When is the release date of the Queen Charlotte Bridgerton prequel?
Fans of the Bridgerton franchise can rest assured knowing Queen Charlotte is coming soon! The entire season will air on Netflix on Thursday, May 4 2023 - perfect if you're in need of a new binge-watch.
Who's in the cast of the Queen Charlotte Bridgerton prequel?
The original cast members of Bridgerton have made international names for themselves for their portrayals as the OG characters - Regé-Jean Page as the Duke, Jonathan Bailey as Anthony Bridgerton, Phoebe Dynevor as Daphne Bridgerton, and Simone Ashley as Kate Sharma are on this list, just to name a mere few.
The cast of Queen Charlotte features some familiar faces, as well as some new faces we're bound to fall in love with. The cast includes:

- India Amarteifio playing young Queen Charlotte
- Corey Mylchreest playing the young King George
- Golda Rosheuvel returning as Queen Charlotte
- Adjoa Andoh returnsing Lady Agatha Danbury
- Ruth Gemmell returning Lady Violet Bridgerton
What's the plot of the Queen Charlotte Bridgerton prequel?
Fans of the Bridgerton franchise will be transported back to Queen Charlotte's early adulthood as she courts a young King George in the spin-off series.
"Charlotte, there are worse fates than marrying the king of England," the Queen's friend says in the trailer for the show. Then, we see the young King catch the Queen in his arms as she falls from a wisteria tree in the garden. From there, you can guess the typical arranged-marriage-to-lovers trope ensues, "Netflix confirmed.
"Centered on Queen Charlotte's rise to prominence and power, this Bridgerton-verse prequel tells the story of how the young Queen's marriage to King George sparked both a great love story and a societal shift, creating the world of the Ton inherited by the characters in Bridgerton."
Madeline Merinuk is woman&home's US lifestyle news writer. She covers celebrity, entertainment, fashion, and beauty news but is also obsessed with internet trends - you can find her reciting trending TikTok sounds out loud at any given time.
After winning multiple student journalism awards for her investigative work, she graduated from Hofstra University in 2021 with a B.A. in Journalism. After graduating, she worked at today.com, the digital site for the Today Show, where she wrote pop culture news and interviewed big-name personalities like Emily Ratajkowski, Haley Lu Richardson, Emma Corrin, and more.
Her personal interests, in no particular order, are: cheese, Joni Mitchell, reading, hot yoga, traveling, having multiple chapsticks in every handbag at all times, and dancing to ABBA songs as if she were in the Mamma Mia movies.