PICS: Royal Babies At Two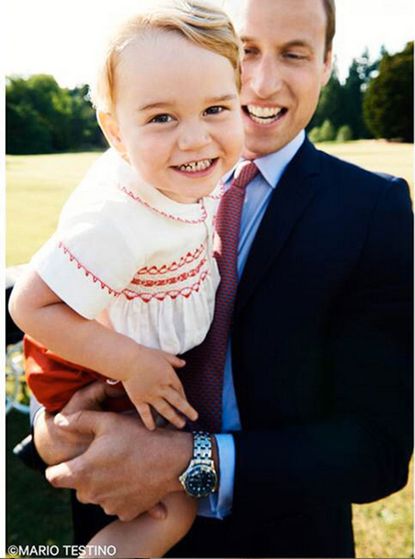 In celebration of Prince George's first birthday, we've rounded up the sweetest baby photographs from the Royal Family.
Gorgeous George strikes again! The cheeky Prince turns two today and, to celebrate, the Cambridges have released this lovely picture taken by Mario Testino on Princess Charlotte's christening day in the gardens of Sandringham House.
The photo shows just how much of a handful the toddler prince is as he wriggles around in his father, Prince William's arms with a great big toothy grin.
Kensington Palace released the picture to its 550,000 Twitter followers yesterday - and the social network site is a flurry of activity as people tweet their birthday wishes.
It's thought the little Prince will be treated to a special party at Catherine and William's home, Amner House in Norfolk, later today.
Happy birthday George!
To mark the occasion we've gone through the archives to compile photographs of the rest of the Royal family aged two. The resemblance is uncanny..
Prince Edward, Euston Station London, aged 2 in 1966
An impatient 2 year-old Prince Edward can't wait to get aboard the Balmoral bound train waiting for him from Euston station. Doesn't he look the spitting image of George?!
Queen Elizabeth II, aged 2 in 1928
Princess Elizabeth of 145 Piccadilly poses for a photograph in 1928, long before anyone could have imagined she would eventually become Queen.
Prince William, Aberdeen Airport, aged 2 in 1984
Prince William arrives in Aberdeen with his father and impresses onlookers when he confidently tackles a set of steep steps without slipping.
Prince Harry, Spain, aged 2 in 1986
Prince Harry enjoys a bit of peace and quiet with his mother, Princess Diana whilst on holiday in Spain in 1986.
Prince Charles Kings Cross Station London, aged 2 in 1951
A jovial Prince Charles excitedly leaves Kings Cross station in a car headed for Clarence House.
Zara Philips, Windsor, aged 2 in 1983
Zara Philips' love of all things equestrian began early on, here she is enjoying a day at the Royal Windsor Horse Show in 1983.
Princess Beatrice, Windsor Horse Show, aged 2 in 1990
A teeny tiny, Princess Beatrice enjoys attention from the waiting press at the Royal Windsor Horse Show in 1990.
Princess Eugenie, Winkfield Montessori School Windsor, aged 2 in 1992
A fair haired, Princess Eugenie arrives at nursery in Windsor in 1992.
Princess Anne, aged 2 in 1952
A young Princess Anne looks bewildered by the crowds waiting for her as she arrives at Euston Station ahead of a family holiday to Scotland
Prince Andrew, Euston Station London, aged 2 in 1961
A very handsome Prince Andrew is carried to an early morning train ahead of a family trip to Balmoral.
Royal Babies Through The Ages
As the world celebrates George's birthday weeks after the christening of Princess Charlotte, it seems only fitting that we take a look back at the royal babies who came before them. We've delved in to the archives to bring you some of the sweetest baby photographs of our favourite Royals through history. In twenty years time we'll be looking back at pictures of George and Charlotte and wonder where the time went...
Queen Elizabeth II 1926
This portrait was taken of the future Queen of England with the Queen mother just days after she was born in her maternal grandfather's house in Mayfair, London. At the time, nobody suspected Elizabeth would become one of the longest serving British monarchs.
Prince Edward, Duke of Kent 1936
As head of the All England Lawn Tennis and Croquet Club, Prince Edward is perhaps best known for presenting the trophies to the Wimbledon champion and runner-up. He is the paternal cousin of Queen Elizabeth II, and so carries out Royal duties on her behalf. Here he is pictured just one year old in his pram with a toy teddy bear.
Prince Charles 1948
Prince Charles was just one month old when this photo was taken in December 1948. He was the first son of Prince Philip, the Duke of Edinburgh and Queen Elizabeth II before she became a monarch. He is the longest serving heir apparent.
Queen Elizabeth II and Prince Phillip with their young family in 1951
What a lovely picture! 1951 was a busy year for the Queen and Prince Philip. Prince Charles was three and Princess Anne a babe in arms when they took her father, King George VI's place on a royal tour of Canada. By the summer of 1952, he had sadly passed away and Elizabeth was Queen.
Prince Andrew 1960
This photo shows Queen Elizabeth II and her sister Princess Margaret on the way to Sandringham in preparation for 10-month-old Prince Andrew's first Christmas.
Prince William 1982
Prince William makes his public debut outside St. Mary's Hospital in London in 1982. Does this photo look familiar to you? It's the same location that Prince George made his first public appearance in the arms of the Duchess of Cambridge alongside Prince William himself! Kate even wore a spotty dress like Diana.
Prince William 1983
Here Prince William enjoys the sunshine of Eden Park, Auckland on his first royal tour of New Zealand with his parents.
Prince William 1984
Captured a year later enjoying a stroll around Regent's Park with his nanny.
Prince Harry 1985
He may be the most eligible bachelor in the world but it seems like only yesterday he was a bouncing baby boy himself.
Princess Eugenie 1990
Princess Eugenie of York is the second daughter of Prince Andrew, Duke of York and Sarah Ferguson, Duchess of York. She is cousin to Prince William and Prince Harry, and seventh in line to the throne.
Princess Beatrice 1994
Princess Beatrice, the elder sister of Princess Eugenie, poses for the cameras at her school sports day at Upton House School in Windsor.
James, Viscount Severn 2009
James is the second child of Prince Edward, Earl of Wessex and Sophie, Countess of Wessex. Here he enjoys a day out at the Royal Windsor Horse Show in May 2009.
Lady Louise Windsor 2013
Lady Louise featured in the 2011 royal wedding as one of Prince William and Kate Middleton's bridesmaids. She is the eldest child of Prince Edward and Sophie Wessex.
Savannah Phillips 2013
Savannah certainly is a lucky little girl. Not only is her grandmother Anne, Princess Royal. But she was also given a pony by her Olympian aunty, Zara Phillips.
Isla Phillips 2013
Isla Phillips enjoys a day out with her mum, Autumn Phillips, at the Mitsubishi Motors badminton horse trials. Ilsa lost the top spot of youngest Royal great-grandchild when Prince George was born.
George Alexander 2013
And here he is leaving the hospital, just a few days old. We can't believe Prince George turns two later this month - where has the time gone?