Phil Spencer is about to take on a seriously epic challenge for charity
Go Phil!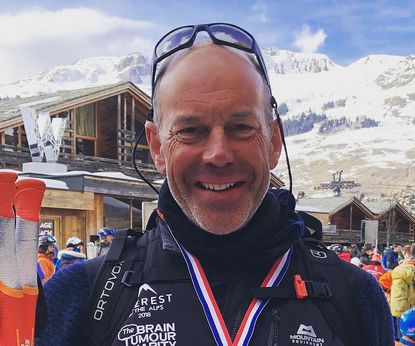 TV star Phil Spencer is about to take on a seriously epic challenge for charity.
The Location, Location, Location presenter is set to climb a staggering height, equating to that of Mount Everest, as part of the Everest in the Alps challenge.
The 50-year-old journalist is taking on the serious test of fitness and strength, which will see him ski8,848 metres uphill, to raise funds for The Brain Tumour Charity.
Later this month, Phil will lead his own team of five for the gruelling four day ascent.
How to donate to The Brain Tumour Charity (opens in new tab)
The challenge was founded by Rob Richie, whose 12-year-old son Toby has a low grade brain tumour.
After three successful attempts since 2015, Rob and his supporters have raised over £4.5 million.
Phil's team and two others will climb for 10-14 hours each day, burning 10,000 calories and using the energy required to complete three back-to-back marathons.
Opening up on the challenge that lays ahead, Phil said, "There are so many facets aside from the physical height. You've got the weather, the altitude, you've got the unknown, the route, the routine and you've got the temperature.
"It could be +20 degrees or it could be -20 degrees and that's something else that's quite individual to this challenge.
"There's no hiding place in the mountains, once you start, you have to finish because your hut's at the top, so what are you going to do? You still have to get up there even if it hurts or your kit breaks, your bed is still at the top of the mountain!
"This is without question, the hardest challenge I've done by a long way. If you're running a marathon and you blow a gasket, well, you just stop and go home. If you do Everest in the Alps and you decide after a day and a half that you're not fit enough for it, you've got to keep going.
"There's your team who you can't let down and also you've been sponsored massively so there's a huge amount of pressure to finish," he added.
Funds raised by the those tackling the heights will go to The Brain Tumour Charity's Everest Centre, a set of research basesconducting ground-breaking research projects looking to find new treatments.