Pamela Anderson bares all in defiant nude photoshoot as she opens up on surviving Hollywood and past controversial #MeToo comments
The Baywatch icon is more confident than ever – in her body and in her opinions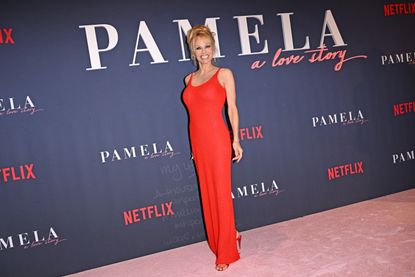 (Image credit: Axelle/Bauer-Griffin/FilmMagic)
It's been a strong start to 2023 for Pamela Anderson, and she's only looking ahead to bigger and better things.
There's been a Netflix documentary and an empowering memoir so far, and now, in an Interview magazine story, Pamela is photographed in a series of bold and brave shots, including one where her iconic blonde tresses are the only things covering her up.
But Pamela isn't just exposing all in the physical sense, the Baywatch actress is opening up about how she survived Hollywood, the difficulty she's faced sharing so much in her new book, and the regrets she felt over previous Me Too comments.
In the interview with Ronan Farrow, Pamela touches on the part of her life seldom seen.
She declares, "Pain and suffering is part of life. It's what creates a beautiful song or a beautiful movie. Anger and sadness are just as important as happiness."
Such frank revelations might seem at odds coming from the actress who has often been characterized as just another sex symbol or "dumb blonde."
But she acknowledges that she was partly responsible for this perception, telling Ronan, "I created a character, and it fed the monster. So I don't feel like a victim. I feel fortunate."
Pamela also touches on comments she'd made on #MeToo in the past, for which she received a hefty amount of criticism.
In 2017, she told Megyn Kelly that "You know what you're getting into when you go to a hotel room alone."
Revisiting these comments, Pamela says, "I could even take it a step further. My mother would tell me — and I think this is the kind of feminism I grew up with — it takes two to tango. Believe me, I've been in many situations where it's like, 'Come in here little girl, sit on the bed.'"
"But my mom would say, 'If someone answers the door in a hotel robe and you're going for an interview, don't go in. But if you do go in, get the job.'"
She continued, "That's a horrible thing to say but that's how I was. I skated on the edges of destruction. I just had this sense of value and self-worth. But I think a lot of people don't have that or they weren't taught that. Thank God for the #MeToo movement because things have changed and people are much more careful and respectful."
Throughout her memoir, Love, Pamela, she doesn't avoid tough topics similar to this.
Pamela gets deeply personal about her past and childhood trauma, and reveals how it hasn't been well received by her mother. She explains, "She started acting out, just jabs and cruel remarks. It was coming out in all sorts of different ways."
"It hurts people and I'm sorry for that," she continued. "But I needed to look at my life from beginning to end. The one fortunate thing about being in the public eye is that I'm able to tell my story, and hopefully it's inspirational to people.… We need to tell our stories."
"And I hope that's encouraging."
Jack Slater is not the Last Action Hero, but that's what comes up first when you Google him. Preferring a much more sedentary life, Jack gets his thrills by covering news, entertainment, celebrity, film and culture for woman&home, and other digital publications.
Having written for various print and online publications—ranging from national syndicates to niche magazines—Jack has written about nearly everything there is to write about, covering LGBTQ+ news, celebrity features, TV and film scoops, reviewing the latest theatre shows lighting up London's West End and the most pressing of SEO based stories.