Olympics 2016: Presenters Clare Balding, Gabby Logan and Hazel Irvine Share Their Olympic Secrets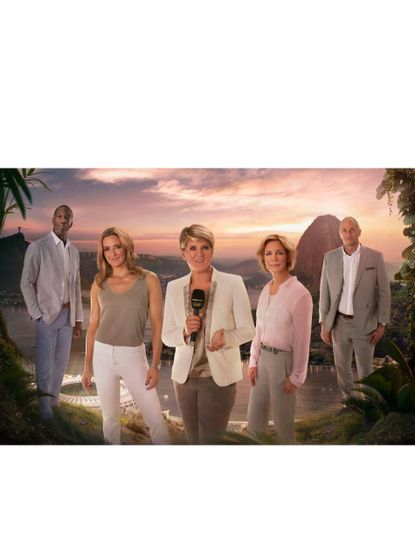 Forty-two Olympic sport disciplines in one place with 306 medals up for grabs can only mean one thing; the Rio 2016 Summer Olympics have arrived - and following its award-winning coverage of London 2012, the BBC will once again be at the heart of it, hosting more than 3,000 hours of live entertainment across TV, radio, online and digital.Hazel Irvine, Gabby Logan, Clare Balding, Mark Chapman and Jason Mohammad will be at the helm of BBC One's coverage,which kicks off with the Opening Ceremony on 5 August, with live action each day from 11pm to 4am until the Closing Ceremony on 21 August. We caught up with Clare, Gabby and Hazel ahead of the action...
Clare Balding, 45, is married to broadcaster Alice Arnold. They live in London.
The gold medal win I'd most like to see... There are so many! Sir Bradley Wiggins could become the most successful British Olympian ever if he wins gold in the cycling; I'd love to witness that. Plus, Cyclist Laura Trott could become the first British woman to win three Olympic gold medals. I was also there in London when Nicola Adams won her boxing gold medal, which was sensational and I'd love to see her defend that title. How do I choose?
The best sporting moment I've seen live... Cathy Freeman winning gold in the 400m at the 2000 Sydney Olympics. She was in this all-in-one green Lycra outfit with her head covered and I still remember the quietness in the stadium before the start, then the noise level when she won. It was amazing.
The Olympic moment that made me cry... I cry pretty much every time a British athlete wins a medal! But when rowers Katherine Grainger and Anna Watkins won gold in London, I was watching it on TV in floods of tears. It's the medal ceremony that tends to get me most.
The Olympic sport I wish I could do... Gymnastics - I really admire the flexibility and the athleticism of the gymnasts. Unfortunately, I couldn't even do a forward roll, let alone a triple back flip! The item I have to pack in my Olympic suitcase... Besides accreditation (you're in big trouble if you forget that!), my little travel pillow, which I'll sleep on or just rest on my ear if it's noisy...and a little teddy bear too. They're my home comforts.
My instant energy boost food... Jellybeans - I've actually got some in my bag at the moment. I do love marmite rice cakes too, but I don't think I'll be able to get them in Rio! My favourite opening/closing ceremony moment... Caliban's Dream at the London 2012 Opening Ceremony, which was performed as the Olympic cauldron was lit by seven young athletes. When I hear that music, it still gives me so much energy - I think we all need something like that, which we can tap into when we're feeling down. My ultimate motivational song.... When I was younger and I was riding horses, Peter Gabriel's 'Big Time' was in the charts and I'd always listen to it on the way to the races. These days, I've got a playlist on my iPod, which I'll walk around and listen to if I need a pick-me-up, which includes 'I Want the World to Stop' by Belle and Sebastian, 'If I Had A Million Dollars' by Barenaked Ladies and 'Now We Are Free' by Lisa Gerrard. The one thing I deserve a gold medal for... I'd want to be in a competition for best auntie in the world and try to win a gold medal in that. I like to think I'm a fun auntie; I've got two nephews, JJ, nine, Toby, eight and a niece, Flora, who's five and when they come and stay, my partner Alice and I plan all sorts of things to do with them. Even in the work I do, I want them to be proud of me. Every Olympics party needs... Comedy hats, masks (I'd be Bradley Wiggins!), fake medals and Brazilian food and music, so everyone feels like an athlete for the night.
Gabby Logan, 43, lives in Buckinghamshire with her husband, former rugby star Kenny Logan, and their 10-year-old twins, Lois and Reuben.
The Olympic event I'm most looking forward to... I'm covering the athletics and the first two days is the heptathlon, which I can't wait for. We've got the Olympic gold medallist from London and world champion Jessica Ennis-Hill, then there's the Liverpudlian pretender to the throne, Katarina Johnson-Thompson; that's going to be a fantastic head-to-head to kick things off. We could have two women on the rostrum, which would be amazing. The gold medal win I'd most like to see... I'd like to see the men win the all-round gymnastics. We've always had a heritage in athletics and we've always done well in rowing and cycling, but it was only in 2008 that we got a couple of medals and then had this incredible success at London 2012. Even if the men pushed up the rostrum to silver from bronze, that would be an incredible journey for me. The Olympic moment that made me cry... I remember being in the Holiday Inn in Ilford when judoka Gemma Gibbons won her semi-final match; I was watching it on TV and when she dropped to her knees and said, "I love you mum", I just sat in my room and sobbed. I'm sure there will be plenty more tears in Rio!
The Olympic sport I wish I were good at... I'd love to be able to compete in one of the equestrian events. It doesn't matter what age you are - we had a Japanese rider in London who was in his 70s. My daughter is a showjumper, so she'll now be thinking, "Finally I've won her over, she loves my sport!" The best sporting moment I've seen live... England winning the Rugby World Cup in 2003. I'm a Welsh girl married to a Scottish rugby player, but it was the peak of this incredible effort and a lot of the players were great friends of ours who came to our wedding, so seeing them in that moment was incredibly emotional. I'll never forget seeing Andy Murray win Wimbledon in 2013 too - I took my son with me who was only seven at the time and he turned to me and said, "I'm really lucky to be here, aren't I?" and I said, "You're really lucky. This is a real moment of history." The item I have to pack in my Olympic suitcase... A kettle! I worked at the World Cup in Brazil and discovered that hotel rooms in Brazil don't come with them - in fact, people in Brazil don't use kettles full stop! There's also only two Starbucks in the whole of Rio and I love my morning coffee.
The one thing I deserve a gold medal for... Being the best mum in the world - I tell my children every day, but when I'm telling them off, they tend to disagree! My ultimate motivational song... 'Running'by John Newman. It might sound silly, but when I'm on the treadmill and I want to do another kilometre or another mile, I'll play it back to back, so I don't stop running! My lucky charm is... My husband Kenny [Logan] always makes our kids write little cards when I go away, so when I get to my hotel room and open my case, there's something special waiting for me. Every Olympics party needs... A little bit of alcohol. Having said that, all the athletes are so highly trained that it only takes about a thimble full of wine and they're dancing on the tables!
Hazel Irvine, 51, is married and lives in London
with her daughter, Gina, seven.
The Olympic event I'm most looking forward to... I'm excited to see a young gymnast from the United States called Simone Biles. I saw her at the World Gymnastics Championships in Glasgow last year and she's an absolute powerhouse; I went with some friends and our little girls and they were absolutely captivated by her. She could be an absolute shining star of these games. I'm also thrilled at the prospect of so many of our 2012 Olympic gold medallists returning to perhaps do it again; dressage rider Charlotte Dujardin and cyclist Laura Trott have this chance of becoming the greatest female Olympians this country has ever produced - what a little thing to have tantalising you on your build-up!
The gold medal win I'd most like to see... Along with rowers [Helen] Glover and [Heather] Stanning retaining their gold, I'd like to see gymnast Max Whitlock take the individual all-around title, which would mean beating (Kohei) Uchimura of Japan. I'd also love to see Bianca Walkden break through in taekwondo in the way that Jade Jones did four years ago. Then there's cyclist Bradley Wiggins go for a fifth gold medal in the team pursuit.
The Olympic moment that made me cry... It's got to be Super Saturday at London 2012 watching the three gold medals that night: Greg Rutherford in long jump, Jessica Ennis-Hill in heptathlon and Mo Farah in 10,000m. I've been in sport for nearly 30 years and it was a feeling I've waited for so many years. I also cried a lot (and quite openly!) at Danny Boyle's Opening Ceremony when the Olympic rings were forged and lit and the sparks came down. I think that was a culmination of all the stress and worry that we weren't going to get it right and there it was, this magnificent piece of theatre being performed to a billion people across the world. The Olympic sport I wish I were good at... I'd like to have a go at fencing. I watched it at the 2008 Summer Olympics and I was mesmerised by the sheer naked courage it takes to go out and face someone like that - and how quick it all was. It's a sport we don't see enough of.
The item I have to pack in my Olympic suitcase... Photos of my family, my bible of notes and sachets of Dioralyte - never go anywhere in the world without your Dioralyte! My coping mechanism for jetlag... I travel regularly to New Zealand because my husband's from there and the trick is never to sleep for more than an hour when you arrive somewhere - it honestly works! My instant energy boost... Water - and a cheeky chocolate biscuit! My ultimate motivational song... 'You Get What You Give' by New Radicals - I play that pretty loudly in my car! I think it really sums up of what you have to do to get ready for the Olympics. The one thing I deserve a gold medal for... For staying the course of the Olympics and giving as good as I've got for the duration. I've survived a fair few of them now and there's always that feeling at the end.
Every Olympics party needs... The best ones I've been to have been where the kids run off, get a tennis racket and stand in the front room while you're trying to watch Andy Murray play tennis and they're shouting, "Look at me mum, I'm going to be Andy Murray!". We all need to see through their eyes that anything is possible. A wee glass of champagne always goes down well too!
Natalie Whittle is a British journalist specialising in celebrity content in the women's lifestyle sector. She previously held the role of Celebrity Director at Woman & Home and has also worked at Prima, Red & Good Housekeeping.