Netflix's Do Revenge ending explained: All the questions we have after *that* shock ending
Do Revenge has shot to the top of the Netflix's top films list, with a twist ending that nobody saw coming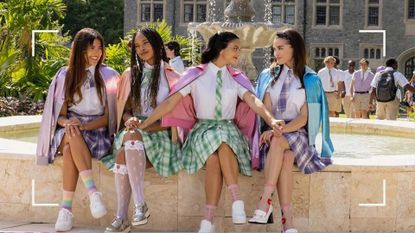 (Image credit: Future/Netflix)
Do Revenge has already proved to be a big hit on Netflix thanks to its all-star cast and much-hyped plot. The teen drama is actually inspired by Alfred Hitchcock's classic film, Strangers on a Train, where two strangers agree to kill somebody for the other person.
Do Revenge is a 2022 drama-comedy directed by Jennifer Kaytin Robinson, starring Stranger Thing's Maya Hawke and Riverdale's Camila Mendes.
In this adaptation, the storyline centers around two high school students Eleanor and Drea, who are both seeking revenge against other students at Rosehill Country Day high school. It's the latest in a long line of twisty thrillers from Netflix to catch viewers' attention, with I Came By and Devil In Ohio pulling in big numbers.
Do Revenge's ending sees a plot twist that makes viewers rethink the whole narrative, as a new character called 'Nosy Nora' is introduced. After *that* shock ending, we're left with a lot of questions.
*Warning: Major Do Revenge spoilers ahead*
Do Revenge ending explained
The ending of Do Revenge sees Eleanor, who is enlisted to help Drea get revenge on her ex-boyfriend Max after he leaked an explicit video of her to her classmates, exposed as 'Nosy Nora', a girl that Drea bullied when she was younger. Eleanor has therefore been plotting revenge on Drea all along, rather than being her ally. In a poignant scene after the reveal, Eleanor says, "Listen, was all this a little crazy? Sure. But I'm a teenage girl. We're psychopaths."
After Eleanor reveals her true intentions to Drea, she admits that she had thought about going back on her plan, but after experiencing Drea crash her birthday party thrown by her fellow classmates, she realized that Drea was "the same mean girl" she met when she was 13 and continues to plot her downfall.
Ultimately, the pair unite to bring down misogynistic Max, after realizing that revenge against each other actually brings them nothing but misery in a triumph of female friendship. Eleanor records Max confessing to releasing the explicit video of Drea, which will ultimately lead to his downfall.
It was very important for producers to get the Do Revenge ending right - so much so that they filmed it multiple times. Maya Hawke, who plays Eleanor and the daughter of Uma Therman and Ethan Hawke, told The Wrap (opens in new tab) that they filmed three different versions of the reveal scene to make sure they got it right.
"It was unclear in the film how the reveal was going to work and how to indicate enough to the audience of Eleanor's backstory and oddness that they believe it when it happens, but not so much that they guess it before it comes," she explained.
Why did Eleanor betray Drea?
Eleanor originally tells Drea that she was betrayed by her ex-crush, Carissa, who 'outed' her as a lesbian and spread rumors that she is a sexual predator. In reality, it was Drea who spread the rumors and coined the cruel nickname for Eleanor of 'Nosy Nora' when they were just 13 - Drea just didn't remember doing it.
In a plot twist, Eleanor had been out to get Drea all along, pretending to engage in Drea's plan for revenge against Max, and encouraging her to spike the school's food with magic mushrooms the pair found at the school farm in order to frame Carissa, who hadn't actually done anything wrong.
Did Max get away with his behavior?
Max, the true villain of the film, is eventually exposed for his bad behavior. After outing Eleanor as 'Nosy Nora' at the admissions party and causing the other popular students to ridicule her, Drea quickly regrets her decision and follows an upset Eleanor to apologize.
Drea has the realization that she's only truly been happy during the moments with Eleanor during their respective revenge plots. Drea's ex, Max, is listening in and threatens them both with his new-found knowledge, but also admits exposing the explicit video of Drea in his enraged speech. Eleanor records the whole thing. The video is then played to the entire party, who all turn against him. He goes outside and falls to his knees, presumably aware of his imminent downfall.
Will there be a Do Revenge 2?
At the time of writing there are no plans for a Do Revenge sequel. Neither director Jennifer Robinson nor any of the cast have alluded to plans for another film, but that's not to say after the success of the first movie that a sequel won't be on the cards - particularly due to the positive response from fans.
The film is currently topping the daily rankings on Netflix and viewers have had a positive response to Do Revenge on social media.
"Do revenge was perfect, 10/10, gaslight gatekeep girlboss for life, obsessed w [with] drea and eleanor," wrote one fan of the film on Twitter.
While another said on the social media platform, "Do revenge is breathtaking. absolutely a powerhouse. only criticism is drea and eleanor should have kissed."
do revenge was perfect, 10/10, gaslight gatekeep girlboss for life, obsessed w drea and eleanor pic.twitter.com/Y6npBB2ZMdSeptember 16, 2022
See more
do revenge is breathtaking. absolutely a powerhouse. only criticism is drea and eleanor should have kissed.September 16, 2022
See more
You can stream Do Revenge on Netflix now.
Lauren is the former Deputy Digital Editor at woman&home and became a journalist mainly because she enjoys being nosy. With a background in features journalism, Lauren worked on the woman&home brand for four years before going freelance. Before woman&home Lauren worked across a variety of women's lifestyle titles, including GoodTo, Woman's Own, and Woman magazine.