Netflix have released an exciting first look at their adaption of Rebecca, starring Lily James
It's coming to the small screen later this Autumn.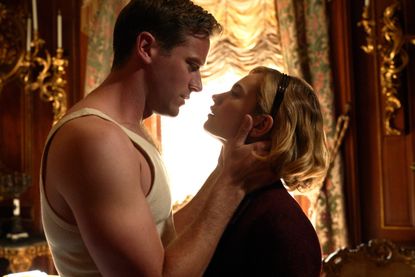 (Image credit: Kerry Brown / Netflix)
Daphne du Maurier's iconic novel has been adapted for the screen once again – and it might just be the best one yet.
Netflix (opens in new tab) have released an exciting set of first-look images from their upcoming adaption of Rebecca – and with Lily James and Armie Hammer in the starring roles, you're not going to want to miss this one.
Based on the beloved book (opens in new tab) by Daphne du Maurier, the streaming giant's adaption boasts a whole host of huge acting names, including Kristin Scott Thomas and Keeley Hawes (opens in new tab).
Netflix's much-anticipated adaption of the Gothic classic follows a prestigious line of adaptions: the most famous being Alfred Hitchcock's 1940 version, starring Laurence Olivier and Joan Fontain.
The film, which will be released on 21 October 2020 (plenty of time to get in another read of the book before watching) has been described by Netflix as a"mesmerising and gorgeously rendered psychological thriller".
Here's what we know so far.
What is the plot of Rebecca?
Based on Daphne du Maurier's 1938 novel, a newlywed arrives at Manderley, her husband's sprawling family estate, where she is haunted by his first wife Rebecca.
Netflix's official synopsis reads:
'After a whirlwind romance in Monte Carlo with handsome widower Maxim de Winter (Armie Hammer), a newly married young woman (Lily James) arrives at Manderley, her new husband's imposing family estate on a windswept English coast. Naive and inexperienced, she begins to settle into the trappings of her new life, but finds herself battling the shadow of Maxim's first wife, the elegant and urbane Rebecca, whose haunting legacy is kept alive by Manderley's sinister housekeeper Mrs. Danvers (Kristin Scott Thomas).'
Who completes the cast of Netflix's Rebecca?
With the lead roles occupied byDownton Abbey (opens in new tab) star Lily, and Call Me By Your Name actor Armie, a whole host of other famous faces will make an appearance, too.
Military Wives (opens in new tab) star Kristin Scott Thomas will play Mrs Danvers – famously portrayed in the 1940 adaption by Judith Anderson – while Bodyguard's (opens in new tab) Keeley Hawes will play sister Beatrice. Handmaid's Taleactor Ann Dowd will also appear in the adaption, as will Sam Riley and Tom Goodman-Hill.
Who directed the remake?
Ben Wheatley directed the film, with Jane Goldman (writer of Kingsman and Stardust) writing the screenplay alongside Joe Shrapnel and Anna Waterhouse.
Where were the Manderley scenes filmed?
A psychological thriller it may be, but the film also boasts breathtaking shots of the British coastline (opens in new tab). Many of Rebecca's Manderley scenes were shot at Hartland Quay in Devon.
When can I watch Rebecca?
Netflix's Rebecca is coming to screens on 21 October 2020, and we couldn't be more excited to dream of Manderley again.
Kate is a freelance contributor to woman&home, covering everything she loves most: fashion, fiction, and fancy face cream. If she's not working, she's probably reading, feeding her online shopping addiction, or judging the taste level of celebrity houses (10/10 for Dakota Johnson, 2/10 for Tan France).

She graduated from Central Saint Martins in 2020 with a BA in fashion journalism, and her byline has also appeared in British Vogue, The Times, and Marie Claire.