Meet Mia Tindall, Prince George's Super Cute Cousin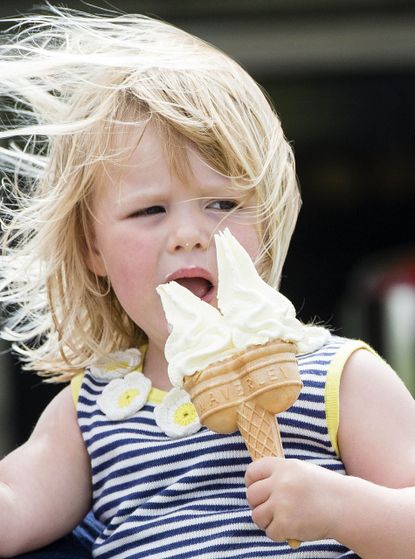 (Image credit: Rex Features (Shutterstock))
While everyone is cooing over Prince George and ahhing over Princess Charlotte, there's another teeny Royal who is set to get everyone's attention with her boisterous behaviour and cheeky smile - Mia Tindall. New pictures have just emerged of the cheeky toddler enjoying a day out with her dad and a family friend at The Festival of British Eventing, at which her mother was competing.
Mia has already managed to upstage the Queen in her 90th birthday portrait. The Queen was posing alongside some of her grandchildren and five great-grandchildren for a photo by Annie Liebovitz, when Mia grabbed her great-grandmother's famous handbag and it became the talking point of the whole picture.
The two-year-old, who is the daughter of Zara Phillips and her husband Mike Tindall, was seen clutching one of the famous Launer handbags.
Her former rugby player father revealed the moment wasn't planned. He told Good Morning Britain that she was being a "bit naughty" until she was given the handbag to hold.
Mike said: "It just happened at the right time. She was being a bit naughty. The Queen got it quite right when she told her 'Just hold the handbag now' and she did that. It ended up being a great photo of her."
Mia was joined in the photo by cousins, Prince George and Princess Charlotte, Savannah and Isla Phillips, James, Viscount Severn, and Lady Louise Windsor.
He added: "It just turned out to be the right photo at the right time and it will be something we'll always cherish."
And her dad revealed that isn't the only time she has been causing mischief as they try to deal with the "terrible twos".
Describing Mia as "quite laid back", the 37-year-old added: "She has got her own character, which is so interesting to see. She's good fun."
Mia has been causing trouble since she was a baby and even her first meeting with her cousin Prince George turned into a food fight.
Mike and Zara took Mia to Highgrove to meet George as well as his parents, Prince William and Duchess of Cambridge, Kate Middleton but the playdate with the future King was "carnage".
He said: "I don't think Mia will remember that day, she was two months old, but it was great, it was carnage. George was eating at the time. He'd got to that stage where more food goes on the table than in his mouth."
The little girl is also following in the footsteps of her parents with her love of sport. Mia's dad, Mike is an ex-England rugby union player and her mum, Zara, 35, is an Olympic silver medalist, having competed at equestrian competitions since 2003.
Mia has already started learning to horse ride and loves the outdoors. Mike explained: "She is very playful, always outside and she goes riding every now and again.
She has already attended a number of horse riding events including Gatcombe Horse Trials in Gloucestershire and the Badminton Horse Trials. She often watches her mum compete from the sidelines with her dad. In fact, Zara sat Mia on a horse for the first time when she was just eight months old.