Married At First Sight UK—where are they now?
The whirlwind 2021 series of Married At First Sight UK has come to an end—but which couples are still together?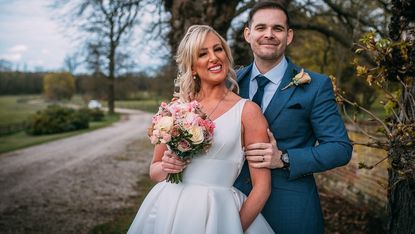 (Image credit: Married At First Sight UK/ Channel 4)
The new season of Married At First Sight UK came to an end this week, after bringing together a new group of strangers to tie the knot moments after meeting for the first time.
If you're already desperate for more, MAFS addicts can jump straight into series 8 of Married At First Sight Australia to watch experimental marriages unfold on the other side of the globe.
Where are the Married At First Sight UK couples now?
With the sixth UK series of the bizarre match-making scheme getting 18 new singletons to say their 'I dos' to total strangers, several pairs have already split, while others appear to still be going strong following the season finale.
So, where are the contestants now and who has parted ways since coming away from the cameras?
Amy and Josh
Despite ending filming for Married At First Sight UK as a couple, Amy and Josh are no longer together.
Amy, 35, from Cornwall, and Josh, 26, from London, had vowed to try and make the marriage work in the last episode of the series, but split when they went back to their home towns.
"There comes a time when enough is enough and if you're not compatible with someone and you're not compatible," Josh explained during the reunion show.
Amy, who works as a sports reporter, took to Instagram to share a cheeky post-break up snap, hinting she's not feeling too down about the end of the marriage to part-time model, Josh.
"Ladies, know you're worth…then add tax 💖I'm ok sitting alone at the table, I know what I bring to it, I bought the table," she penned, alongside a laughing emoji.
Luke and Morag
Luke and Morag have split since the end of Married At First Sight UK, despite spending a week away in The Lake District as a couple after filming wrapped.
Those loved up, post-honeymoon feelings seemingly didn't last long for the pair, as 30-year-old Morag from Essex revealed that her Welsh hubby, Luke, hadn't bother to call her when they came home from their Cumbria hiking adventure.
Confessing his feelings for Morag just weren't there, he explained, "I can't change. I am who I am."
It's thought that Luke has returned to work as a firefighter while Morag has gone back to being a veterinary nurse.
Ant and Nikita
Nikita and Ant from Married At First Sight UK are no longer together. The couple broke up after a dramatic turn of events during the show's honeymoon period and they both quit filming.
Following his failed attempt at love with Nikita from County Durham, Ant returned to the show with new bride Alexis.
Ant and Nikita seemed doomed to fail from the start, as he revealed that she wasn't quite his type in terms of her appearance, hinting that the Married At First Sight UK match-makers hadn't done a good job.
"Looks are a huge thing for me and I don't think they've listened to what I've said," he admitted.
Ant and Alexis
Having been unsuccessful with their initial pairings, Ant and Alexis gave it a shot as a couple but things didn't work out for them either and they've now split.
Alexis was initially married to personal trainer, Jordon, but their budding romance crumbled when her new husband kissed fellow bride, Megan, in the early days of the series.
Since the show, model Alexis has been busy creating content on her TikTok page, while Ant has been signed to Brother modelling agency.
Megan and Bob
Megan and Bob have split but ended the Married At First Sight UK series on good terms, after trying to make the marriage work.
At the start of their journey, Megan, 25, from Stoke-on-Trent, and Jordon's kiss meant that Alexis left the show, but Megan and Bob, 26, from Bournemouth, still decided to make a go of it.
Megan now hopes to break into acting and is offering brand collabs on her Instagram account, while Bob is taking advantage of his social media following to sell videos via personalised messages app Cameo.
Marilyse and Franky
Marilyse and Franky were one of the three couples from this series of Married At First Sight UK to still be together, however it's now been confirmed they've gone their separate ways.
Personal trainer Marilyse from Yorkshire took to Instagram to confirm her and Franky's split, explaining that they've decided to part and remain good friends.
"Unfortunately @fitcoachfranky & myself have separated in recent weeks. But, we remain good friends. We went through a crazy experience together over a 6 month period which we will never have with anyone else. So many special memories. 🙏," she wrote.
Ensuring fans that there is no bad blood between her and Doncaster-born Franky, she added, "I wish you Franky lots of happiness, you are an awesome, kind hearted, incredible guy! ❤️ Thank you for sharing this experience with me."
It's believed that Franky has already returned to his work as a personal trainer in Dubai, but wished Marilyse well in a sweet Instagram post.
"Let me tell you that this woman has a huge heart which I adored and I will always appreciate all the support she gave me when trying to adapt to a new life.

"Thank you Maz your a star! You and your family have been a very special chapter in my life."
Daniel and Matt
Daniel and Matt are one of the only Married At First Sight UK couples of 2021 to still be loved up and plan to move to Daniel's home town in Northern Ireland to live together.
The pair have also revealed their hopes to officially legalise their marriage (nope, the Married At First Sight weddings aren't legally binding!) and shared their joy in being the first gay couple on the show.
Speaking to OK! magazine, Daniel said, "It's a been a long time coming but I feel proud and privileged to have been able to do that, especially for Northern Ireland, as it's had a bit of a bad rep at times.
"It was only last year that gay marriage was legalised here, so if I can fly the flag, I'll do that 100 times over. The cast were so supportive. To have the heterosexuals cheering for us was amazing."
Dan and Matt are also planning to start a family of their own in the future, detailing that they'd love to adopt a child.
"There are so many kids out there who need a home and that solid foundation. We don't need to bring any more into the world, there are enough who are in need of love," Dan explained, revealing that surrogacy isn't something they're considering.
Tayah and Adam
Tayah and Adam are also still together, having fallen head over heels for one another during the course of the experiment.
Bride Tayah, from Herfordshire, and Adam from Doncaster have gotten engaged with plans to make their marriage official and have moved in together in Adam's Yorkshire home.
Confirming the news of their nuptials on Instagram, Tayah penned, "I can't put into words how happy and how at peace I am with my life, I really have hit the jackpot with Adam, he brings out the absolute best in me and is my biggest supporter.
"I am so excited to start our crazy adventure together as a TEAM. I love you forever my fiancé."
Hinting at their future baby plans, Tayah told OK! magazine, "For me, I've come from quite a small family – I literally only have three cousins and an older sister. I've always grown up wanting to have four children."
Opening up on watching Tayah bond with his cockapoo puppy, River, Adam continued, "When I see Tayah talking to River like a proper child, it does make you fast forward and think that's what it will be like when we are parents."