Loose Women star Nadia Sawalha praised by fans for showing off cellulite in honest underwear pics
Go, Nadia!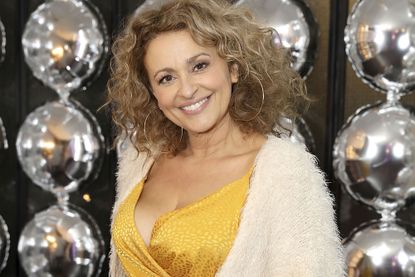 (Image credit: Getty)
Nadia Sawalha proved that flawless Instagram snaps are a product of good lighting and savvy posing when she bared her body for a recent upload.
The Loose Women (opens in new tab) panellist took to social media to share a series of honest images posing in her underwear (opens in new tab), highlighting the importance of realising that flattering angles are behind the seemingly perfect photos we see online.
The TV star and mum-of-two penned a lengthy caption, admitting that she spent years of her life facing inner turmoil over her body and physical appearance.
Urging others to let go of insecurities when it comes to making comparisons to other people's figures, the former EastEnders actress admitted she's ready to embrace her 'flaws'.
'WARNING ⚠️ WOMAN SHOWING CELLULITE,' she joked, before writing, 'Honestly, all I did was change the lighting and the pose and look at the difference!! All taken within minute of each other!
'It's all smoke and mirrors . I would do anything to have the years back that I wasted obsessing about my 'flaws' the only thing that was actually flawed was my "stinking thinking "
'I work everyday at being more accepting of my beautiful warts and all body,' Nadia went on.
Speaking out to her hundreds of thousands of followers, the body positivity advocate finally added, 'Dare to bare girls !! It feels so good when you do. And you will honestly be at a loss as to why you didn't do it sooner!!
'Who will dare to bare?!? Fee the fear and do it anyway ! I promise you won't look back!'
Loads of Nadia's fans took to the comment section to praise her for the inspirational move.
'Amazing! It's so hard seeing all the "perfect" bodies on here knowing mine is far from it. Even though I know a lot are airbrushed it's so nice to see I'm kinda normal,' one penned.
'Perfect role model right there. Reality in its purest form. This is what our children and teens need to be seeing 🙌😘 #normalise,' agreed another.