Kelly Brook forced to modify her £1 million home after rare species is found nesting in the roof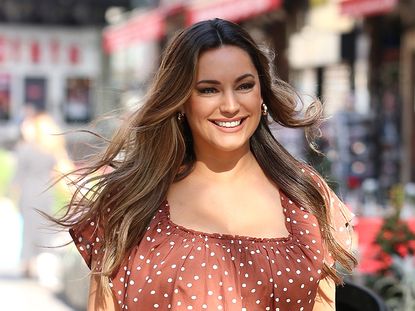 (Image credit: GC Images)
Kelly Brook is in the process of renovating her £1 million farmhouse in the sprawling Kent countryside, but a protected species has halted the progress.
The model and presenter had an ecology survey done ahead of the planned makeover, which found brown long-eared and common pipistrelle bats living in the roof.
Given that the bats are a protected species, Kelly and boyfriend Jeremy Parisi have now put in planning permission to build two 'bat boxes' in the chimney to home the bats.
READ MORE: WHY PRIMARK'S HOME COLLECTION IS A BIG HIT
According to the Daily Mail, James Madden said in his report: 'The oast house building was assessed as having a confirmed roost of likely brown-eared bats within the loft room based on concentrations of droppings.
'The external features of the building were assessed as providing high suitability for roosting bats.'
Kelly, 39, has spent the last 12 years renovating her home in Maidstone and has become known for her green fingers in the process. She called the experience a "labour of love".
MORE: WHERE DO MIKE AND ZARA TINDALL LIVE?
"The gardens were completely overgrown, it was in disrepair, it was falling down," she confessed. "For me it was about stripping it back to its bare bones, and getting the landscaping right. Now, I've started to put back in all the plants that I love."
Having swapped the showbiz lifestyle for a quieter life in the country, Kelly admitted gardening has transformed her life.
"I've always loved the outdoors. Moving out to the country and getting into gardening has grounded me. It's given me an escape from my industry," she told the Daily Star.
"I don't know how it happened. I was living in LA one minute and suddenly I'm back in the UK lining in the countryside! But it's just great to be lining the country life dream."