Julia Roberts and George Clooney talk on-camera kiss: 'It took 80 takes'
In new rom-com Ticket to Paradise, Julia Roberts and George Clooney play a divorced couple trying to stop their daughter from getting married.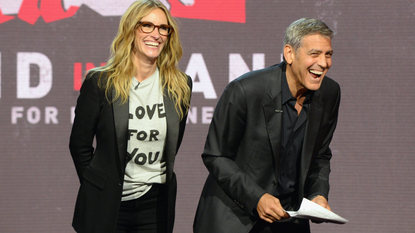 (Image credit: Kevin Mazur/Hand in Hand / Handout)
Ticket to Paradise is a new rom-com starring real-life friends Julia Roberts and George Clooney scheduled to be released in theaters on October 21.
Playing divorced parents traveling to Bali, the film, which Julia joked will 'probably be terrible,' is a true rom-com, faithful to the movie style that defined 1990s Hollywood, as proven by the exciting trailer for it.
In a new interview with The New York Times (opens in new tab), 54-year-old Julia and 61-year-old George joked about how long it took to shoot the perfect scene while on set.
"I told my wife, 'It took 80 takes,'" George said about a specific kissing scene. "She was like, 'What the hell?'"
"It took 79 takes of us laughing and then the one take of us kissing," Julia joked back.
"Well, we had to get it right," said George.
Lest you think director Ol Parker, of Mamma Mia: Here We Go Again fame, should have just selected different actors to take on the roles of divorced parents trying to prevent their daughter from getting married, you should know that the main characters' names were originally Georgia and Julian. It doesn't get more on-the-nose than that, and George is aware of it.
"[The movie] was clearly written for Julia and I," the actor said in the interview.
The duo's off-screen relationship might have actually convinced George to sign onto the production.
"I hadn't really done a romantic comedy since One Fine Day — I haven't succeeded like Julia has in that forum — but I read it and thought, 'Well, if Jules is up for it, I think this could be fun,'" he said to The New York Times.
Julia agreed, specifically stating that Ticket to Paradise "somehow only made sense with George based on our chemistry. We have a friendship that people are aware of, and we're going into it as this divorced couple. Half of America probably thinks we are divorced, so we have that going for us."
Some months ago, Julia, who was once referred to as a rom-com queen, explained why she's stayed away from the genre for quite some time.
"People sometimes misconstrue the amount of time that's gone by that I haven't done a romantic comedy as my not wanting to do one," she said to the New York Times Magazine. "If I had read something that I thought was that Notting Hill level of writing or My Best Friend's Wedding level of madcap fun, I would do it. Here's the thing: If I'd thought something was good enough, I would have done it."
Clearly, the time has finally come!
Anna Rahmanan is a New York-based writer and editor who covers culture, entertainment, food, fashion and travel news. Anna's words have appeared on Time Out New York, the Huffington Post, Fortune, Forbes, Us Weekly, Bon Appetit and Brooklyn Magazine, among other outlets.