Jane Fonda says she was 'pretty lost' as a young person and feared she wasn't pretty enough
Jane Fonda discussed some of the challenges she faced as a young woman in Hollywood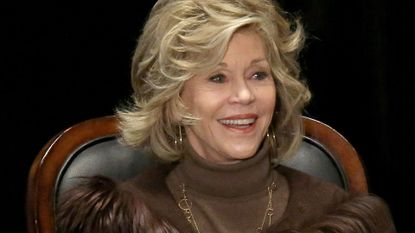 (Image credit: Getty Images)
The Book Club 2 star recently opened up about how her body image affected her self-confidence as a young woman in Hollywood, and how she keeps healthy and happy now, at age 85.
Jane Fonda is known for her infectious energy and fighting spirit - but she didn't always have such confidence, especially in her youth, she says.
In a recent interview, the star of the upcoming comedy Book Club: The Next Chapter, shined some light on what it was like to grow up as a young woman in Hollywood, and how those struggles got her to where she is today.
"Being young is really hard. Don't let anyone kid you," she said. "I wish when I was younger, someone had said to me, 'Don't give up. Keep going. It'll get better.'"
She mentioned that, before she decided she wanted to be an actor, she had a lot of doubts about what her future held for her. "Young me did not want to be an actor. I didn't think I had talent. I didn't think I was pretty enough. I had a lot of body dysmorphia," she told People. "I was pretty lost as a young person."
"My dad [Henry Fonda] was an actor, but he never brought joy home," she said. "So it was never like, 'I want what he's got.'"
She goes on to explain that, in her youth, her insecurities affected her career. "I didn't have a very high regard for myself. So when someone asked me for something or someone tried to offer me anything, I didn't know how to say no. So I wish someone would have said to me, 'No is a complete sentence,'" she explained.
After launching her fitness empire, Jane Fonda's Workout, and learning to get healthier, she developed a better sense of confidence - and was able to bestow some of that confidence onto other people as well.
"So many women said to me, 'My whole attitude about myself changed,'" she said. "That meant the world to me."
Now, the 86-year-old refuses to retire, and is striking gold with her latest roles.
She also said that, although she's numerically 86 years old, she only feels about 80 - and she attributes that feeling to her constant exercise. Today, she tries to exercise three to four times a week and does other physical activities like hiking and playing with her grandchildren.
Aside from her pursuit to become a healthier and better version of herself, for herself, she's also opened up in the past about how she regrets not being the mom she wishes she could have been.
Jane explained how, after cancer, she's not afraid of dying - rather, is more scared of "getting to the end of life with a lot of regrets, when there's no time to do anything about it."
She said, "I was not the kind of mother that I wished that I had been to my children," Jane told Chris Wallace on CNN. "I didn't know then. So I'm trying to show up now."
Madeline Merinuk is woman&home's US lifestyle news writer. She covers celebrity, entertainment, fashion, and beauty news but is also obsessed with internet trends - you can find her reciting trending TikTok sounds out loud at any given time.
After winning multiple student journalism awards for her investigative work, she graduated from Hofstra University in 2021 with a B.A. in Journalism. After graduating, she worked at today.com, the digital site for the Today Show, where she wrote pop culture news and interviewed big-name personalities like Emily Ratajkowski, Haley Lu Richardson, Emma Corrin, and more.
Her personal interests, in no particular order, are: cheese, Joni Mitchell, reading, hot yoga, traveling, having multiple chapsticks in every handbag at all times, and dancing to ABBA songs as if she were in the Mamma Mia movies.