Jane Fonda reveals sad regret over not being the mom she 'wishes' she could've been
Jane Fonda says she just "didn't know how" to be a mom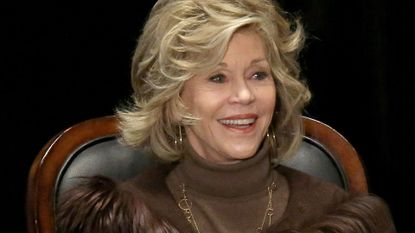 (Image credit: Getty Images)
Jane Fonda has opened up about her regrets over feeling unprepared to become a mother in an honest new interview.
Legendary actress Jane Fonda, who still continues to star in movies at 85-years-old, has had a long and successful life. She's very confident in herself and her relationships - she recently revealed that she's not interested in having any more sexual relationships in her life.
However, in a recent interview, she admitted that she does have some regrets.
During a candid chat with CNN's Chris Wallace, Jane spoke openly about her experience with motherhood, and how she wasn't the parent she wishes she was to her three children, Mary Luana Williams, 55, Vanessa Vadim, 54, and Troy O'Donovan Garity, 49.
Jane, who has always embraced herself as she's aged, explained how, after battling a specific type of cancer called non-Hodgkin lymphoma, she's not afraid of dying - rather, is more scared of "getting to the end of life with a lot of regrets, when there's no time to do anything about it."
She said, "I was not the kind of mother that I wished that I had been to my children," Jane told Chris Wallace.
"I have great, great children. Talented, smart. I just didn't know how to do it."
She then revealed that, as she aged and began to do more advocacy work, she learned more about motherhood. Then, in 1995, she started The Georgia Campaign for Adolescent Power and Potential, which is a non-profit health organization that advocates for children in the southern state of Georgia.
"I've studied parenting, and I know what it's supposed to be now," she continued to Chris Wallace.
"I didn't know then. So I'm trying to show up now."
The 80 For Brady star has been in the limelight a lot recently promoting her new movie, which follows four older women, played by Jane, Sally Field, Rita Moreno and Lily Tomlin (Jane's Grace and Frankie co-star), who travel to watch Tom Brady in the Superbowl.
The movie, which is now in theaters, is actually based on a true story of a group of older football fanatics, who called themselves the "Over 80 for Brady" fan club, with whom the actresses said they got close with while filming the comedy. The ladies in the original "Over 80 for Brady" club revealed to CBS Sunday news that their bond as friends truly solidified after they all became widows, and that "game days became the link that kept their friendship from fumbling."
Jane said that working with her 80 For Brady co-stars was "really special".
"You know, I've known Lily for 50 years," Jane told PEOPLE. "I've known Sally 40 years, and I just so admire her and watching her process of creating the character during the course of filming was really special."
When finishing up her conversation with Chris Wallace, she said, "I think about death a lot. I have for the last 30 years. I think that's a healthy thing to do. It's hard to live right if you don't think about death. It's a part of life."
Madeline Merinuk is woman&home's US lifestyle news writer. She covers celebrity, entertainment, fashion, and beauty news but is also obsessed with internet trends - you can find her reciting trending TikTok sounds out loud at any given time.
After winning multiple student journalism awards for her investigative work, she graduated from Hofstra University in 2021 with a B.A. in Journalism. After graduating, she worked at today.com, the digital site for the Today Show, where she wrote pop culture news and interviewed big-name personalities like Emily Ratajkowski, Haley Lu Richardson, Emma Corrin, and more.
Her personal interests, in no particular order, are: cheese, Joni Mitchell, reading, hot yoga, traveling, having multiple chapsticks in every handbag at all times, and dancing to ABBA songs as if she were in the Mamma Mia movies.